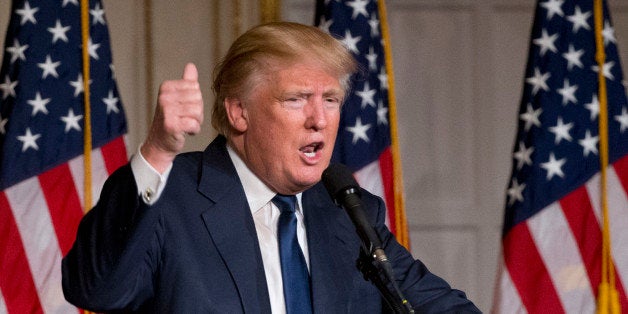 Former Massachusetts Gov. Mitt Romney, the Republican Party's 2012 presidential candidate, said he would vote for U.S. Sen. Ted Cruz in hopes of stopping billionaire real estate developer Donald Trump from winning the GOP's presidential nomination.
Romney said Republicans must unite against Trump and his extremist politics.
"Trumpism has become associated with racism, misogyny, bigotry, xenophobia, vulgarity and, most recently, threats and violence," Romney said. "I am repulsed by each and every one of these."
Romney called on the GOP to reject the racism, misogyny, xenophobia, and vulgarity of Trumpism for the racism, misogyny, bigotry, xenophobia, and vulgarity of Republicanism.
Trumpism isn't antithetical to Republicanism; it's the natural progression of Republicanism. Trumpism is the reality show version of Republicanism. Why is the GOP so surprised that the ratings are so good?
Yet, Romney and others in the GOP establishment, to paraphrase Captain Renault in Casablanca, are "shocked, shocked to hear that racism is going on here."
Racism has been part and parcel of the Republican Party since President Richard Nixon's Southern Strategy. In 1980, Ronald Reagan praised states' rights when he announced his candidacy for president at the Neshoba County Fair in Mississippi, near where three civil rights workers were murdered in 1964. George H.W. Bush used the racist Willie Horton television ad to win the presidency in 1988.
This column will not chronicle GOP racism, misogyny, bigotry, and xenophobia in the last few decades. I will leave that to someone else to do in a book or in a series of books, a series of very, very thick books.
This column will, however, look at racism against blacks. The GOP's racism against blacks is not just a consequence of Republican strategy, it's often the means used to accomplish that strategy.
Republicans have admitted that the GOP passed voter ID laws to restrict voting among Democratic - and particularly black - voters.
George W. Bush White House adviser Karl Rove, high-profile Republicans, and Fox News praised the undercover videos that smeared the advocacy organization ACORN, which registered black voters and provided assistance to those in the inner-cities. GOP outrage fell silent when the videos were revealed to be fraudulent.
The GOP has demonized the civil rights organization, Black Lives Matter. Former presidential candidate Chris Christie shamefully claimed that many members of the organization advocate for the murder of police officers.
Fox News moderators and high-profile Republicans, such as former GOP presidential candidates U.S. Sen. Lindsey Graham and former U.S. Sen. Rick Santorum, rejected that the murder of nine black people at the Emanuel AME church in Charleston, S.C. by a white supremacist was a hate crime.
Graham acknowledges what Romney and other anti-Trump Republicans don't: Trump's popularity is a reflection of GOP bigotry toward blacks, in general, and President Barack Obama, in particular.
"Well, there's about 40 percent of the Republican primary voter who believes that Obama was born in Kenya and is a Muslim," Graham said in December. "There's just a dislike for Presidential Obama that is visceral. It's almost irrational."
Former U.S. Secretary of State Colin Powell's chief of staff Col. Lawrence Wilkerson said that the Republican Party's efforts to thwart Obama are racially motivated.
"My party is full of racists," Wilkerson said. "And the real reason a considerable portion of my party wants President Obama out of the White House has nothing to do with the content of his character, nothing to do with his competence as commander in chief and president, and everything to do with the color of his skin. And that's despicable."
"Trumpism," as Romney put it, is racist, misogynistic, bigoted, and xenophobic -- and so is Republicanism.
Calling all HuffPost superfans!
Sign up for membership to become a founding member and help shape HuffPost's next chapter