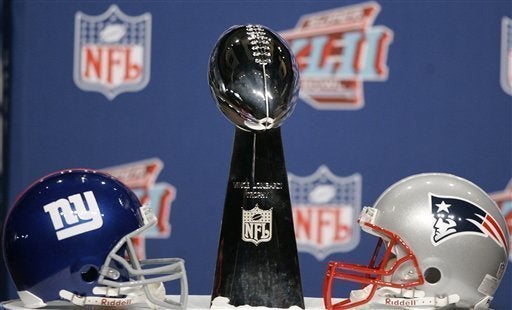 I don't know about all y'all, but I'm really not comfy with all the "throwing in the towel," "got it in the bag," "it's over" talk concerning Barack Obama, John McCain and the headlines we'll be seeing just days from now. Call me a typical Democrat, but I'm not ready to declare any sort of victory on anything until I see it on Wednesday, November 5th.
That's what I've learned from being a New York Giants fan -- it ain't over till it's over. Really. I'm dead serious.
Think back to early February of this year, specifically February 3rd and the days leading up to it. The Giants had wrapped up an unbelievable post-season and fought their way into the Super Bowl. It was a miracle to those of us who were just happy to see them get into the post season, then beat the Buccaneers, then the Cowboys, and then, finally, the Packers. I'll never forget that. Those last two games bookended my birthday.
But damnit, did they have to fight for that victory, facing down the undefeated "almost perfect" Patriots favored by the vast majority of commentators and analysts. Except for my best friend ever, Keith Olbermann, who warned everyone not to underestimate a fourth-quarter comeback by Giants QB, and namesake of my first-born son, Eli Manning.
I think we should all take that to heart in this presidential race before we all jump to conclusions. Because the fourth quarter of Super Bowl 42 was not just a comeback, it was impossible. Improbable. And it happened anyway.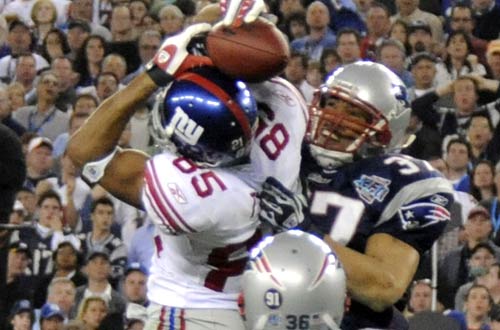 This was the impossible catch by WR David Tyree. The one he caught with his head. Remember what happened right before that?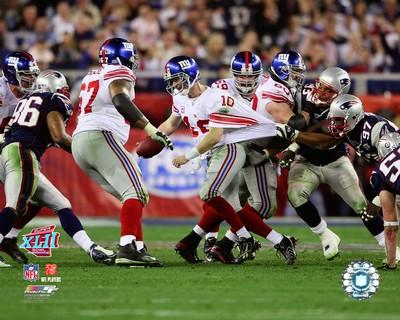 This was what should have been a sack. This should have been a sack. It wasn't. Instead, it was magic. Wonderful, amazing football magic. Eli escaped that yank and passed the ball to David Tyree.
Let this be a lesson to those of us hopeful Democrats (clearly using The Secret) and those resigned Republicans (clearly using reverse psychology). Heed our candidate's warning: Don't get cocky. If there is anything true of both the Democrats and the NY Giants, it's that we can almost always find a way to shoot ourselves in the foot. And as much as I really hate equating my team with the GOP, both also really know how to fight to victory, especially John McCain in this campaign. Remember last summer, when everyone thought he was done before primary season and Rudy Giuliani -- Rudy Giuliani -- was considered a front-runner? He came back, didn't he?
But, as much as I'd love to take Tucker Carlson, my favorite opposition research, to heart when he says Obama supporters have nothing to worry about, I say "This was written on October 21st and is now obsolete." And when he quotes a Democratic insider who compares the Democrats to the Cincinnati Bengals (who are "used to losing, not winning"), I would remind everyone that we only beat them in overtime. Put that in your pigskin and smoke it.
I'd like to be cautiously optimistic, especially since the polls look so good in this last week. But the Giants scored their game-winning touchdown on February 3rd with 35 seconds left in the game.
The 2008 Giants are shaping up well, but we should never take a winning streak for granted. (Or else we'll be beaten by a bunch of puppies from Cleveland.) And those of us supporting Obama -- or just giving up on McCain -- should stop trying to predict the future.
Look at this picture of WR Plaxico Burress catching that last victorious TD: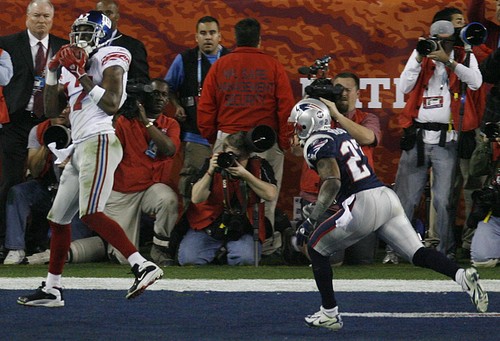 There was a Patriot right there, ready to ruin everything. Don't think for a second that anything was being taken for granted.
Which is why we have to hold tight and keep playing like the 2008 Giants. We don't have to come from behind this time, like we did last year. We're there. We just can't give it up.
The GOP are the Dallas Cowboys. John McCain and Sarah Palin are Tony Romo and Jessica Simpson. The Giants will play them for the first time this season on Sunday, November 2nd. The Cowboys are beleaguered with losses and fraught with injuries. But they are still the Cowboys and they can still win if we don't show up.
You can see that I'm a pretty rabid Giants fan, which, by default, means that I hate the Cowboys. But I'll tell you something -- when I was a kid, a Dallas fan got my entire school bus barking at me and calling me a dog. So you'd better believe it's personal, bro. You'd better.
So Giants, consider this your pep talk -- defend the little girl who was barked at. Don't screw this up.
And Dems, consider this your pep talk -- defend your honor and that of this entire nation. Don't screw this up.
And let's all remember to vote.
PS: Olbermann, expect a Special Comment from me one of these days for comparing Sarah Palin to the Giants before the VP debate. You're on my list for that one.
REAL LIFE. REAL NEWS. REAL VOICES.
Help us tell more of the stories that matter from voices that too often remain unheard.