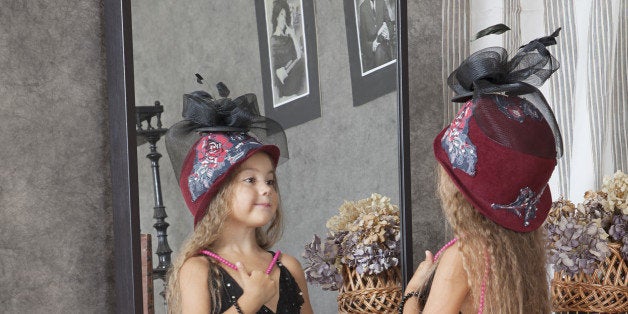 'Tis the season to bash our bodies in front of our daughters, talking obsessively about how many pounds we've gained over the holidays and the urgent need to shed them.
Weight loss is a common New Year's resolution, and one that receives much public discussion. Here's an idea: Let's not do that. If we decide to diet and ramp up our exercise regime, we can just do it, but not talk about it around the house.
Our daughters are listening closely. They take their cues about how to feel about their bodies from both the culture around them and the female role models in their own homes. We moms need to teach girls to be active and to eat healthy food, not to be excessively calorie-conscious.
Soon, we will all be hearing about how female celebrity bodies fared over the holidays. We will be told who should not be wearing bikinis on tropical beaches during winter vacation escapes. There is no checkout aisle at the grocery store where young girls will not see this dynamic splashed across half a dozen magazine covers right at eye level. It's really depressing. No, let me take that back: It's not just depressing, it's infuriating.
In magazines, on television, in movies and in the real world, female clothing styles have become uniformly body-hugging. No one escapes notice and assessment when dressed this way, and it is difficult for girls and women to release themselves from dissecting their every line, curve or bulge in the mirror and considering how others -- especially boys and men -- will judge their bodies.
Does any of this mean there are no legitimate concerns about obesity? No, of course not. We do have an obesity epidemic in this country that has initiated a serious conversation about fast food, school lunches and sedentary American lifestyles. It is reasonable to feel that action is needed to help both adults and children live healthier lives.
Unfortunately, an unintended backlash of our media campaign to combat childhood obesity is that more young girls than ever have become highly body conscious at very young ages. They believe they are fat, are bullied and told directly that they are fat and sometimes diet excessively and develop eating disorders -- often when they are not medically overweight.
How can moms help their daughters feel good about their bodies, especially at this time of year, when we are all bombarded with diet and weight loss ads? For starters, take the emphasis off the bathroom scale and place it on healthy lifestyle choices, such as eating nutritious foods, encouraging outdoor play, limiting sedentary computer and video game time, encouraging participation in sports and finding active things to do together as a family.
Reduce the amount of messages coming into your home that are inclined to focus girls on body image -- this means replace the fashion and celebrity gossip magazines on the coffee table with better options, swap out reality shows about dieting for better programming and stop criticizing your own body and weight in front of your daughter.
Instead, talk about what is good about your body (it is strong, it brought your child into the world, etc.). You can still exercise and eat less caloric foods, but just don't make it a discussion topic around the house.
As a family, shift the focus from weight to health, from inactivity to activity, and from everyone's outsides to their insides -- there will be much more to feel good about.
Related