This post is part of the Relay for Kids in partnership with SOS Children's Villages. We've reached our goal in supporting the SOS Children's Villages, but please continue to share in support of our continual effort to help children in crisis. Scroll to the bottom to find out more.
My belly is full and round and sore from the kicks of my unborn son -- my third child, perhaps my last child -- due in just a few weeks. There is so much I wish for him -- a comfort in his own skin, at least one lifelong friend, a knowledge that he is good and powerful and human. Most of all, I wish for his health -- may he arrive easily and not too early, may he be born at a good weight, may he take naturally to nursing. I hope his early days will be calm -- we will leave the hospital quickly and he will get many peaceful hours lying on my chest, skin-to-skin, a reminder his mother will always be close, that our hearts beat in sync.
There is a mother in Pakistan right now rubbing her own swollen belly, wishing her own thoughts for her unborn child. She is guessing it is a boy and wonders if he will have his father's light eyes and her long fingers. If he will cry as much as his sisters did and hold her gaze as sweetly. She tries not to think too far beyond those early days because, most of all, she thinks about his health and her own. She has had no prenatal care, knowing she was pregnant by following the rhythms of her own body. She lives hours from any medical center and the one 3 hours away is dire, with one insect-infested bed and a bare medicine cabinet. She will instead choose to give birth at home, with her sister-in-law by her side, on the floor of her house, so she can at least be surrounded by familiar people and things. She hopes her labor will be easy and free of trouble, that her baby will be born, alive, with a strong breath and loud cry. She hopes he will be robust and her milk will be enough to feed him. That food will be sufficient for the growing family. She is worried about how they will afford to pay a doctor in case he gets sick, how they will even get to a doctor if they need one. She knows that anything could go wrong, because in her village it often does. She has known mothers lost in childbirth, babies still-born and those born too weak to survive their first weeks.
Her and I are from the same soil, born in the same country. We might share the same love for food -- salty pastry laced in tamarind, lemon-and-chili-smothered corn, a squishy, slippery mango in the heat of summer. Maybe we even look alike. If the dice had rolled differently, we could have had each other's life. But because I now live in a developed country with better health care, my chance of surviving childbirth is over 50 times better than hers. The chance of her losing her precious baby in his first month is 40 times higher than mine. What does that do to a community? For those mothers, fathers and loved ones, pregnancy and birth is a source of worry and pain instead of excitement and joy.
Of the 3 million babies the world loses every year in their first month of life, 99 percent are in the developing world, meaning this is simply an issue of poverty and lack of resources. The weeks following birth are an incredibly vulnerable time, but astoundingly 2 million newborns could be saved with a few low-cost measures. We know what needs to be done, but we don't spend the money to do it, and we don't always know how to get the aid to those who need it most.
We need better access to prenatal care that will improve the odds of a mother having a full-term pregnancy, giving her and her baby a better chance of surviving childbirth and the neonatal period. We need better distribution of the many efficient and cheap interventions such as clean water, soap, gloves and antiseptic that dramatically reduce infections in babies. We need millions more skilled birth attendants and greater medical care in rural areas. An investment of just a few dollars per capita in health measures can potentially eradicate preventable maternal and infant mortality in many developing countries. We need to start at the beginning of life, give each baby a healthy foundation; give his mother, who carried him with great hope, the comfort she will watch him grow. Even babies who survive but suffered from an illness in their early days will potentially carry the effects throughout their lives. We must start to help before birth and right after birth to ensure that all children will have the opportunity to reach their full potential and in turn, contribute to the happiness and betterment of their communities.
I can't wait to hold my son in my arms -- it is the last thought in my head every night as I drift off to sleep. There is a mother in Pakistan, a mother in Mombassa, a mother in New York, who is dreaming the same dream as me.
We Reached Our Goal: From March 23 until April 24, the Relay for Kids blog series unlocked a donation from Johnson & Johnson to SOS Children's Villages in support of their work in helping children in crisis. Each time you 'liked' or shared a post via the social media icons or comment in the section below, it triggered a $1 donation (per social action) from Johnson & Johnson to SOS Children's Villages, the world's largest organization dedicated to orphaned or abandoned children, up to $30,000*. $1 provides food, shelter and medical care to a child in crisis. In addition, you could also Donate A Photo** and Johnson & Johnson donated $1 when you uploaded a photo for SOS Children's Villages -- which helped raise up to an additional $20,000 in seconds with the click of your mouse or snap of your smart phone.
*Blogs must be shared between March 23 and April 24, on Facebook, Twitter, StumbleUpon, Reddit, Tumblr and Google+ via the Huffington Post's social media icons. Each share will trigger a $1 donation up to $30,000. There are no limits on how many times you can share a post.
** via the Donate A Photo app for iOS and Android. Johnson & Johnson has curated a list of trusted causes, and you can donate a photo to one cause, once a day. Each cause will appear in the app until it reaches its goal, or the donation period ends. If the goal isn't reached, the cause will still get a minimum donation.
Editor's Note: SOS Children's Villages is a partner of Johnson & Johnson, which is a sponsor of The Huffington Post's Global Motherhood section.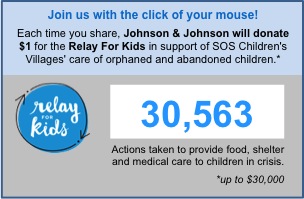 REAL LIFE. REAL NEWS. REAL VOICES.
Help us tell more of the stories that matter from voices that too often remain unheard.