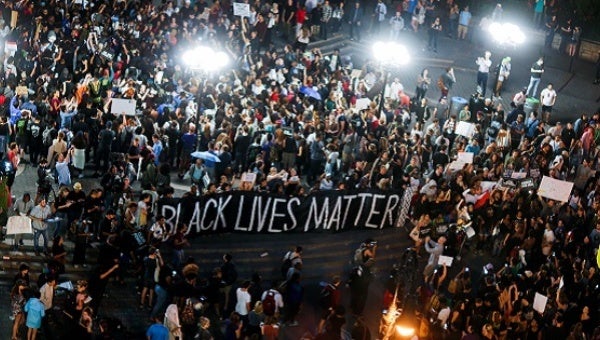 Thousands of protesters from Los Angeles to New York to Phoenix to Atlanta have elevated the fears of white America. 

As demonstrators marched into America's streets to oppose the fatal shootings of two Black men, the world is watching as the citizens of a deeply-divided country retreat to their assigned corners. 

Law enforcement detained over 300 demonstrators, including 100 in the Twin Cities where Philando Castile was shot and killed during a routine traffic stop. Dozens of demonstrators obstructed I94 for over five hours Saturday. 

In Baton Rouge, cops arrested over 150 persons ― including a gathering of protesters assembled for a assembly in a supporter's yard. Chicago, hundreds formed a peace symbol and stopped traffic. Black celebrities and athletes released statements supporting the protests. 

The uprising shows no indications of thawing the hardcore attitude of conservative ― and reactionary ― forces in America. (Former) New York City Mayor Rudolph Giuliana, a guest on "Face the Nation," called "Black Lives Matter" as "racialist and anti-American." 

Sunday, in South Carolina, a white supremacist secessionist organization raised the Confederate flag at the State Capitol. Even retired Dallas Cowboy quarterback, Troy Aikman, got into the fray by issuing a remark in the backing of the five Dallas cops killed by a Black sniper, in turn murdered by a drone robot. Many commentators remarked that Aikman failed to say anything regarding the slayings in Louisana or Minnesota. 

The nation, at times, has seemed ungovernable. A white crowd encircled Mark Hughes, the Black male who was called a suspect in the Dallas shooting, but later absolved by law enforcement. Hughes told CNN he received multiple death threats and forced to leave Texas. 

In New York, cops arrested two Black ABC News reporters at a rally. 

"We're being reprimanded for pointing out they're Black; there were white journalists near them, and they were not handcuffed," the station manager, Chuck Samuels, told the Democrat & Chronicle. 

Despite the overriding preponderance of demonstrators protesting against police cruelty using peaceful methods ― people in Inglewood, California formed a large peace sign with their bodies ― there is a call to designate Black Lives Matter as a terrorist group. 

Many Blacks, including Angela Davis, a onetime Black Panther and radical activist, have put the uprising in historical terms dating to the slave trade. 

"People often say America needs to have a discussion about race," said Arkady Bukh, a New York City criminal defense attorney.  "But what we need is a discussion about racism."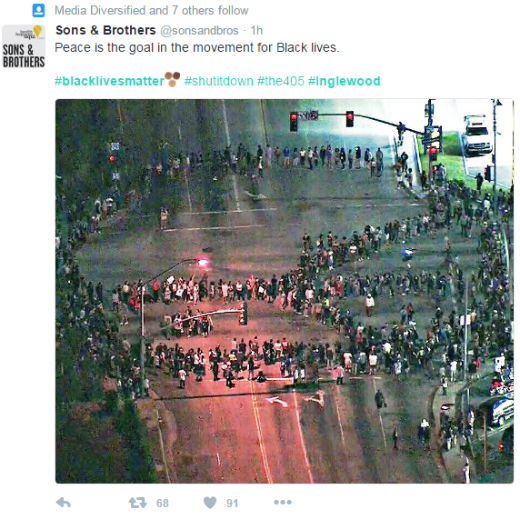 Calling all HuffPost superfans!
Sign up for membership to become a founding member and help shape HuffPost's next chapter