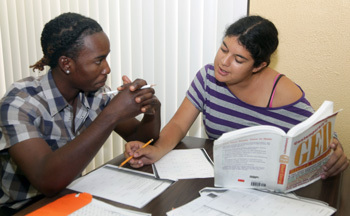 As part of its laudable goal to end family, youth, and child homelessness by 2020, the U.S. Department of Housing and Urban Development has issued national instructions in its funding announcements, prioritizing investments in rapid re-housing, putting homeless people in apartments first, and then working to address their need for social services.

There is evidence the model works well for adults, who, for the most part, have had at least some experience living independently, working, paying bills, budgeting and developing a social network. Thanks to the President's leadership and Congress' support, HUD has sparked once-unthinkable progress in the virtual elimination of veterans' homelessness over the past six years in many cities, and seen dramatic downturns in the number of chronically homeless people across the country. Rapid re-housing has been a significant component of this progress, and the model should also work well for unaccompanied, homeless, young people who have developed such skills.

But the majority of homeless young people we work with at Covenant House in the United States have not come from supportive homes where they learned how to be safe, sheltered and independent. Each year we meet thousands of homeless youth who still need to develop life skills; many need intensive support to prepare them for living on their own. Currently they can get that kind of care in Covenant House's Rights of Passage transitional living program, in 15 U.S. cities. Some of these youth could surely flourish on their own if an affordable housing option emerged, but the vast majority of homeless youth need much more than a roof over their heads in order to survive and thrive in the world.

We don't know how well rapid re-housing will work for young people, and there is ample evidence it has been ineffective for many youth in Canada, which is why I lament the rush across the United States right now to de-fund transitional living programs for homeless youth. I cannot understand how anyone working with this population of unaccompanied, homeless youth could climb aboard the rapid re-housing bandwagon as a panacea to youth homelessness before we have evidence to support this seismic shift in housing policy.
In cities across the country, from Houston to Detroit, HUD's instructions are being cited -- often incorrectly -- to defund transitional living programs for youth. In its 2015 instructions to local planning bodies in all 50 states, HUD prioritized rapid re-rehousing models over transitional living programs for adults but HUD continued to score transitional living programs for youth on par with its priority investments. HUD has not said that transitional living programs are ineffective for youth, but the point is being lost in the fine print in many cities across America, where funding choices are often decided.
My message to local advocates and planning bodies who are submitting applications to HUD without any investments in transitional programs for youth is simple: slow down! Let's study this question, and let both rapid re-housing and transitional living be part of the continuum of care for youth, so we can examine and compare results. Insisting that all transitional housing programs change immediately to rapid re-housing is ill-advised, and threatens to hurt many of the young people we want to help.
Over several decades, Covenant House has learned that what works for homeless adults, like veterans or single moms who have lost jobs and income, will not always work for homeless youth who have been bounced around the foster care system or kicked out of a dysfunctional home. Many of our youth need the support of on-site staff members who will breathe new life into them. These young hearts need old hearts to encourage and guide them, wake them up in the morning and make sure they get out of bed and off to school or work. Due to trauma and instability, many unaccompanied, homeless youth have not had a chance to develop positive conflict resolution skills. Fights with roommates (and roommates would be essential in a rapid re-housing model in expensive cities) frequently need to be immediately negotiated with the help of an on-site staff member who can model positive negotiation skills and diffuse disagreements. None of these things could happen if program staff, like case managers, are far away at stressful moments.

We are talking about vulnerable young people who have been failed by every institution they've been through -- family, school, foster care, juvenile justice, you name it. Why are we adding another potential failing institution to the list? We don't know how well rapid re-housing will work for young people.

In fact, Rapid-Re Housing: Creating Programs that Work by the National Alliance to End Homelessness, states that "Rapid Re-housing is targeted to people who are homeless but who have lived independently in permanent housing at some point in time, for some period of time."

To the best of our knowledge, rapid re-housing for young people has not been tested scientifically against other models on a large scale. HUD is using research based on adults, and many proponents of rapid re-housing are assuming it will work with youth. While HUD mentions some promising youth programs, and a controlled study of rapid re-housing for youth is in the works in Minneapolis, HUD should make clear to state and city leaders that it has not changed its national policy, and local leaders should not eliminate transitional housing for youth, without strong research into what strategies work best for young people.

In response to the confusion across the country about HUD's preferences on transitional housing for youth, there will be many fewer transitional living programs for unaccompanied homeless youth over the next several years. We will see fewer models like our transitional living program, Rights of Passage, which featured prominently in my book about kids who escaped the streets, Almost Home: Helping Kids Move from Homelessness to Hope. In that book, Benjamin, an 18-year-old who had spent half his life in almost 30 different child welfare placements, was able to get a job, obtain his high school equivalency diploma, apply to college, and form a positive relationship with his mentor, the first person Benjamin felt valued his potential. None of these crucial opportunities would be as accessible through a rapid re-housing program that did not require strong, 24/7 case management from a devoted, focused and well-trained staff on site.

Rapid re-housing will likely work for some young people, but not others. We need the flexibility to find the right model for the right youth. We need studies comparing the two models, before we disregard and discard decades of work improving the efficacy of the transitional living program model.

HUD has an important opportunity to emphasize to its state and city partners that they are allowed and encouraged to continue funding for transitional living programs for unaccompanied, homeless youth under age 24. That message has been lost in many big cities. Giving 18-year-olds scant rules, limited structure, and the expectation that they will be able to pay their own rent in a year and a half, without required and intensive case management makes no sense, given the trauma and lack of positive role models and opportunities so many of them have experienced.

It would be far wiser to launch a national pilot program to see which kind of rapid re-housing works for which kind of young people, and compare results to those of transitional living programs. How many young people remain in stable housing, employed, healthy, and thriving after two years of each method? How much does each method cost? There are, alas, more than enough homeless young people around to fill such studies to overflowing.