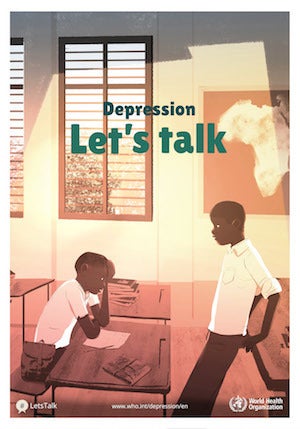 Today is World Health Day and the culmination of the World Health Organization's yearlong campaign: "Depression: let's talk." According to the World Health Organization (WHO), more than 300 million people now live with depression, the most common mental illness. Depression is a leading cause of ill health and disability, and many do not have access to mental health services and face significant social stigma around their disease. Indeed, when we first looked at this issue when I was Minister of Health in Ethiopia, we saw that mental illness was placing a significant burden on our population, and yet very few were getting the services they needed. In addition, the majority of people with mental illnesses live in poverty, and far too many are subject to violations of their rights.
While taking on mental health on top of many other health priorities may seem like a daunting task, we have been able to do so in Ethiopia by integrating these services into our primary care system. We invested in our healthcare workforce, training 200 non-specialized health workers in 19 facilities initially in partnership with WHO, then scaling to 158 facilities which now provide mental health services. We committed new resources to mental health to ensure these services could be locally sustained. For severe cases, we established short-term stabilization facilities and two long-term psychiatric hospitals with a focus on outpatient-based treatment. And importantly throughout the process, we looked to engage communities to ensure they would become our partners in our efforts to address mental health needs across Ethiopia. This engagement was particularly important for mitigating stigma and protecting the rights of individuals with mental illnesses.
This experience has shown me that we can and must address the grand challenge of mental health if we are to fully prevent and treat non-communicable diseases and achieve the Sustainable Development Goals. These individuals are some of the most vulnerable in our communities, so we need to pay particular attention to them and their families' health needs. We need to mainstream the provision of comprehensive, integrated and responsive mental health and social care services into primary health care platforms and ensure effective community engagement. And we need to include scaling up quality and accessible mental health services for everyone in need in our efforts to achieve universal health coverage by 2030.
As a candidate for Director-General of the WHO, I believe there is a key role WHO needs to play to improve and advance mental health. It can help advocate for efficient resources and services – and efforts to reduce stigma – to be in place at local, national and global levels. It can help accelerate the implementation of the Global Mental Health Action Plan (2013-20) and document best practices and bottlenecks. Finally, WHO can play a pivotal role in positioning universal health coverage including mental health services at the center of implementation of all the Sustainable Development Goals.
We all know the faces of depression and mental illnesses. They are our family members. Our colleagues. Our neighbors. Today, World Health Day, let's not shy away from talking about depression and mental illnesses. Our actions will make all the difference.
Related
Popular in the Community