A few weeks ago, I wrote a Huffington Post blog about my personal struggle with fertility. I was overwhelmed by the outpouring of support I received. I got dozens of messages, both publicly and privately, from friends and family members sharing their personal fertility struggles, offering support or simply thanking me for sharing my story.
Then the panic set in. I had just announced to the world that I was having fertility problems. I didn't realize what I had done until people started using words like "brave" and "courageous." I wasn't trying to be brave! I just wanted to write about my experience in hopes that it might help others.
I started thinking I had made a terrible mistake. Now everyone knows I am going through IVF. What if I don't get pregnant? Why did I feel the need to blab to the world about my problems? One commenter on my blog post put it more bluntly: "Is there no value in privacy anymore?" he said (then I clicked on his Facebook page and he had absolutely no privacy settings. Hypocrite).
Then the other night I went to pick up my medications for my first of two IVF cycles. As they brought the medication out, I could feel myself starting to tear up. There were so many needles and medications! About half way through the explanations from the pharmacist on how to inject hormones into my body, I stood there in the middle of the pharmacy and started crying. I finally understood why people keep it so private. As I drove away, I felt like what I was doing was totally unnecessary and crazy. Why would I do all of this to myself just so I could have a baby?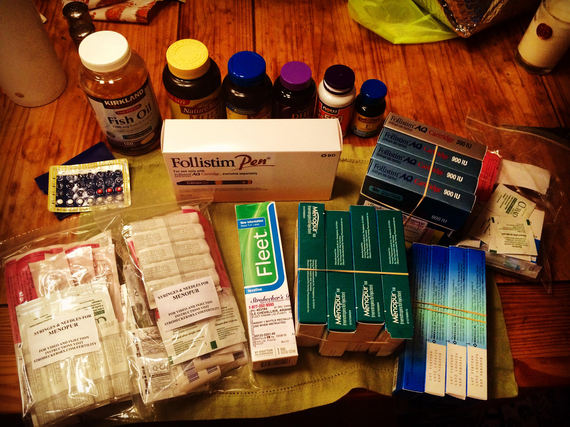 After the initial shock wore off, I read all the materials, watched all the videos and then laid out all the medications and took a picture. For a second I thought maybe I should share this picture on social media. Then I quickly talked myself out of it. This is a private thing and I'll quietly inject myself three times a day, among other things, in the off chance I get pregnant.
Then I realized that was just silly. I can talk about it. This is my journey and I want to share it with others in case they too are going through or will have to go through it.
When I first started considering IVF, I only knew of one friend who had been through it. Talk about feeling alone. I had no clue what to expect and so I immediately reached out to my friend. She so willingly shared her experience with me, answered questions and offered up really solid advice. It was just what I needed to hear. I had no idea!
So many women have struggled with fertility. Whether you've had a miscarriage, had partners' fertility issues, had a genetically abnormal pregnancy, been hit with secondary infertility, gone through IUI, IVF, donor egg or any other fertility treatments, you've had fertility issues.
So why don't we talk about it? Here's why: stigma, pain, depression, fear, regret, blame, hopelessness, grief, embarrassment, disappointment and most importantly, shame.
Here's the thing though: if you don't talk about it, you may not know that others have been through or are going through your same struggles. It wasn't until I started sharing my story that others opened up to me and shared theirs. This has by far been the greatest strength for me in knowing that I am not the only that has gone through this rollercoaster ride.
I am definitely not suggesting that everyone needs to pronounce to the world that they have fertility issues. If you are a private person, that's ok but I do recommend you reach out and talk to someone who's been through it so that you don't feel so isolated.
Most importantly, I encourage women to talk to their biological female family members about their struggles because fertility problems can run in families. If you are considering having children, you need to know your family's fertility history. Ask your mom when she started menopause. Talk about the miscarriages. Did they have regular periods? Ask how long it took them to get pregnant. Did they need help? Know at what age they had their last baby.
This advice goes for the partners too. I can only imagine how weird, disconnecting and helpless they must feel. Fertility treatments are especially unromantic, sterile and clinical. Where's the passion and love in injecting ones self with shots, dropping off a brown bag full of sperm at the doctor's office and making a baby in a petri dish? So guys, talk to your friends and family members too. Chances are you'll find couples who have been through the exact same thing.
Some of the best advice I got from a friend who just went through IVF is to stop Googling, reading books and researching your problems. And especially avoid those online community forums (the acronyms are the worst - TTC, BFN, BBT, BFP, WTF?) Talk to real people who have been through it. Don't self diagnose and certainly don't take advice from the Internet!
I am not crazy for wanting to conceive and birth a biological baby of my own. There is no shame or embarrassment in that. I deserve it like every other woman out there. Life is messy and it just gets messier when you add baby making to the mix.
So, in solidarity for all the women out there struggling with fertility, talk to your friends but especially talk to your family members. The worst thing you can do is to go through it alone and there's no need to do that. You'll be surprised how many people in your life have struggled with starting or growing their family but you'll only find out if you talk about it.
REAL LIFE. REAL NEWS. REAL VOICES.
Help us tell more of the stories that matter from voices that too often remain unheard.