Dara Ket wrote "this picture in front of your eyes is the sight of our future or someone's past" when he submitted Why My Baby (below) for the 14th Annual Exhibition of Art by Michigan Prisoners in 2009.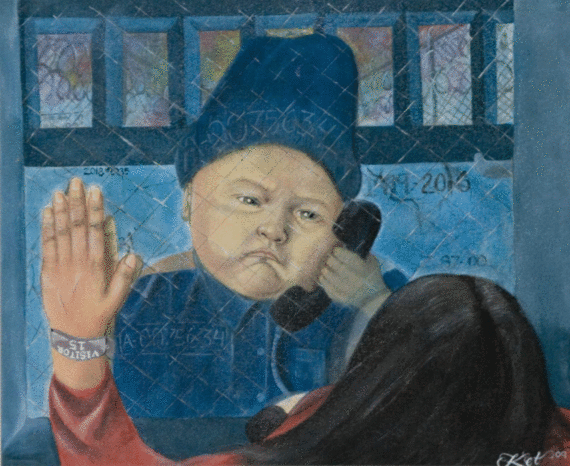 Photo: https://www.lsa.umich.edu/pcap/gallery/14thannualexhibition2009
This art show is hosted by the Prison Creative Arts Project (PCAP) at the University of Michigan, Ann Arbor. It was through the Prison Creative Arts Project that I first heard the term mass incarceration. In 2003, I enrolled in English 319: Theatre and Social Change, which was a PCAP prerequisite course taught by Buzz Alexander, professor and co-founder of the Prison Creative Arts Project. This course trained students to facilitate theatre workshops that enabled participants to imagine and shape their own plays in prisons, juvenile detention centers and high schools. We studied theoretical frameworks such as Pedagogy of the Oppressed by Paulo Freire and Theatre of the Oppressed by Augusto Boal; read about the devastating impact of the school-to-prison pipeline and zero tolerance policies; and learned how excessively and discriminately our country has been locking people up for decades. Through PCAP, I met committed, long-time activists such as Emily Harris, Jesse Jannetta and Mary Heinen. As the conversation about ending mass incarceration has spread to mainstream media outlets, I find myself wanting to hear from them and people directly impacted by mass incarceration. There is no doubt we have come a long way in shifting our national, collective consciousness around this issue. But is the national conversation regarding criminal justice reform moving in the right direction?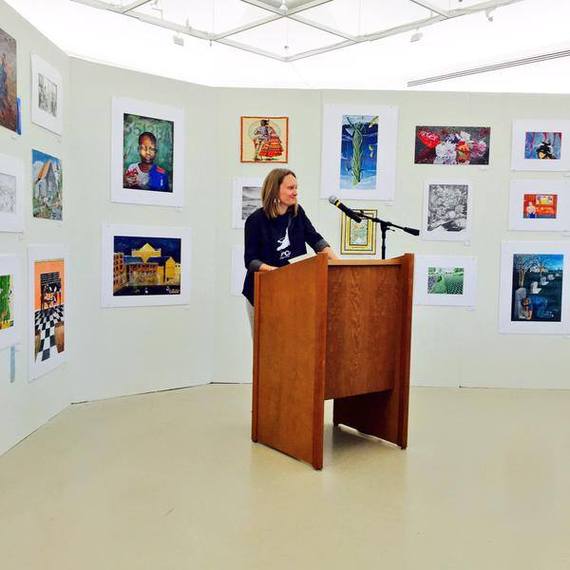 Emily Harris speaking at the 20th Annual Exhibition of Art by Michigan Prisoners.
It is important that we have been able to create a political environment where Hillary Clinton can come forward and name how detrimental mass incarceration has been on our country and have that be a viable, political move as she is running for president. That our understanding of mass incarceration is shifting and the targeting of communities is so visible now . . . Clinton, and people like her, can no longer not take a position on that issue.
The political will for criminal justice reform is here, but is the kind of reform being talked about enough to drastically reduce our prison population?
What the conversation must be addressing
Ending mass incarceration will require envisioning a world beyond prisons and organizing/planning effectively to get us there. Decarceration is a necessary piece in this process. Jesse Jannetta, advisory board member of the Prison Creative Arts Project and senior research associate at the Urban Institute in D.C., says, "If we want to decarcerate at the most basic level, there are two ways to do it: send fewer people to prison and/or don't keep people in prison as long. Everything that you would do to seriously reduce the prison population is in one or both of those options; it's as straightforward as that." Of late, the national conversation around reducing lengthy sentences has been focused primarily on low-level offenders for non-violent and/or drug related offenses.
Harris and Jannetta both agree this is not enough to make a significant dent in our current prison population. Jannetta comments,
Right now, a lot of the conversation about reducing mass incarceration in public is focused on low-level and non-violent drug offenders. That is around 15 percent of the prison population nationwide. Let those people out tomorrow and the prison population will still be 85 percent of what it was. You can't cut the prison population in half by just talking about low-level drug offenders. You have to talk about violent offenders, but this is not a big part, yet, of the broader conversation, nationally, about mass incarceration.
To this point, Harris continues, "If the emerging excitement for criminal justice reform is to be taken seriously and is to drastically reduce the numbers of people in prison, we have to address the long sentences we put on people for crimes and life without parole." The ACLU reports that thousands of people in American prisons are serving sentences that are unnecessarily long and far out of proportion to their crimes. We must change sentencing policies that are sending violent offenders to prison for incredibly long periods of time in order to substantially reduce our prison population. Harris explains, "We often fall into the same racialized fear-mongering framework or narrative for reducing the sentences of people with non-violent crimes while not doing so for people with violent crimes . . . when it is the same structural racism that is putting all of the (incarcerated) people in prison."
Mary Heinen, co-founder of the Prison Creative Arts Project, Soros Justice Fellow and Re-Entry Specialist/Decarceration Advocate at McPherson and Heinen Associates, emphasizes that we need to address women locked up for crimes related to domestic violence when talking about decarceration. She says, "We must look at women's cases, case-by-case, related to domestic violence in any way and give women the opportunity to be released. Heinen continues,
I know dozens and dozens of women who were convicted and incarcerated before domestic violence was understood as it is presently as a legal defense. Thousands of women have not had the opportunity to be considered for release according to current day legal and ethical standards.
The ACLU reports that 85-90 percent of women currently incarcerated have a history of domestic and sexual abuse. We must look at alternatives to incarceration for any woman or person whose case relates to domestic violence and/or sexual abuse. Creating and implementing alternatives to incarceration for victims of domestic violence would contribute to the reduction of our prison population and shift the framework of our criminal justice system from one that is punitive to one that is restorative.
Changing the framework
Evidence shows that there is no significant public safety benefit to imposing long and severe sentences on people who commit crimes, and this has been pointed out in the national debate. Jannetta comments, "A lot of the conversation about longer sentences is taking place around the concept of effectiveness: does it reduce crime? That is an important question, but there is a moral and ethical question about how much punishment do we want to subject people to? How much punishment is enough?" He emphasizes the role of this question as an ethical one and not an empirical one. If we are to seriously take on mass incarceration, policy changes must reflect cultural changes in how our society views crime and punishment. The question of how can we shift our culture from punitive to restorative is something we need to address while ethically taking on the dehumanizing impact that harsh and punitive sentencing has on human beings. Jannetta says,
Where you need to be clever or innovative is making that palatable to people. We have recalibrated our sense of how much punishment is enough and who should be in prison. We have been living in the era of mass incarceration for a while now. In the mid-90's, we had already moved toward mass incarceration and that has been the situation and the status quo. There must be a substantial change of framework and policy considerations to change the status quo.
One model that gets away from a punitive approach is the restorative justice model. According to the National Council on Crime and Delinquency, restorative justice seeks to repair harm done and restore the humanity of those involved in criminal acts. Thus far, there has been a move toward restorative justice practices in school districts, most notably in Oakland, CA, to thwart the school-to-prison pipeline and provide an alternative to punitive disciplinary policies. Talking about a restorative approach to criminal justice is imperative to changing the framework and should be a centerpiece of the national conversation on criminal justice reform.
Looking abroad for innovative policy ideas
Harris talks about the importance of looking at what other countries are doing for violent crimes. Dr. Larry Gant, a professor at the University of Michigan School of Social Work, has been engaged in comparative policy work addressing the social, political and economic factors driving carceral policies, programs and services in the advanced western-style democracies of the U.S., Netherlands and Germany. He has talked extensively with police administrators, front line officers, attorneys, social workers, inmates, nongovernmental organizations (ngos) and community residents reflecting the disproportionate representation of poor and minority populations that comprise much of the carceral population. Gant reveals that in his discussions with EU colleagues (and some in the U.S.), there was shock that the U.S. for years was "a laggard in mass incarceration" and throughout the 1970's was "internationally recognized for programs that educated, trained and placed people out of the criminal justice system. He says that cities such as Amsterdam and Gouda have implemented restorative justice programs that have been "remarkably significant in reducing incarceration." While Germany's prison system appears to resemble the U.S. approach in some respects, he adds "there is a lack of privatization of the carceral enterprise, an availability of educational and training programs for people in these facilities, many routes to diversionary programs for many more population groups than in the US and a much greater reluctance to incarcerate first and ask questions later." Dr. Gant states,
If people are made to feel as if they are part of the community, that they matter and that there is a role for them that must be earned . . . but the paths are at least clear . . . the need or willingness to commit crime plummets. There are a number of NGO programs, many funded by local, state and national governments in the EU, that work on the front end of the system such as HALT, Gangway and Aufwind. There are advocacy networks, referral programs and supports that address conditions that may place more vulnerable, less visible members of these societies (e.g. political and economic refugees, youth, women and boys at risk for human labor and sex trafficking) as well.
He indicates that the current path of the U.S. -- to incarcerate first and foremost within "a context of economic distress, erosion of quality public education, marginal work opportunities and a desperation to think short-term" -- has contributed to the crisis of mass incarceration in the U.S. and is, out-and-out, an inhumane approach.
Community input and participation
That so many politicians and policymakers are talking about criminal justice reform is step in the right direction. "Ok, now let me see your plan," says Harris. She continues,
It will require strong leadership, visioning and work with the communities most impacted to come up with real solutions to safety. It can't be some D.C. think tank solution machine; we actually need to invest in communities in being self-sustaining and self-determining in creating solutions that are sustainable. It can't just be legislated.
Seriously tackling mass incarceration requires that the voices of those most impacted by mass incarceration be at the forefront of the conversation. It also requires the creation of innovative ideas at the community and grassroots level to address issues such as community safety, educational equity, economic justice and re-entry.
Joan Mendoza, social worker and innovative educator, explains her frustration with a lack of social and community-based supports for her brother, who was released from prison in California in January, 2015 after spending nearly two decades in prison. It has been an adjustment for not only her brother but her family as well. She says, "After twenty years of being in prison, those are your people. Those are your connections. It is almost impossible task to ask him to leave everything behind. Because he has left all his friends and his entire social network behind." Mendoza explains that the loss of her brother's social network and difficulty communicating with family members has contributed to the loneliness her brother has been experiencing after his release from prison. She says, "We can't fully understand what it is like for them and that can be a really lonely place for them. How does the community prepare for prisoners to come home, especially for those who have been out for so long? How does the family prepare?" She emphasizes the need for formerly incarcerated persons to have access to community-based programs and support systems that can assist in reconnecting them with their families and communities. She advocates that social workers play a role in reuniting former prisoners with their families and connecting former prisoners to resources that assist with job employment and transportation.
Darius, Detroit-area activist, has serious concerns about the injustice of incarcerating people before they have had a trial. A relative of his spent approximately 18 months in prison before her trial. He says, "This was because she did not having money for bail, which was a half a million dollars . . . a ridiculous amount for someone on a fixed income." During this year, he had to take time off work and school as well as expend money and resources in order to support his family throughout the process. He describes the pretrial period as being emotionally draining and physically time-consuming. He says, "Access to information and resources that would have helped his family make decisions throughout the pretrial process was limited." His idea is to provide families with community resources, programs and supports that will help them navigate complicated court processes and make informed decisions. He strongly advocates ending the practice of using money for bail, which discriminates against people who are in a low-poor socioeconomic class, and providing alternatives to incarceration that are community-based.
Mary Heinen, former prisoner and first prisoner student/co-founder of PCAP, suggests that resources and supports be given to communities, so they can create and implement alternative approaches to incarceration at the grassroots level and in a way that fits their needs. She advocates that teams of formerly incarcerated people and social workers work together to develop and implement problem-solving and conflict-resolution strategies that are used on the ground, when the conflict is occurring, as an alternative approach to incarceration. She says, "Directly affected people are wise and experienced and hold answers to our most pressing issues concerning mass criminalization." She advocates for community-programming and initiatives that address the root causes of incarceration in neighborhoods.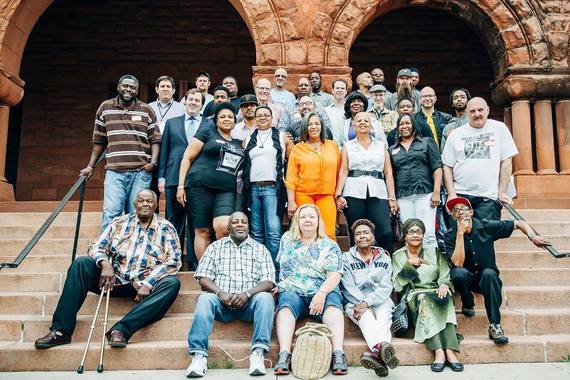 Returning Citizens Working Against Mass Incarceration
Photo taken by Center for Community Change in Detroit, MI on June 19, 2014
Building the movement to end mass incarceration
There are many ways to act at the community level to contribute to the movement to end mass incarceration. We can practice restorative justice with each other in our communities, support community coalitions and organizations that are addressing safety in creative and just ways, and advocate for economic justice and educational equity. We can support politicians on the right side of this issue, vote for policies that are building a stronger working and middle class and build community-driven social justice movements. Harris says,
There are multiple levels in which people can get involved. You can practice everyday abolition by not calling the police and figure out interesting ways to address poverty and the war on poor people. Anything people are doing to fight for better wages, unionized workplaces, redistribution of wealth and taxing the rich is, indirectly, working towards a world without prisons. In a more direct way, there are communities that are getting organized and building working-class people power to fight back against the system. All of those pieces are necessary.
Emily Harris invites us to join the national membership drive that the Ella Baker Center for Human Rights has initiated as a way to get involved in this movement to end mass incarceration. Ending mass incarceration will require but take much more than policy reform; it will demand creating a new vision for a kind of just world that restores our humanity and grows communities beyond prison walls.
Calling all HuffPost superfans!
Sign up for membership to become a founding member and help shape HuffPost's next chapter