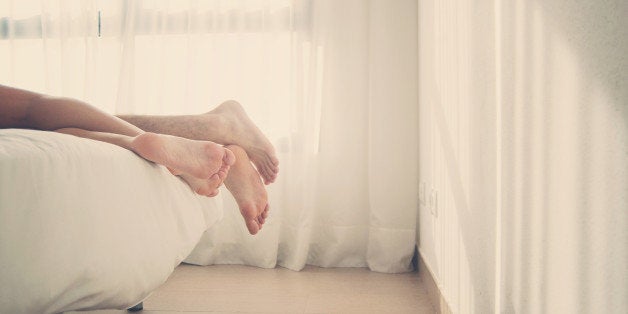 If Salt-N-Pepa can encourage us to talk about sex, most certainly doctors can... at least they should. However, despite women being the usual initiator of this conversation, most women don't have discussions with their doctors about resuming sex after a heart attack even though many experience fear or other sexual problems. Afraid that resuming sexual activity may cause another heart attack, women are looking to their doctors for guidance as to how soon they can get their groove back.
In a large multi-state qualitative study -- [TRIUMPH (Translational Research Investigating Underlying Disparities in Acute Myocardial Infarction Patients' Health Status) trial], women were followed for one year after having a heart attack. Women were contacted via phone periodically and asked a series of questions about their sexual life pre and post heart attack. Results showed that women did not receive the information they needed about resuming sex after a heart attack. And for those women who did, they initiated the conversation -- NOT their doctor. And of those conservations initiated by women, many were dissatisfied with the lack of information or perceived interest in the topic from their doctor.
Many were left wondering, is the sex wait four weeks? Six weeks? 10 weeks? Does someone have to wait until they can climb two flights of before getting busy in the bedroom? Although the latter statement is one commonly used, the scientific truth is none of the above -- there is no one size fits all answer.
Several studies show that resuming sex anytime post heart attack is generally safe and for women it usually becomes more intimate with foreplay, kissing and caressing. The biggest fear women and their partners have is having another heart attack related to the physical exertion and positions taken during sex. For all these reasons it's important to discuss this with your health care provider but overall it is generally safe to resume sex anytime after a heart attack.
Sex is a natural part of a healthy life. So don't feel bad or embarrassed if you're thinking about sex. In the particular study mentioned earlier, despite fears of another heart attack or dying, many women started having sex within a month after their heart attack even without guiding information from their doctor and without adverse outcomes.
In that same study mentioned investigators believed the communication barriers between women and their doctors were related to male doctors being uncomfortable with initiating this conversation with female patients, male doctors not recognizing that resuming sex is an important topic for women, and age discrepancies, as if older women aren't sexually active. None of which are valid excuses for bypassing the birds and bees conversation after a heart attack. So here's the bottom line -- have the conversation about resuming sex with your doctor. You may have other medical conditions, medications or symptoms that may influence when you should resume sex. And if you find that your doctor isn't giving you the information you need or makes you feel uncomfortable or skips over your health questions, you're probably better off finding another doctor who can.
This post is part of a series produced by The Huffington Post and the American Heart Association's Go Red For Women in recognition of National Wear Red Day (Feb. 5, 2016), the aim of which is to raise awareness that heart disease isn't just a man's disease, and 1 in 3 will die. But 80 percent of cardiac and stroke events may be prevented with education, lifestyle changes, and action. To read all the stories in the series, visit http://www.huffingtonpost.com/news/heart-disease/. And to follow the conversation on Twitter -- and share a picture of yourself wearing red -- find the hashtag #GoRed.
Related
Popular in the Community