But people want to talk to me about toys for kids, so let's talk. Parents want to know if this or that toy passes some sort of test I seemed to indadvertedly have created, and thus, I spent some time thinking about the types of toys my kids have enjoyed over the years that also provide some educational value. I better get more precise on how I assess the value of a toy in the life of my children. My criteria is as follows:
Does the toy stimulate STEM (Science, Technology, Engineering and Math) exposure, concepts or related curiosity?
Does the toy offer unlimited opportunities for creativity, beyond a first attempt or following instructions?
Is the toy likely to be used more than twice?
Is the toy gender neutral?
Does this toy encourage teamwork?
Here are six of my top choices:
Quercetti is an Italian manufacturer of "intelligent toys," all of which are focused on pre-engineering concepts. We own the marble run sky rail.
Benefits: Pre-engineering at its best, providing the opportunity to design a 3-dimensional rail for a marble.
Hazards: The marble presents a choking hazard for little kids with developmentally appropriate oral fixations.
Best for: ages 6+.
After I posted my bit about Goldie Blox, Little Bits contacted me to ask if they could send me a kit so that my daughter and I could play with it. Sure. In my opinion, Little Bits should eat Goldie Blox's lunch Bit by Bit.
Benefits: Great exposure to electrical circuits with bits that are color-coded, labeled and magnetized to click onto each other. The manual provides several opportunities to build all sorts of things. Our favorites were the personal fan and the noise detector. I also like the set's suggestion to combine these bits with other toys or household items for truly unlimited opportunities.
Hazards: The box notes that the kits contains magnets, which if swallowed, can cause severe intestinal damage. But from handling the Bits, in my opinion, the pieces are large enough to make swallowing them unlikely. Unless you gave birth to a gorilla.
Best for: Age 5+.
The numbers game that appears on the back of the newspaper, in a simplified version, is a great start to number awareness and logical thinking.
Benefits: Number awareness and logic.
Hazards: Lifetime addiction to this pastime, like yours truly.
Best for: Age 5+. Start with Think Fun Sudoku Junior which reduces the number array to 4 by 4. Then move on to paper-based regular Sudoku 9 by 9 arrays.
Despite my cursing the LEGO company every time I step on one of those pieces with bare feet in the middle of the night, our family is a huge fan of LEGOs. There are always two routes with LEGOs: 1) follow instructions or 2) build your own.
Benefits: Following visual instructions, organization, building, spatial awareness, unlimited options. The benefits grow with age and the product line up expands in difficulty all the way to programming robots.
Hazards: Choking, losing pieces, stepping on pieces, and long-term storage.
I have one bit of beef with LEGO: I don't like their super pink and purple Friends line targeted at girls. I don't buy those sets. I also don't like that their mini figures series generally have 11 male figures and one token female figure. My children and I decided this should be changed to six male and six female figures.
Best for: As signed on each box.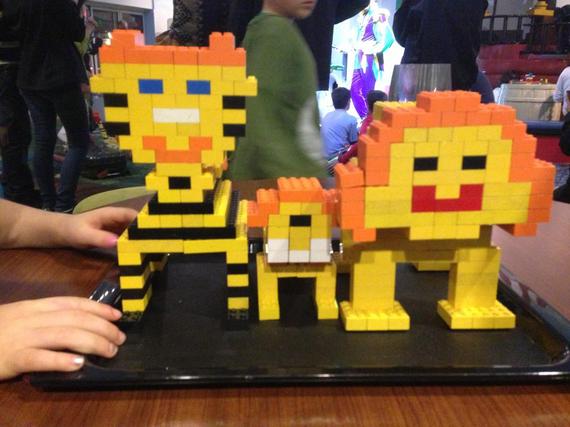 5. A Microscope
To capture that look of awe when a child discovers that you can look into a drop of honey and see so much more than you thought you ever could!
Benefits: Exposure to chemistry and natural sciences. Encourage mixing substances.
Hazards: We place elements onto glass slides, which may break and/or cut the user.
Best for: 5+
When Little Bits arrived at my house, I actually interrupted child's play... see, my kids were having fun playing with a rather large Macy's cardboard box, because Mami did a little online shopping, you know?
Benefits: Unlimited creativity, teamwork, building opportunities.
Hazards: Online shopping.
Best for: any age.
These toys pass the test, and there are many other amazing toys out there. Have fun with your little ones!