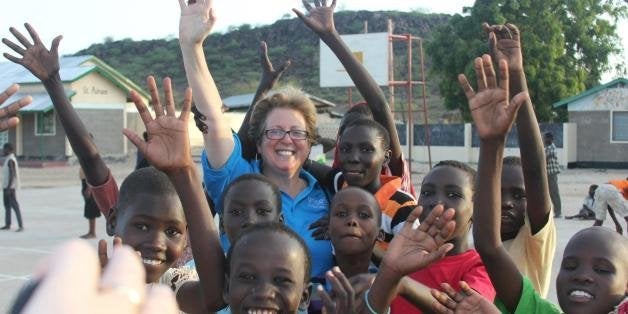 Last night in Washington, a group of leaders gathered to talk about something that really matters. Not political gossip, but children. The 18,000 young children who die each day of things we know how to prevent.
It was an honor to stand with Melanne Verveer, the nation's first global ambassador for women, and with former Congresswoman Ellen Tauscher, who is a leader in the global effort to prevent deaths in garment factories as Independent Board Chairman of the Alliance for Bangladesh Worker Safety.
The room was full of dedicated humanitarians, focused on three truths:
The opportunity to end preventable child deaths has never been greater.
Governments and organizations can't do it alone.
We all have a role to play in saving children's lives.
We know what to do to get to zero preventable child deaths. Simple solutions save lives--90 million since 1990. That's 90 million children who survived because they were immunized against common diseases. Or because their mothers were encouraged to breastfeed. Or because their homes have clean water and bed nets treated with insecticide. These are some of the simple solutions that UNICEF has delivered for decades, and we know that they work.
In fact, some of the world's poorest countries have made the strongest gains in child survival. Ethiopia is just one example. Ravaged by famine and civil war in the 1980s, the country has since made significant progress in saving the lives of its children.
Ten years ago, Ethiopia launched a program to bring healthcare to communities in remote areas. Today, with support from UNICEF, 38,000 female health workers are providing immunizations, screening for malnutrition, and delivering other lifesaving interventions across the country. Children are receiving basic health services in areas that used to be beyond reach. The result? The child mortality rate has dropped by two-thirds in the past two decades alone.
Bangladesh, Liberia, Malawi, Nepal and Tanzania have seen similarly remarkable reductions in child mortality since 1990. But in spite of global progress, 18,000 children still die every day of things like pneumonia, diarrhea and malaria. In 2012, a staggering one million babies died on the day they were born. Typically, it's the poorest and most marginalized children who fall victim to these easily preventable and treatable diseases.
In Freetown, the capital of Sierra Leone, I watched a baby die in front of me, as I held her mother's hand. Little Fatima, just six days old, died from tetanus, an easily-preventable disease that still claims the lives of nearly 60,000 newborns every year. Fatima's mother could have been spared the agony of losing a child for less than $2, the price of a cup of coffee.
I've recently published a book about what I've learned from the world's children and mothers like Fatima's. Some of them have suffered unimaginable pain. Sometimes, it's overwhelming. Of course, it's sad. But I never felt despair. Children do not need our pity or paralysis. They need us--every one of us--to do whatever we can to make their lives better.
Please join us in telling the world that it is not acceptable for 18,000 children to die each day.
If you're a writer, write. If you're an artist, make art. If you're a parent, teach your children about children's issues. If you have money to donate, give. And if you're a citizen, demand that our leaders make decisions that put children first. Use the skills that you have, the voice that you have, the power that you have, on behalf of those who have less.
Caryl M. Stern is the President and CEO of the U.S. Fund for UNICEF. She is the author of the newly released book I Believe in ZERO: Learning from the World's Children (St. Martin's Press, 2013) and the co-author of Hate Hurts: How Children Learn and Unlearn Prejudice (Scholastic, 2000) and Future Perfect: A Model for Professional Development (NACA, 1987). Caryl has authored numerous op-eds on child survival and development that have appeared in the Miami Herald, Daily Beast, JTA, The Forward and Star Tribune. Letters to the Editor that Caryl has submitted on behalf of the U.S. Fund for UNICEF have been published in the New York Times, USA Today, Vanity Fair and Newsday. She is married with three sons and two grandchildren.
REAL LIFE. REAL NEWS. REAL VOICES.
Help us tell more of the stories that matter from voices that too often remain unheard.