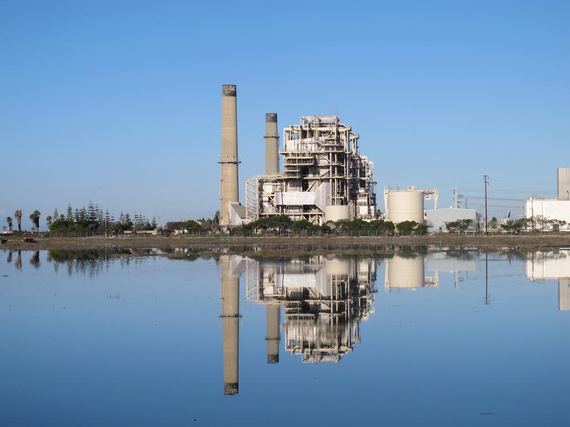 Poseidon Resources, a private, for-profit water supplier backed by East Coast private equity investors, wants to take seawater that the public owns, desalt it, and sell it back to the public at a much higher cost than we currently pay for water. Poseidon's recent press release about a study of its proposed Huntington Beach facility shows how much Poseidon is willing to bend the truth to secure its profits at public expense.
After years of study and deliberation, California's State Water Resources Control Board recently adopted standards for new desalination plants like the Huntington Beach facility. One of those standards requires new facilities to intake seawater using "subsurface" intakes that are buried beneath the sea floor. Such intakes help avoid the substantial intake and destruction of marine life that desalination facilities would otherwise cause; accordingly the standard is a critical means of implementing a 1976 marine resource protection law.
To help ascertain whether Poseidon can comply with the law, an expert panel co-convened by Poseidon and California Coastal Commission staff has been examining the feasibility of using subsurface intakes at the Huntington Beach facility. The panel recently concluded Part 2 of its study, with mixed results. In essence, the panel concluded that while a subsurface infiltration gallery (SIG) was technically, environmentally and socially feasible, the Panel believed that is was not currently economically viable because the Orange County Water District - who has signaled it is interested in purchasing the water - is not willing to pay that much.
Perhaps because such conclusions are inconvenient to its profit-making scheme, Poseidon issued a press release that misrepresents the panel's conclusions. For example, it falsely claims that the panel found subsurface intakes to be environmentally inferior to open-ocean intakes, which are well documented to cause significant harm - and were in fact a motivating factor in passage of the 1976 law. In fact, the panel clearly states that its report "does not compare the potential environmental impacts of Poseidon's proposed open ocean intake with the potential impacts of the [subsurface] options: "The impact discussion here should not be taken to imply that the potential SIG impacts are more severe than those of the open intake..."
Poseidon also claims that the Panel confirms the Santa Ana Regional Water Quality Control Board's 2012 decision to authorize open-ocean intakes at Huntington Beach. Pursuant to the State Water Board's policy, however, the Regional Water Board's decision no longer applies - a fact that the Regional Board made clear to the Coastal Commission in a recent letter stating that it views the proposed Huntington Beach plant as subject to the new standard.
This is not the first time Poseidon has employed misrepresentation in order to enrich its investors. In 2009, Poseidon risked losing a permit for its desalination facility in Carlsbad when the Coastal Commission found that Poseidon had submitted inaccurate calculations in a required marine resource protection plan. Just three months later, the Coastal Commission found that Poseidon had intentionally supplied misleading or incomplete information in its greenhouse gas mitigation plan for the same facility.
This lack of concern for the facts permeates Poseidon's ongoing PR campaign to pressure the Coastal Commission to approve the Huntington Beach facility with an antiquated open-ocean intake design that will cause significant damage to the marine environment, in contravention of the spirit, not to mention the letter, of long-standing state law as well as the recent State Water Board desalination policy.
Why is Poseidon so desperate to mislead? Poseidon had already secured rights to build its Carlsbad facility, while pressuring the State Water Board to give it a pass on upgrading the Carlsbad open ocean intake design to comply with the new standards. At the time, Poseidon gave public assurances that its Huntington Beach facility would fully comply with the new policy. Now Poseidon cries that subsurface intakes are too expensive - in essence, that using them would cut into its profits.
Of course subsurface intakes are more expensive than using technologies that will likely kill billions (yes, billions) of marine organisms over its desalination facility's expected decades-long lifetime. That's a no-brainer. But state law and policy are clear that such damage is not acceptable. If Poseidon wants to make a profit off public resources, it needs to pony up, make the necessary investment in protecting California's invaluable marine life, and join the rest of us in the 21st century. Just as importantly, it needs to stop misstating the facts.
REAL LIFE. REAL NEWS. REAL VOICES.
Help us tell more of the stories that matter from voices that too often remain unheard.