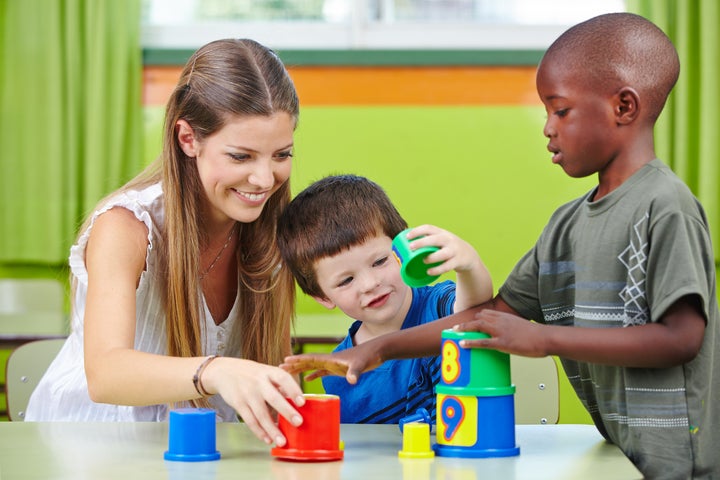 We have a hidden fuel in our society that keeps our country's economic engines running, and many people don't even realize it — an industry that helps people find and keep employment, attain an education, and keep businesses thriving and social costs down.
What if I told you this industry is one of the lowest paid, least appreciated, often overlooked, and least supported of all the industries?
The child care and early education workforce is that hidden fuel. And they are undervalued for the work they do each day.
It's a case of economics…
Without them, businesses would crumble, wages for many would be lost, and we would diminish our competitive economic edge. But early childhood educators are underpaid, overworked, and even if they deeply love what they do they're often not supported enough to stay in the workforce.
And here's why — even with a college degree the average income in the early education workforce is $10.33 an hour. That's only around $21,000 a year! Most get paid minimum wage and live below the poverty level — they can't even afford child care for their own families.
The Center for the Study of Child Care Employment (CSCCE) recently published a report that found that child care teachers earn less than adults who take care of animals and only slightly more than fast food cooks. Yet each day they help other peoples' children build brain connections during the earliest and most critical years of human development, setting a foundation for lifelong success in their role as the primary caregivers for many families.
It's a case of logistics…
As a mother, an advocate, and an employee, I call my children's child care providers my "co-parents." They care for my two children more than 40 hours a week so that my husband and I can work and support our family in the expensive Northern Virginia area. Sometimes I have to stay late at work and rush to pick up my children by 6 p.m.
They still manage to greet me with a smile, although I'm the hold up between them and their first break of the day. Occasionally I forget diapers for my daughter and somehow they graciously find some to use — probably ones they may have bought with their own money.
It's a case of growth and development…
The relationship we have with them is not only important to us, it is a relationship that's important to my children as well. They ask me how things are going when either my husband or I are out of town and the other is solo-parenting for a few days. They pay attention to our children's eating, sleeping, and behavioral and emotional well-being and let us know if something seems amiss.
Caregiving in my child care program involves dedicating limitless amounts of kindness, patience, and energy not only to my two children but to many other young children in their care — all under five years. They listened to my son and supported him when he was having a hard time adjusting to a new sibling, and helped him grow into his role of "big brother." They consistently work long past the regular instructing hours of teachers. There's not a lot of downtime or a prep period, it's just constant loving, coaching, and teaching.
It's a case of partnership…
They are critical partners to my husband and I in loving, nurturing and rearing our children. Above all, they provide priceless piece of mind to families like ours. It's hard to leave a newborn, an infant, or toddler with someone else, knowing the amount of care that is required. So on Friday, May 12, and every day before you drop off your child, make sure to thank your child care providers for doing what they do every single day.
And to those without children in child care, thank them for being a critical piece of our nation's infrastructure. U.S. businesses would lose $4.4 million annually without quality, reliable child care. That's a lot of missed work and it takes a toll on the economy!
Calling all HuffPost superfans!
Sign up for membership to become a founding member and help shape HuffPost's next chapter