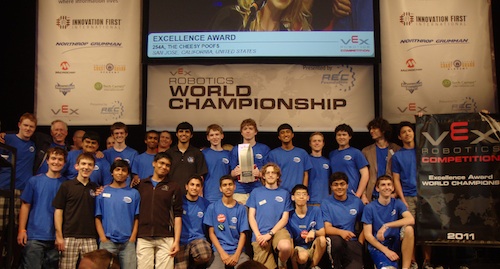 Team 254 "The Cheesy Poofs" from Bellarmine College Prep in San Jose, Calif. received the High School Excellence Award at the 2011 VEX Robotics Competition World Championships. Photo credit: Steven Rainwater
Last year the young winners of the FIRST (For Inspiration and Recognition in Science and Technology) Robotics Championship went to the White House and shook President Obama's hand -- just like the winners of the NCAA basketball tournament do. We should make a practice of giving our math and science stars the same level of recognition we award our sports stars. It could be a key component of attracting students to the sciences and graduating the kind of talented adults companies around the world want to hire.
I saw why this past week at the VEX Robotics Championships in Orlando. Both VEX and FIRST do something you might not expect of a robotics contest: they cultivate teamwork and the kind of social skills that turn smart kids into bona fide leaders. The only difference between robotics stars and sports stars, it turns out, is that the careers of robotics champions don't have a shelf life.
The secret sauce of robotics competitions -- VEX and FIRST are just two of several in the U.S. -- is relevance. The teams are given a real-world goal: to raise money and build a robot of their own design that can go head to head with other teams' robots to complete a series of complicated tasks. It's hands-on, project-based learning, which is precisely the kind of approach that transforms math and science from intimidating subjects to engaging fun.
What's more is that in an increasingly virtual world, robotics contests force kids to work together face to face and develop the kind of communications skills that will serve them well throughout their lives. When companies like Lockheed Martin are weeding through 1,000 resumes for a single opening, it's the candidate who can make presentations to management who gets the job offer.
Kids dream of being sports heroes; organizations like VEX and FIRST are giving them reasons to dream of being science and technology leaders. Competition and recognition might be exactly what kids need to feel that pull to exercise -- their minds.
Popular in the Community