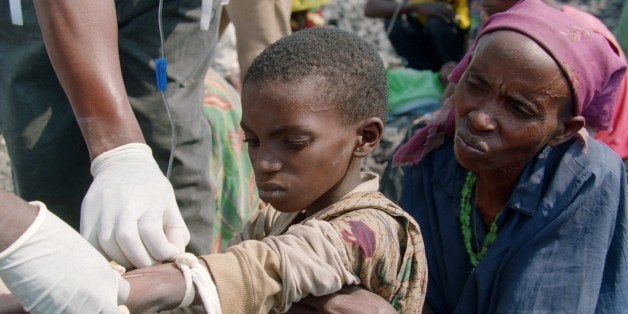 If 18,000 preschool kids and 800 moms were attending a World Cup game and they all died, no newspaper around the world would be silent. But that's exactly what happens every day around the world: 18,000 kids die before they reach the age of five and 800 moms die during pregnancy or childbirth. The biggest tragedy is that in both of these cases, most of these deaths are preventable.
Today, over 500 representatives from governments to non-governmental organizations to the private sector are gathering in Washington, DC to take on this challenge and discuss how we are "acting on the call to end preventable maternal, newborn and child deaths" -- a pledge that 176 governments and over 450 civil society organizations and faith-based organizations signed two years ago.
This is an opportunity not only to reflect on the tremendous progress made on improving maternal and child survival around the world, but also to double-down on our success and demand more attention and resources. Imagine how many lives could be saved if we coupled political will with sufficient resources focused on key interventions.
Over the last two decades we have nearly halved the number of children dying annually and reduced the number of maternal deaths by 45 percent. Twenty-five countries, including Rwanda, have reached Millennium Development Goal Four (reducing child mortality by two thirds) and a number of other countries are on track.
In fact, according to "Countdown to 2015 modeled data in 2013," Rwanda not only had already achieved an under-five-year mortality rate (U5MR) reduction of more than 70 percent, but it has the fastest rate of decline in child deaths of any country, ever.
Rwanda's success, while remarkable, is not a mystery. Investments were based on the evidence, tackling the biggest threats to child survival by increasing effective interventions such as vaccinations and breastfeeding rates. The government has put equity at the core of efforts to strengthen the health system from putting community health workers in villages and ensuring appropriate care facilities at the sector, district and provincial levels, as well as referral hospitals across the country. This approach to bring care and prevention near where the people are living has drastically improved the geographic accessibility for all. And this commitment to reach all Rwandans has been mirrored in the Vision 2020 strategy that will improve socioeconomic conditions.
Rwanda is a success story but much remains to be done: no country should stop before ending the last preventable child death. Many countries in Africa are experiencing success, but the risk of a child dying before five is still highest in the African Region -- about six times higher than that in the Americas. Today, a woman's risk of dying from childbirth in sub-Saharan Africa is more than 47 times greater than in the United States.
Rwanda proves that it doesn't have to be this way. A recent study by the World Health Organization noted that an additional $8 per capita per year investment in Africa could prevent up to four million maternal deaths, 90 million child deaths within a generation in the region. And the benefits can transform not only families, but also economies: investments in maternal and child health yields economic benefits including higher per capita incomes and increased labor force participation.
To end preventable maternal, newborn and child deaths globally, we must increase attention and resources in Africa. Today, USAID is releasing a report, Acting on the Call: Ending Preventable Child and Maternal Deaths that lays out a roadmap for dramatic progress over the next five years. The US and African Presidents will come together in August to talk about investing in future generations. Together, we have an opportunity to use this Summit to accelerate action in Africa to end preventable maternal, newborn and child deaths worldwide. Our hope is that this summit will increase collaboration between the U.S. and African partners to promote and deliver the most effective interventions and identify new and innovative resources.
There is no more important goal we can share, no more important investment in the future health and stability of the continent, than saving the lives of mothers and children.
Calling all HuffPost superfans!
Sign up for membership to become a founding member and help shape HuffPost's next chapter