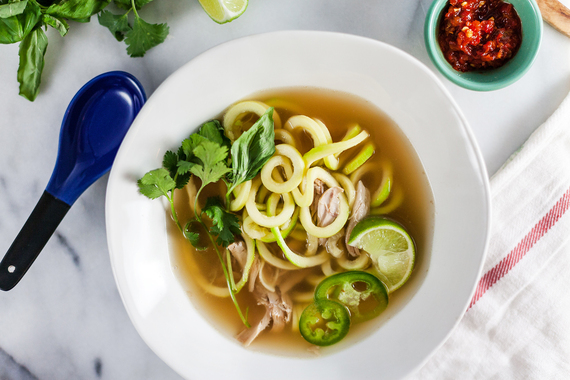 For the past few months, I've been completely obsessed with Thai flavors. Basil, lemongrass, chili, ginger, lime – I can't get enough! I've been stuffing them into peppers and lettuce wraps, using them to flavor baked chicken wings, and adding them to my salad dressing. It was only a matter of time before my thoughts turned to soup.
The star of this Thai chicken soup is the broth, which I made in a slow cooker. If you don't have a slow cooker, a regular stock pot will work just as well. The trick is to cook it low and slow, letting it reduce so the flavors concentrate.
To make the Thai chicken soup, I start with a standard chicken broth – perfect for flu season – kicked up a few notches with ginger, jalapeno, and lemongrass. I use chicken legs for the broth, then shred the cooked meat to add back into the soup at the end. Removing the skin from half the legs helps cut down on fat in the final dish, while browning the other half before adding them to the pot gives the broth an extra layer of rich flavor.
I wanted to keep things light and simple, but still ensure that the soup was packing plenty of nutrition, so I decided to skip pasta and use zucchini noodles instead. I love the way the compliment the flavor of the broth, soaking in all of it's flavor.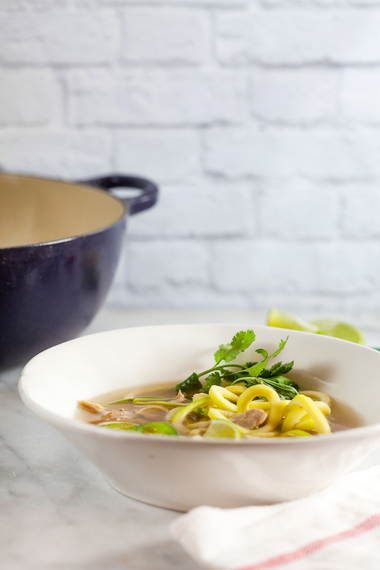 I use a paderno spiralizer that I absolutely love, but if you don't have one you can shred the zucchini lengthwise on the coarse side of a box grater. The noodles will be a little thinner if you use a grater, so the texture won't be exactly the same, but they'll taste just as good.
To serve, I like to take a cue from pho and finish the soup with fresh basil, jalapeno slices and just a touch of sambal olek, a spicy thai chili paste. Let everyone add their own for a fun, customizable experience – and so they can have it be as mild or as spicy as they like.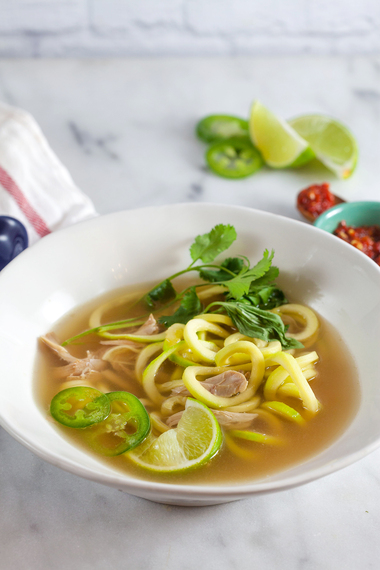 Lauren is all about eating lots of fresh, in-season fruits and vegetables, whole grains. She blogs by the mantra, "If it's not delicious, it's not worth eating," over on Healthy. Delicious., and we couldn't agree more! We're so glad she's our Soups Fanatic!