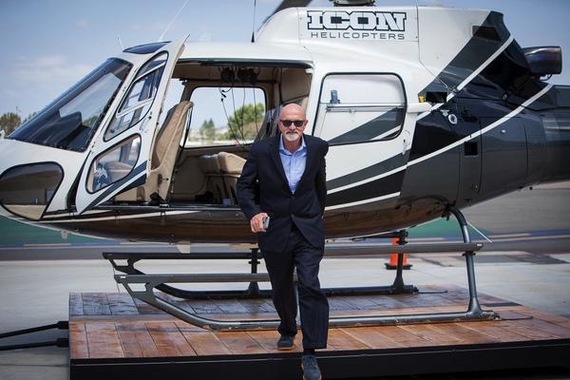 Carlsbad, California, is on fire, and we don't mean the chaparral brush fires to the east. The City is becoming like a mini-Silicon Valley to the south, without the hassles and with better surfing. Certainly, it's the high-tech, biotech, action sports center of San Diego. Intellectual Capital recently made a cool aerial reconnaissance with Icon Helicopters lifting off from Carlsbad's McClellan-Palomar Airport, which itself is expanding quickly, working as a smooth hub to connect Carlsbad to LA, San Francisco, and the great beyond.
As soon as we were airborne, I was struck by the dozens of labs, research buildings, and corporate headquarters below, rivaling La Jolla's Mesa or even Menlo on a smaller scale. Carlsbad is now home to 1/4 of all the biotech in San Diego County (which itself now rivals Cambridge and San Francisco,) from startups like Koliber (gene-tricked tryptophan) to major companies such as Genoptix (cancer diagnostics,) ThermoFisherScientific (the picks and shovels of the industry doing $17 billion in sales annually,) and Ionis Pharmaceuticals (curing disease by killing the RNA messenger.)
Genoptix was co-founded by the legendary Tina Nova. Nova holds the patent on the Prostate Antigen Test or PSA from the original San Diego biotech, Hybritech. Genoptix was sold to Novartis in 2012 for some $470M. Almost next door, by iconic helicopter, is ViaSat, the satellite communications company with 3300 employees. Want to watch Netflix or Game of Thrones without skips on Virgin Air or Jet Blue? That's ViaSat, which also powers Air Force One, and an increasingly number of living rooms. It is a killer algorithm I don't pretend to understand. Via-satellites with giant solar wings fold into small nose cones launched from earth and unfurl like deft gossamer butterflies in space. Our own Icon whirled down-canyon over Carlsbad's new pool and skateboard park Alga Norte, then above GoPro's new top-secret SoCal headquarters on the "Make campus" (so top secret everyone knows about it, but I would like to see the new 360 degree virtual drone cameras) till we zoomed across Batiquitos Lagoon to circle the newly on-line Claude "Bud" Lewis Poseidon desalination plant, a billion dollar facility that provides 50 million gallons of filtered sea-water daily, a proactive step to meet SoCal's endless thirsts, and a palatable addition to the coming Pure Water revolution or what Greg Koch (genius creator of "Arrogant Bastard," the beer) once told me he might brew next, "Toilet to Tap, the IPA"; that, however, may be a bit of East County swill, an out on Highway 67/Escondido digression.
But it does kind of bring us to lunch. So we rotored back to Palomar Airport and were driven to Rubio's Test Kitchen. Rubio's is up to 200 restaurants now. The eponymous Ralph Rubio served us himself. I had the Cilantro Lime Sea Bass Taco, and it was a tasty mid-day detour from high-tech.
Then it was time (I think it was time, I'd had a couple East County Arrogant Bastards by then, and may have been conflating our two-day tour) but time to kick the ball around at SKLZ, which makes advanced training gear for professional athletes, and those perhaps less advanced like me, grip-able medicine balls and the like. I was amazed by the all-glass conference room suspended over the training floor where humans twice my size worked out. Possibly three times my size. I have to admit the last Chargers game I cheered at featured Ernie "Big Cat" Ladd.
But I did get a chance to swing a virtual golf club at Cobra headquarters. You lean back and whack forward and the trajectory appears on an enormous screen as if you were on the course. Carlsbad is US golf headquarters with Callaway and their high-tech metals science revolution anchoring.
We tooled over to the Alga Norte skate park where Kanten Russell--who designed the place--did some ballet numbers for us, perhaps more subdued than the big air leaps across staircases and buildings he was known for in his extreme youth. A company called 5D Robotics then trotted out big-wheeled robots which could track and follow a runner or a soldier like a loyal Labrador; or set a "virtual rail" line in warehouse lot for autonomous vehicles to follow, unload and deliver.
The skate park was loud and crisp with much wheel clacking but nothing compared to the full-tilt whirr of Aerial Mob, the first FAA-approved drone cinematography company, inside their Carlsbad warehouse. You see the Mob's work in shows like The Mentalist, but my view was up close with this beautiful honking big-spider of a drone hovering only 30 feet above my head. (By the way, some time later at the La Jolla Playhouse's Innovation Night, a VC colleague told me Kleiner had just invested in a San Diego company whose software could help you escort a rogue drone off your property--"get your nemesis off the premises"-- should you be sunbathing topless or testing proprietary data on the back lot or both.)
That night there was a sunset reception at the Cape Rey Hotel, followed by, in my case, more fresh seafood at Vigilucci's in Carlsbad village, which is the old Raymond Chandler part of town near the rail station where the Pacific Surfliner stops. It stops in front of Bluwater Crossing, as well, a Carlsbad incubator with apartments above and the beach out front, something hard to find in Brooklyn. "Step into Liquid" or step onto the train.
It was a whirlwind tour, as I said. So let's take it up an intellectual capital notch. What creates an innovation community, that proverbial cliché of the next Silicon Valley? Why is it hard for Chicago and not San Diego? Why do ideas hatch in Boston and by-pass Manhattan to land in Menlo Park? What is the genome, the secret sauce, of a creative hub like Carlsbad, population 110,977 and average family income $107,048? "Takes a rainforest," to quote my friend Greg Horowitt, global innovation policy advisor to the University of California, San Diego, and not coincidentally the co-author with Victor Wang of The Rainforest: the Secret to Building the Next Silicon Valley. "Innovation," believes Greg, "comes not from the basic ingredients of economic production, but from the way that people interrelate with one another to combine and share ideas. A community that facilitates such relationships is a biological system we call a rainforest." Ah, so it is not just the loading dock at Callaway Golf or even the mailroom at Genoptix--reputedly the two highest users of FedEx in San Diego County--but rather where the chief technology officers of those companies--or the engineers at ViaSat or the young staff at 5D Robotics--go for bike rides, who they talk to whilst ubering in from Palomar airport, or the woman you apologize to after cutting her off in the lineup at Black's Beach. It's all about the interaction but Carlsbad, it seems to me, is not the squeaky-geeky space inhabited by those denizens of the great HBO series created by UCSD grad Mike Judd, "Silicon Valley." Rather, it's more of a looping life in action video created by another UCSD grad, Nick Woodman, founder of GoPro. Carlsbad is horizontally integrated, you see. You don't just drive there or take the Google bus.
You live there.
Popular in the Community