GUIYANG, China -- It is not everyone's weekend getaway.
In the nation's southwest, bordered by Sichuan on the northwest and Yunnan on the south, Guizhou is among China's poorest provinces.
I experience sort of a flash back upon arrival in its capital, Guiyang - 3 million people - a small town by Chinese standards. The city has very much the urban look I knew when I lived in China 35 years ago. There are very few of the sleek, modern skyscrapers or designer stores now ubiquitous in China's eastern cities. As capital of of a poor province - the city has very much the feel of a place in development.
Many of the poor of Guizhou province are among the "Miao" ethnic minority. They eke out a living in the heavily eroded limestone mountains and highlands in the rural areas to the west and south of Guiyang.
The World Bank says out of a population of 40 million people in the province, "11.5 million live below China's official rural poverty line." Poverty here is put at a daily 6.3 Chinese RMB or about a dollar a day.
Poverty in Guizhou was tragically and dramatically illustrated last summer. In early June in a village about three and a half hours west of here, four children: a boy and his three sisters were found dead after swallowing pesticide. The boy left behind a note. He said the four felt deserted. At age 13, he could no longer take care of his younger sisters. The mother who had been working in a toy factory 600 miles away in eastern Guangdong province returned to the Guizhou village to make the gruesome discovery.
According to Chinese State media, the children were victims of a phenomenon the government is trying to eradicate. Impoverished parents leave their children (many of them illegal under China's birth control policies) to seek work as migrant laborers. Poor parents have deserted an estimated 60 million children in China. The Chinese call them留守儿童, liushou ertong or "left behind children." They are left with relatives who have little means or the parents hope that local government agencies will care for the children. Mostly, the kids fend for themselves.
A few weeks after the children's death, President Xi jinping visited Guizhou pledging to lift the province out of poverty. The state news agency Xinhua quoted Xi as saying "We need to learn how an impoverished population can work to overcome poverty and achieve prosperity."
Xi made a remarkable promise. He set a national goal of "lifting 70 million people out of poverty by 2020."
The World Bank confirms that China's anti- poverty efforts have been extraordinary. In the past 15 years, nearly 600 million people increased their incomes above the roughly $400 a year poverty line.
Average Chinese individual income according the World Bank stands at about $ 7,400. Using the same measure, the World Bank puts average United States income at about $55,000.
One young woman I met during my long weekend in Guiyang invited me to her father's 80th birthday party. She had grown up as the daughter of a privileged provincial official. Her father came from a small Miao village. Growing up in the city, she said, she was conscious of poverty only by "the low standards of high school education."
Clearly an ambitious young woman, she had passed college exams to attend a university in Beijing. She now lived the dream of many young Guizhou people by working in Shanghai.
At his birthday party, her father was clearly proud of his rural roots. After retirement from his government job, he had taken up photography. He roamed the villages of Guizhou and the provinces of the West taking pictures. He beamed with excitement as he showed me his collection of photographs. He gave me permission to show off some of them here.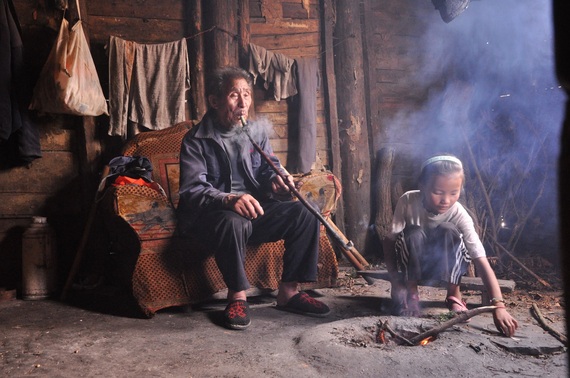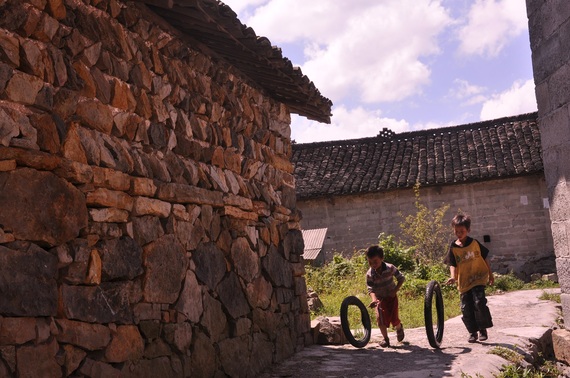 (photos courtesy Gu Yonglu)
In their wood and stone houses the Miao people live in stark contrast to the rising prosperity around them. Children still play -tire or hoop rolling - as they have since the 17th century.
In his beautifully revealing book "China in Ten Words," Chinese author Yu Hua titles one of his chapters 差距 = Cha ju or "disparity."
"China today," writes Yu Hua, "is a land of huge disparities." "...it's like sitting in a strange theater where a comedy is being performed on one side of the stage and a tragedy on the other."
And so in a place not far from where children die of neglect.... a new glass pyramid, built in 2013, rises above Guiyang's People's square. It's the entrance to the new WAL-MART where a new rising middle class can shop til they drop.
A few miles away, astonishing to this lover of train travel, is the spanking new Guiyang north railway station; departure point for the sleek, high-speed, "bullet" train that links this poor mountainous province to the rich Pearl River Delta.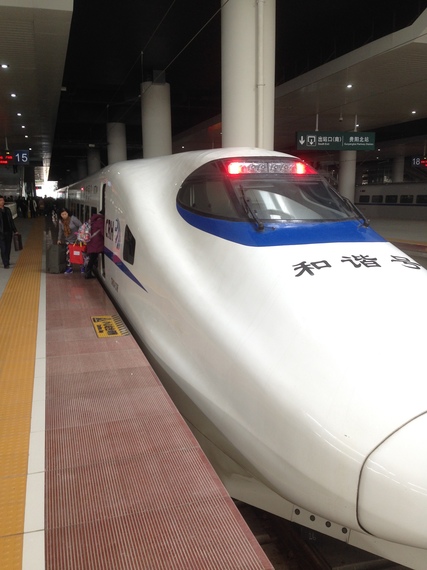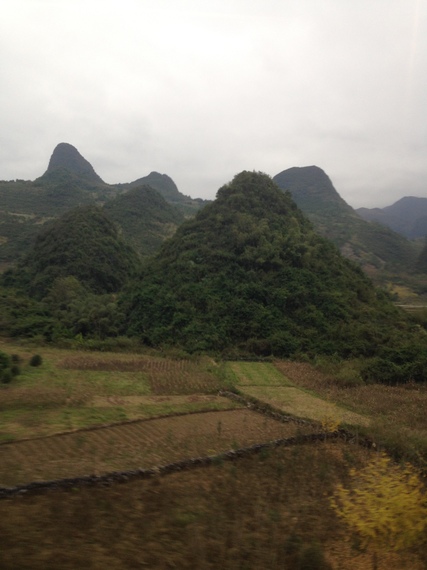 The train was opened in December 2014. For 42 dollars for a ticket on the 'D2811,' I race across nearly 600 miles, through 238 tunnels, passing through spectacular scenery, arriving in Guangzhou in five hours. The train cuts through some startling Karsk landscape stopping at popular tourist sites like Kaili and Guilin.
The rail line was built in six years at a cost of more than $ 500 million.
And so as I speed eastward, marveling at the scenery, the engineering, the investment, and the hard work, I somehow become a believer. The goals of improving living standards in Guizhou and raising nationwide another 70 million people out of poverty in the next five years, some how seem achievable.