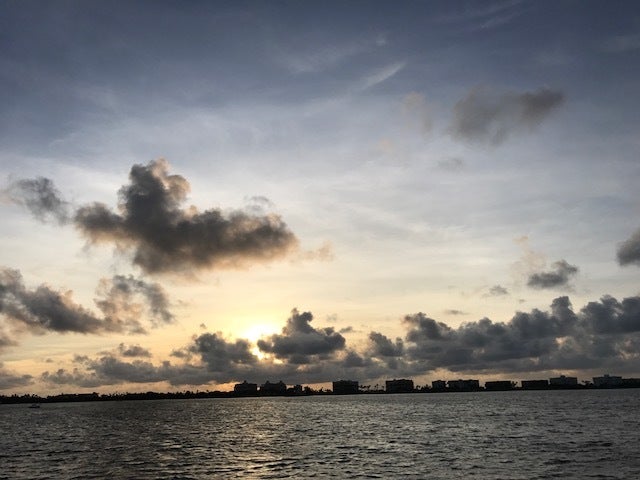 I did everything I could outside yesterday, thinking I would be making last-minute efforts in the rain today. I'm really done now. I think. Last night I remembered to pay the mortgage. It was a panic at 10:30—the first ATM I went to wasn't working so I had to find another branch at which to make my deposit. That's done. Today I realized I need a new filter on my AC—I used the last one and forgot to buy more and the current one is the color of my dogs' coats. I guess if the power goes out, that's moot.
Lucky me, the track has shifted, so the actual storm may never hit here. I can't say enough about my gratitude for this possibility. This is a major hurricane. My aunt who lives in Switzerland saw it on the news and called me. My neighbor's father is in a panic in France. I'm getting emails from Australia, England, France and Hawaii. There will be houses open to the sky, cars crushed, live power lines sparking on the sidewalk. If you have ever turned down a familiar road only to discover it's a cul-de-sac with what looks like established shrubbery at the end of it, then had to re-think your double-take to realize that an enormous tree has been uprooted and is blocking your way, you know what I mean. Rush Limbaugh says it's all hype, but Palm Beach proper is in the evacuation zone, so he went. I can't see him worrying about his car or flying debris. I assume he has people to do that for him. Most of us don't. This is real, even if everyone is not hurt.
Feeder bands reached Key West yesterday, but my friend and her brother were outside, looking at patchy clouds around noon today. It's supposed to be a Category 4 by the time the eye passes over them at 9 a.m. tomorrow. Newly-wed friends in Melbourne reported heavy rain there too, but they are on the Atlantic coast, like me, and hoping things won't be too bad. Their only worry is that they were not able to find any propane—anywhere. Their new barbecue is just so much metal for now, but the power is still on. They are counting on romance to see them through.
Evacuees who left for Atlanta days ago—as soon as they knew they were going to be in the cone—found the normal eight- or nine-hour run taking 12. They said that yesterday the trip was taking 16 to 18 hours, and gas was a problem.
It rained here a bit this morning, but not for long. I helped shutter the cottage across the street, then we covered my friend's sports car with visqueen. It's 20 years old and the ragtop leaks. Sweaty in the gloomy sun, we went for a swim in a neighbor's pool and returned home for a final patrol around the house for anything that might go flying. I pulled the hanging plants in and ran the dishwasher. I had not expected such a calm day.
This is what I hate about hurricanes: the anticipation. Waiting for the lashing to start. Living in a house with no natural light. I know, I could be in a hotel room someplace, but I'm too much of a control freak for that. I'd be twice as worried.
When I walk outside, the sky has gone dark early, and the wind has picked up. I hear thunder on a long roll, but it's still far away. It's not all bad: the storm's not due until tomorrow, so today we're having martinis! Piano music is streaming from the house next door. We're waiting.
Calling all HuffPost superfans!
Sign up for membership to become a founding member and help shape HuffPost's next chapter