Hallelujah! Three years ago, I was transformed. I was sick and tired of all the problems I was having with my umpteenth PC, and slowly, over time, several friends finally convinced me to try a Mac. I went to San Francisco for the holidays and went up to the spirit in the Apple sky, the flagship Apple store. I bought my first MacBook, and I was one happy girl -- especially after I got through the totally doable yet hair-pulling frustration period of throwing my PC knowledge into the poubelle and installing the latest Apple OS into my non-tech brain.
The next year I went back to San Francisco for the holidays, and I immersed myself in Apple classes and personal training sessions. I was determined to learn how to use the amazing media-producing machine I'd purchased, and that's exactly what I did. And FYI: I give that store, and its staff a stellar 10 out of 10 for their work and for their working with me. After all, I live in Paris and only had a limited amount of time to drill as much Apple info into my brain as possible. Because unlike New York, London, Sydney, and Tokyo, Paris didn't have a real Apple store. And sorry, France, and my French friends, but we all know about the almost non-existence of what the rest of the world knows as "Customer Service" in France. Plus, I'd had a major problem with the "Customer Service" that was here. It wasn't up to Apple snuff in my book.
Could Apple do sufficient training so a staff here could pull off Steve Jobs' amazing company concept?
And I dreamed of an Apple store in Paris, where I could find what I needed and maybe even get technical help. Because, you see, in the past three years, I've become a full-fledged Apple fanatic. I now own a MacBook, iPod, Apple TV, iPhone, Magic Mouse, wireless keyboard, and more. I switched my daughters to Apple though not the Lone Wolf because his frustration period would get dumped on me and drive me insane. But I love everything Apple and only want more of everything Apple in the most desirous way. With no shame, I call myself Apple greedy.
I had heard rumors before that an Apple store was coming to my town, but on Saturday, yes, kids, an Apple store opened in Paris. And I had to make a trip down to Le Louvre du Carousel to see it.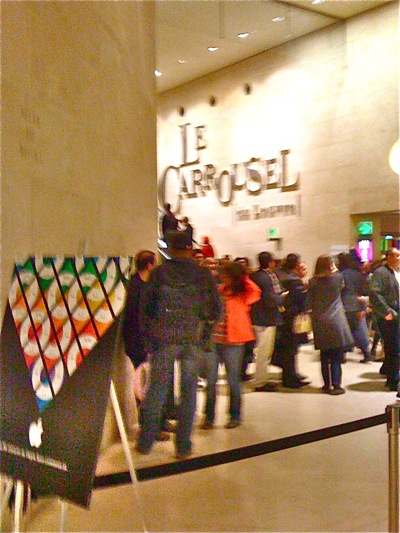 I walked into the door on the rue de Rivoli. The line to get into the store started right after you got off the escalator in Le Carousel du Louvre.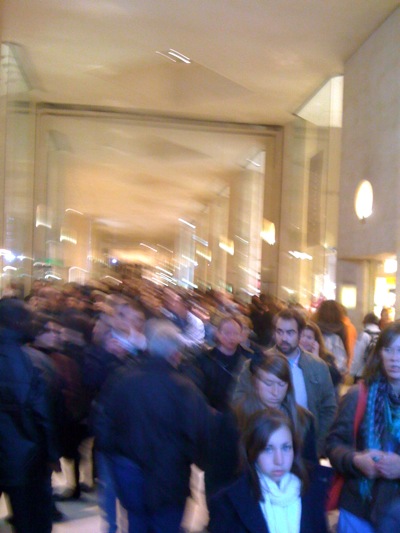 People were in a swarm to get there.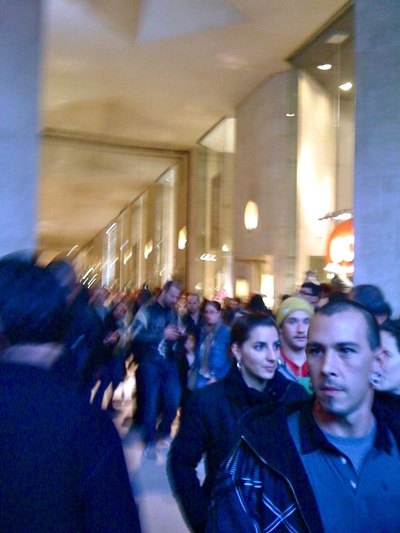 Were they Apple people, curious Parisians, or tourists--or all of the above?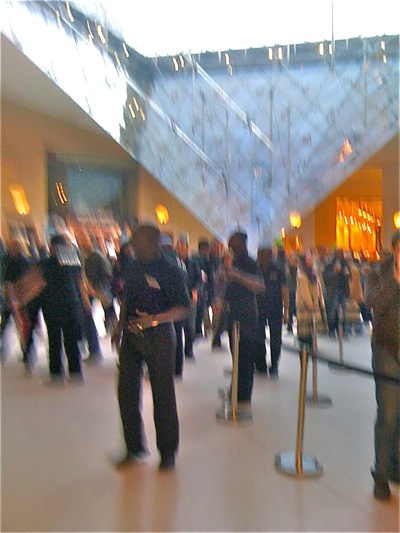 I talked to one of the security guards who told me there were 18 security guards in all, working for the Louvre, who were there to manage the huge crowds.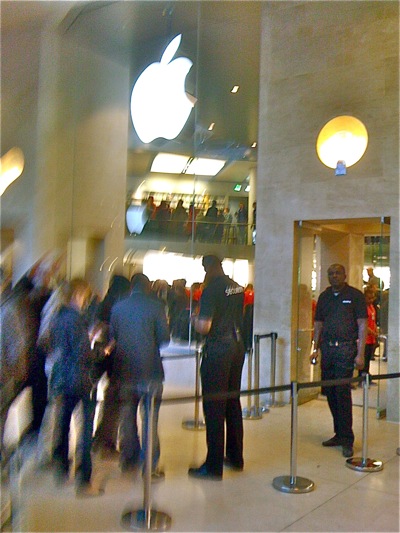 How long were people willing to wait to get into the store? It was Apple mania!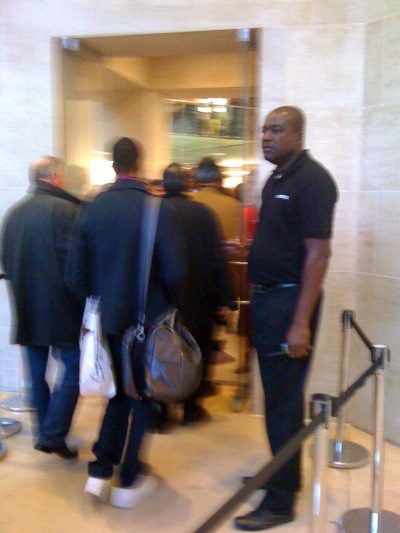 I couldn't believe it. As people were allowed to go into the store--and they stepped into the doorway--the Apple store's new staff yelled and clapped for their customers. It was so un-French--but so Apple! They were dressed in red T-shirts.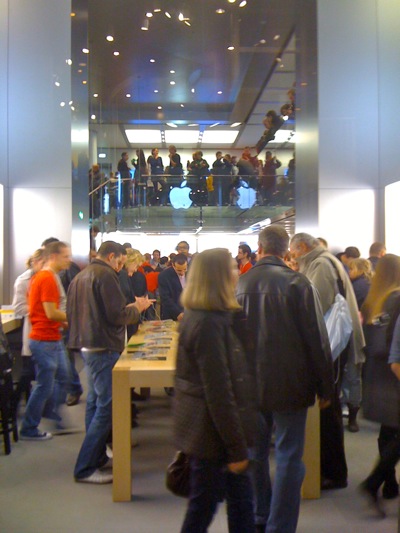 It was even more crowded than the San Francisco Apple store at Christmas.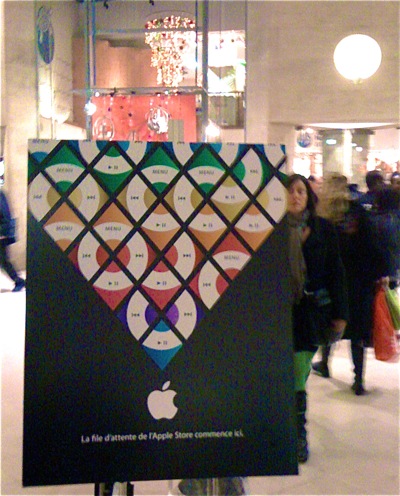 As I was on my way out, I stopped a smartly dressed young couple in front of me who were carrying Apple bags to ask them about their experience.
So you went to the opening day of the Apple store, I said.
Yes, but we had invitations. We would never have waited in those lines. We went in to pick up our gifts. We use Macs, but we're not Apple people. There's a difference you know, the attractive man said. Yes, we don't even have iPhones, said his girlfriend. We have Blackberries they chimed together showing me their un-Apple products.
What were your gifts? I asked, although I could see through the translucent bag to read big Apple lettering that said MacBook Pro. They gave us computers, the man said, and then they walked away before I could get their names.
Who were these people that didn't really care about Apple that Apple was sucking up to?
Apple, you know I love you. Steve Jobs, where was my invitation?
All photos taken by Beth Arnold on her iPhone, which she loves. And she writes on her MacBook every day but she needs a MacBook Pro and maybe an iMac.
This piece is dedicated to my Apple friends in the San Francisco store at One Stockton Street: the best Apple staff!
Support HuffPost
The Stakes Have Never Been Higher
Related
Popular in the Community