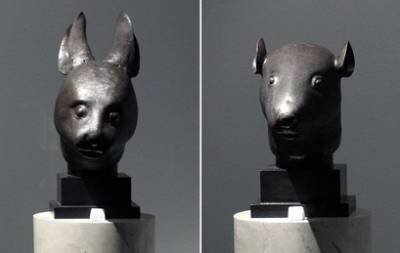 So it looks like Pierre Bergé will get to keep his stunning Chinese bronze fountainheads after all. I refer to the rat and rabbit heads that turned into the show stealers of Bergé's and Yves Saint Laurent's breathtaking collection of art, furniture, and objects that Christie's auctioned off in Paris last week. Ironically, it was the fact that the heads were "stolen" that caused the Chinese government and nationals to protest that the pieces should be returned to China free of charge. Nobody disputes the fact that they were looted from the summer palace outside Beijing in 1860, but that was then and this is now. A century and a half has passed, and the heads have been bought and sold several times. The general rule of thumb is that after 100 years these kinds of claims are irrelevant in international courts, and a Paris administrative court ruled against a Chinese cultural defense group that tried to stop the sale -- and ordered the group to pay €1000 to both Christie's and Pierre Bergé. Chinese nationals pitched a fit.
"Auctioning cultural objects looted in war time not only offends the Chinese people and undermines their cultural rights but also violates relevant international conventions," Chinese foreign ministry spokeswoman Jiang Yu said.

Questioned over the row, Berge said he and Saint Laurent had acquired the bronze heads legally through an established Paris antique dealer.

"These Chinese bronzes were looted 150 years ago in China in the same way as were the Parthenon frescoes in Athens that are now in the British Museum, along with many other looted pieces in museums worldwide," Berge said.
Of course, the Chinese government would love to reacquire these exquisite works of art -- which, by the way, were designed by a European Jesuit -- and even if that's where they should eventually go, both Bergé and Christie's have a point. If the Vatican's treasures were returned, the halls would look like Rome had never been Rome, and all those popes had been minimalists. Yeah, right.
The thing is, the Chinese could have had their heads if they'd only kept their heads. In fact, the Chinese did have the bronzes until the winning bidder -- auction house owner Cai Mingchao -- defiantly announced he wasn't paying. My mother would've said, "Cut off your nose to spite your face." Or in this case, don't pay what you bid and lose the art you hotly wanted back because it's a national treasure.
So, Mr. Minchao, what have you actually accomplished? Bergé has said that he will write a letter and Minchao will have up to a month to respond. If he won't pay, M. Bergé is still the legal owner. Nothing new about that.
I watched the auction from start to finish, covering it for Vogue on Style.com--Day One, Day Two, and Day Three. This has been a year of Saint Laurent, a sad one at that. Pierre Bergé has said that when YSL died last summer, it was the end of the story. He wanted to sell the collection they'd lovingly put together. So the French have watched the end of the YSL era. In June, they lined up shoulder to shoulder--men and women of all ages--along the rue St. Honoré to pay their respects outside his funeral at the church of St. Roch, just as they later waited for hours in drizzling rain to see his and Pierre Bergé's amazing collection being shown in the Grand Palais.
No doubt, you'll have read the headlines about these three pricey Parisian days (that is, for the bidders): The "Sale of the Century," the "World Record for the Most Valuable Private Collection Sold at Auction," and "Highest Total for Any Auction in Europe." Don't forget about the "World Record for A Collection of 20th Century Decorative Arts" and the "World Record for Most Expensive Work of 20th century Decorative Art at Auction" for Irish designer Eileen Gray's divine 'Dragons' armchair, which sold for €21.9 million (or $28, 300,000). Not to mention world record prices being clocked for such artists as Henri Matisse, Constantin Brancusi, Piet Mondrian, Giorgio de Chirico, Marcel Duchamp, Paul Klee, and James Ensor.
Some sales were preempted by the Musée d'Orsay, Centre Pompidou, the Louvre, and the lovely French National Museum of the Renaissance, Château d'Écouen (if you haven't been there, it's a sweet day trip from Paris that's easily done by train). Whether Bergé envisioned his collection in a museum or not--and he didn't--these were all pieces that went to their good and right homes. I was surprised a few others weren't preempted as well. They should have been.
Bergé gave his voluptuous Goya to the Louvre and the sumptuous Burne-Jones tapestry was presented to the d'Orsay. This builder of the YSL brand and Yves Saint Laurent's life partner said that if he'd had the money to build his own museum for Saint Laurent's genius oeuvre and their collection of art, furniture, and objects, he would have. This could seem narcissistic, but I see it. I can imagine the creative ebullience of walking through it. I saw the Saint Laurent exhibition at San Francisco's De Young Museum in December. It was a beautiful and vital representation of his work--and high art for me.
When the Chinese demanded the return of the imperial bronze fountainheads, Bergé said that if they recognized human rights, gave liberty to the Tibetan people, and welcomed the Dalai Lama he would give it to them.
"It's definitely a maneuver targeting the positions I have taken vis-a-vis human rights in China and Tibet," Berge told The Associated Press by telephone from Marrakech, Morocco.
As I said in Vogue, China could have seen Bergé's offer as an opportunity. They could have changed world opinion in an instant of largess. I'm not being a Pollyanna here, but just imagine if the Chinese government and people had heard Bergé's words in a different way. What I wrote is this: Pierre Bergé and China might have shared the Nobel Peace Prize.
Calling all HuffPost superfans!
Sign up for membership to become a founding member and help shape HuffPost's next chapter