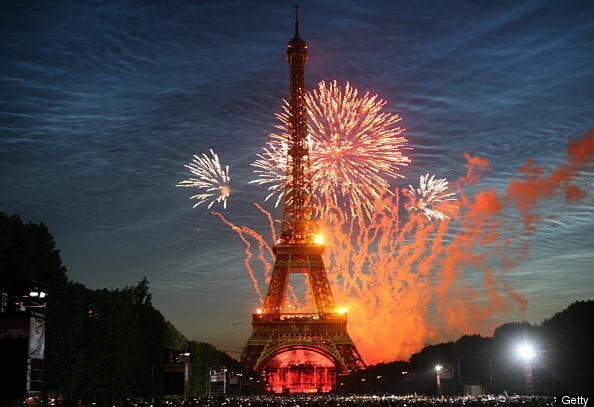 If you can get away for a day or so, it might be a good plan to fly to Paris and spend the evening at Josephine Baker's new Casino show. You would have plenty to think about on the return trip, for the revue contains something of everything...."

--Janet Flanner
It was a beautiful bang of an evening with swishy chorus girls covering luminous curvy skin with a parade of splendid costumes, a hilarious magician, tap-dancing black men in top hats and tails, a sultry French singer, Trois Dandy Chanteurs, and a silent-era black-and-white movie short, not to mention the burlesque strip teasers who looked as if they'd stepped out of the 1930s with its glamorous fizz. Modern burlesque diva Dita Von Teese headlined this extraordinary show at the historic Casino de Paris, which opened on September 7th and will be playing until the 17th. Get your tickets here, Madames et Monsieurs.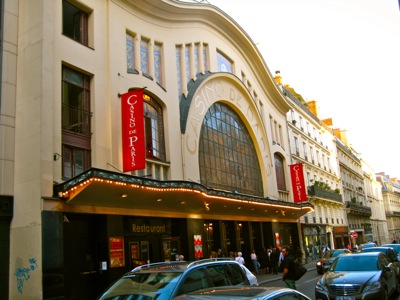 The Casino itself is red-velvet-and-crystal-chandelier sumptuous and begs for glitzy shows. From Wikipedia:
It was at the beginning of the First World War, however, that the modern Casino de Paris began to take shape, when the venue was converted into a cinema and music hall. The bombardments of the First World War caused performances to be interrupted, and it is when they resumed that the revue forma, which lasted through a good part of the twentieth century, was established.

Over the decades, performers who have played the Casino de Paris have included Mistinguett, Maurice Chevalier, Josephine Baker, Tino Rossi, Line Renaud, and Zizi Jeanmaire; writers who have contributed work have included Serge Gainsbourg and Jean Ferrat; Yves Saint Laurent designed for the Casino in the 70s, and poster artists have included Erté and Jules Chéret.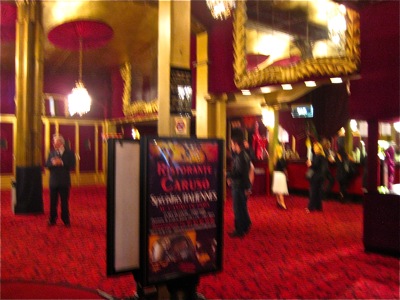 Another American burlesque star is the author and artistic director of this show. Let me introduce you to Gentry Lane:
Born in Hollywood, this petite pin‐up has called Paris home for the last 11 years. Gentry is credited for having established the Burlesque renaissance in Paris. Her eponymous shows & parties are the talk of the town, frequented by celebrities and the Parisian jet set.

Gentry is the founder of the "École Supérieur de Burlesque," Paris' first Burlesque school. She trains scores of women each week in the art of effeuillage, vintage style and stage presence.
Ladies, who wants to sign up?
Ms. Lane herself elegantly stripped, but Ms. Von Teese literally took the audience's breath away with her voluptuously frolicsome splashing in the giant martini glass of her Cointreauversial number. Lucky, for us, the tasty cocktails were offered in the lobby as a Cointreauversial promotion, and who didn't want one after seeing that spectacle? Ms. Von Teese also presented her new Opium Den show, which was an explosion of Occidental sensuality. She adorns herself in gowns of 300,000 glittering Swarovski crystals and mile high Christian Louboutin stilettos, makeup and hair ever so flawlessly perfected.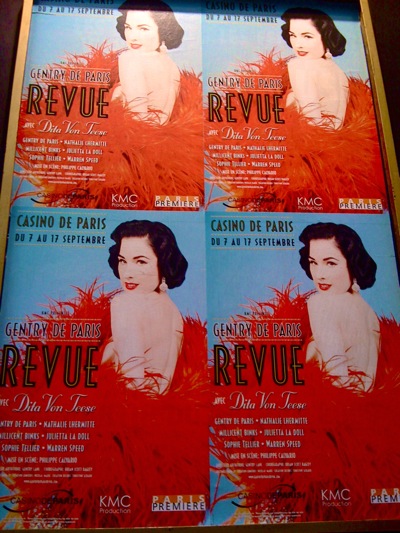 But our champagne coupes runnethed over when the taut-bodied café-crème-skinned new Josephine Baker, a.k.a. Brian Scott Bagley, leapt onto and around the stage in his J.B. wig and skirt made of a string of artificial bananas, as Ms. Baker once had in her famous Danse Sauvage. This professional dancer owned the stage with his smooth and powerful movement that pulsed with a primal energy that Ms. Baker herself evidently possessed. According to his page on MySpace, she is one of his spiritual heroes. I certainly see why, and he may have been channeling her. He was so sauvage and hot himself. The new "Black Pearl," one of the many monikers of which Ms. Baker was known, showed real star power.
What Janet Flanner said about Josephine Baker in one of her New Yorker "Letter From Paris" entries could well be said about Brian Scott Bagley:
At the Casino, beautifully costumed, staged, chorused, in a fair way to becoming what is called an artiste, she is far from that unknown chorus girl, selected by Miguel Covarrubias, who a few summers ago made her Paris debut carried in upside down "à poil," and doing the split. She is far from the banana-belt costume that made her the idol of Berlin, Barcelona, Budapest--but she is not far from being the Casino's dream girl. Mistinguett can now, though we hope she won't take things easy during her late sixties. For in Miss Baker the French revue has apparently finally found its new star.
Calling all HuffPost superfans!
Sign up for membership to become a founding member and help shape HuffPost's next chapter