One evening as we sat on the marble terrace of our 20th Arronndissement apartment, the Lone Wolf, some friends and I were soaking up the moonlight like dusky marigolds. The wine was cool, the conversation hot, and our fashion pal Philippe was gabbing about his favorite subject, which, of course, is fashion. Philippe, I said, ever so excitedly, you must write about this for us!
Check it out. Philippe has now given you the Paris scoop as well...
Some tips to start the year off on the right foot...this season offers you some uncompromising and wild trends!
By Philippe Perisse, Fashion Reporter and Consultant
First of all, you need the right accessory. And this season more than ever, you need a keepALL bag -- as big as you can carry! The KeepALL does not discriminate: boys and girls alike can be glad to gallivant about with their their life in their Maxi Purse!
Vuitton developed several both classy and funky versions, but you'll find it everywhere in all sorts of shapes and fabrics: In wild fur, by Chanel (check out the following article about wild Chewbacca style!), in leopard print, by Jimmy Choo or Ralph Lauren, in fine woven leather, by Bottega Veneta, or classic, in black leather by MaxMara.
Just follow one rule -- and don't think of Freud here -- make it big!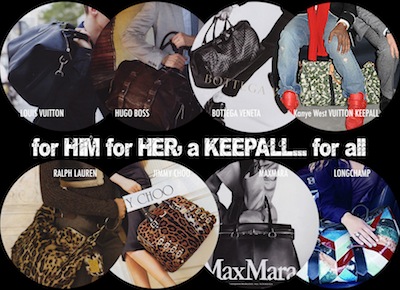 To be perfectly in this Fall, you just need to wear anything wild, hairy or furry!
In Paris, New York and Milan, fur is everywhere. All over, the Chewbacca style, wild fur, is unavoidable this season. But, remember, the pelage must be of the long and shaggy variety.
After many years of high-tech and structured fashion, the inevitable consequence of our sophisticated, modern lives, we're going back to the wild. Let's rebound to our primal state and reconnect with our inner beast!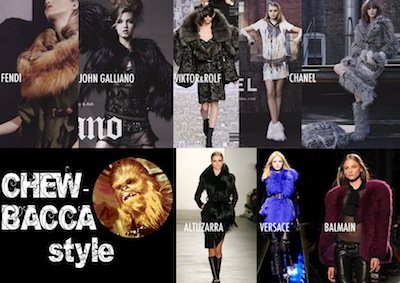 But of course this year, like any other, you'll find totally contrasting trends. If you can be Wild, you also can be perfectly prim and proper. You may have watched it, and surely you have loved it : Mad Men has definitely inspired this season's fashion! Prada, Gucci, Dolce & Gabbana, Smalto or others like Vuitton and Dunhill provide sartorial manifestations of this craze.
Facing the uncertainties of the present world, how could we not be a bit nostalgic for this period? The Golden Age of America: a time when the American dream was its most meaningful, and an inspiring model for all. A time synonymous with freedom, productivity and strong optimism in technology.
In 2010, Romanticism refers to the powerful machine that was the late fifties; a time when man thought he could control and conquer all. The late fifties were our modern renaissance, when new boundaries were crossed, the stars were the limit ....And yes! Being romantic and nostalgic is chic. It is neo-dandyism! Once again, it is a trend for all of those Betty and Don Drapers out there!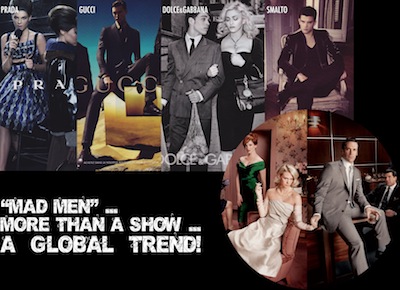 If we are sentimental for the dandy, we must also miss the bad ass! You loved classics such as Fonzi, Grease, East of Eden, The Wild One or even West Side Story; now, thanks to this Fall's trends, you can live your dreams!
The early sixties gave birth a darker romantic icon. Half-way between the Big Bad Wolf and the erotic anti-hero, the bad boy -- black-leather-jacket-clad riding on his Harley -- has become the symbol of ever-lasting youth and uncompromising freedom.
In an economy and system as normative and organized as the one in which we live today, in all of us sleeps a Jimmy Dean or a Brando, dying to hit the road wearing scandalous skinny-jeans and black jackets, all waiting for one thing ...getting as much trouble as one could encounter!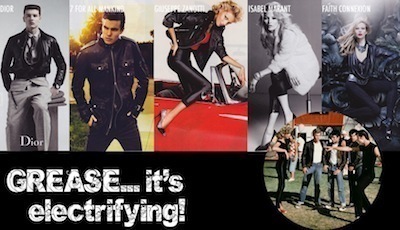 Finally, be wild even if you are not into fur, you can flock to feathers.
With accessories (Chanel, Alaia) or clothing (Lanvin, Bebe) feathers are a must : an exquisite balance between wildness and sophistication, mystery and fabulousness!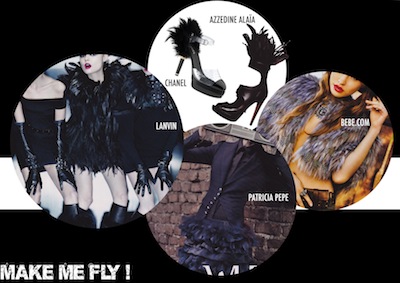 Images by Philippe Perisse.
Philippe Périssé de Montchenu lives in Paris where he works as a brand consultant and fashion reporter. Having experience as an assistant artistic director, supply chain manager, collection coordinator and export manager, he is presently pursuing a post-graduate at the Institut Francais de la Mode.
Beth Arnold lives, writes, and produces Letter From Paris in Paris. To see more of her work--or that of her other contributors--go to www.betharnold.com.
Related