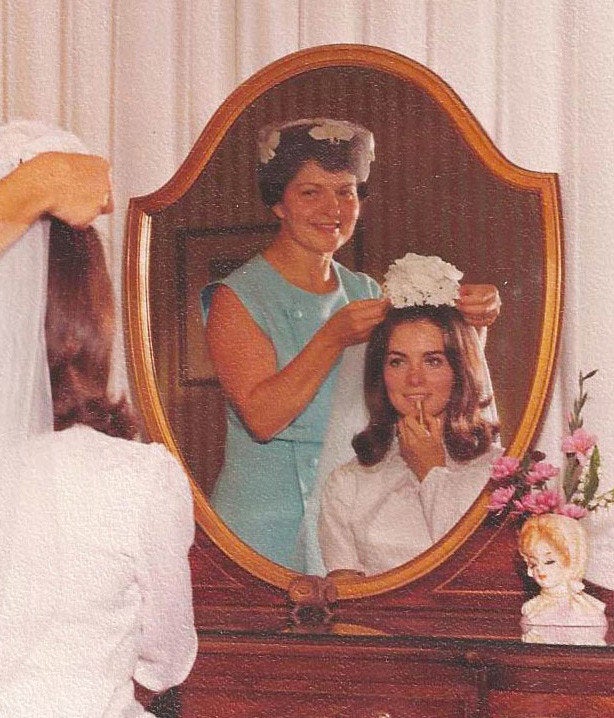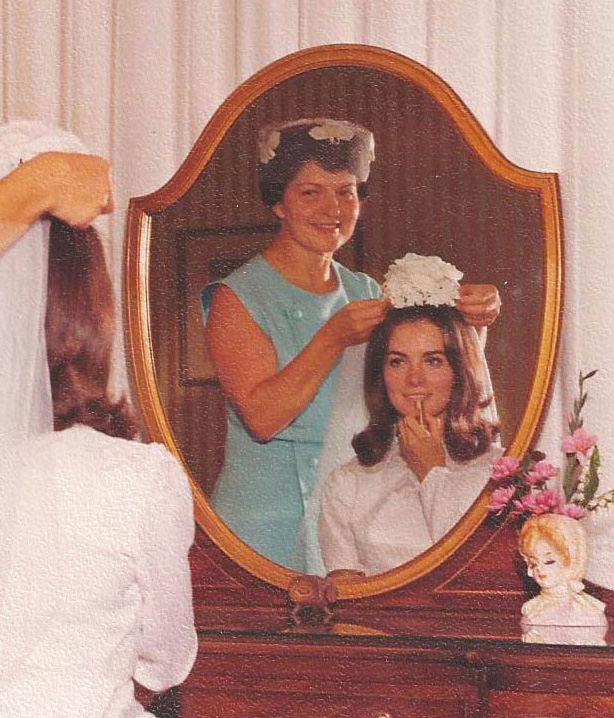 There you are, all 98 pounds, trying to keep your cool in that long-sleeved wedding dress on that sweltering day. The hottest of the year in Pueblo, Colo., and the air conditioner at Christ the King breaks.
Once you're all set, Mom comes in for a once-over, concerned you are wearing too much makeup. The first of her 10 kids to marry, and somehow she found time to sew six turquoise bridesmaid dresses and outfit your youngest brothers in matching ring-bearer vests. Beneath her scrutiny is a well of pride.
The organist is running late, so you and Dad have a longer wait at the back of the church -- time to stare down the aisle and tear up.
"Are you sure you want to go through with this?" he asks.
A 20-year-old bride and you still have so much growing up to do. But your biggest decision was the right one: marrying Dick, the man who gives you a racing heart and peace of mind. So walk down the aisle with confidence.
"I'm going to tie that knot tighter than it's ever been tied," Father Byrne had joked on the eve of your wedding.
That'll come in handy, because you're incredibly naïve about the realities of marriage and the sacrifices it will demand.
Quitting college doesn't seem like a big deal, but you'll never go back. You'll need the salary as a dental hygienist to chip away at your $90 monthly rent.
Dick will be oceans away serving in Vietnam when you deliver your firstborn, and your only companion will be your 86-year-old grandmother.
Decades later Dick will be by your side when you hear the terrible words, "You have cancer." Then he'll do all the research he possibly can and compile his findings in a three-ring binder, asking every doctor you meet for a card to slide inside.
Something borrowed and something blue will not be enough for this marriage. You'll have to cultivate and cling to a deeper faith than you have ever known. It's not the stuff in your house but the love in your heart -- you'll learn this the hard way, but you'll be grateful for the lesson.
Right now you're clueless in the kitchen. You don't know how to boil an egg. But give it time. You'll pick up some tricks and eventually abandon those boxed dinners.
The same goes for being a wife. You'll marvel at Dick's unswerving commitment. You'll learn to put him first and -- believe it or not -- you'll delight in doing so. You'll see your role as his helpmate and cheerleader. You'll pack his bags for business trips, tucking love notes under ties. You'll view all the joys in your life as gifts from above, like the six wide-eyed, rosy-cheeked grandkids who clamor for your cookies and your kisses. And you'll sense, time and again, the grace conferred in your wedding Mass sustaining you as husband and wife.
Marriage isn't as easy as it sounds today, with the clicking photographer and clinking champagne glasses. But it's also much richer. You're just beginning to grasp what true romance looks and feels like. And on your 43rd anniversary, as you await the birth of your seventh grandchild, you and Dick will be closer than you imagined possible, bound by a union of quiet depth and enduring beauty.\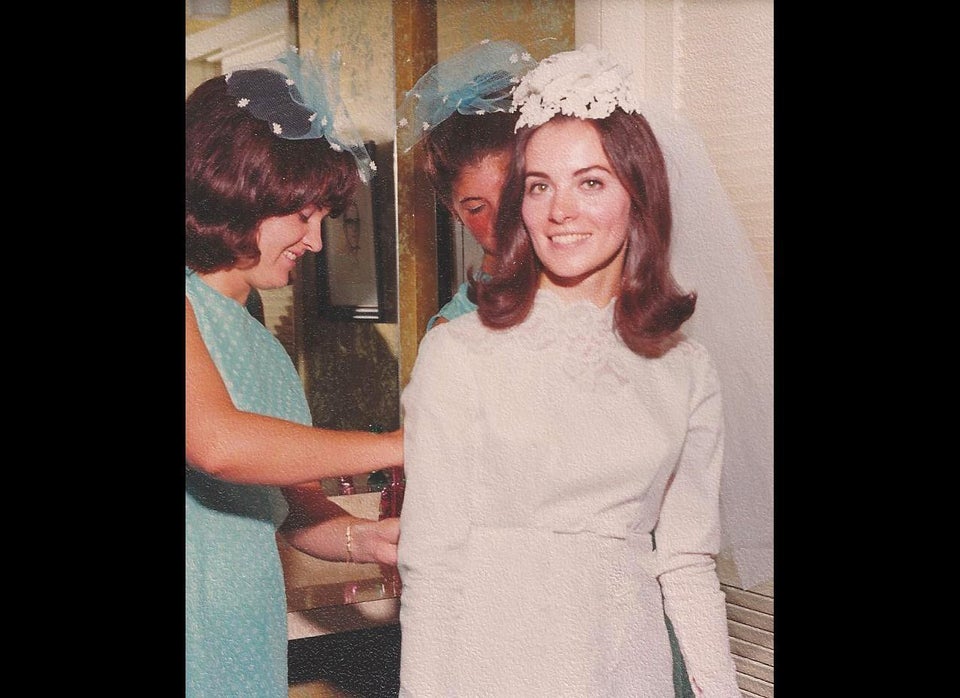 Dick & Martha Lyles' 1969 Wedding Album
Related
Popular in the Community