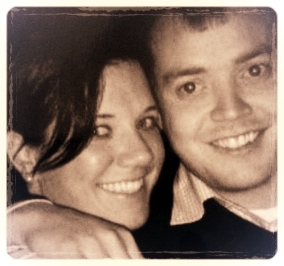 I have been open about my alcoholism since checking into rehab 21 months ago. People often ask why I am so honest and blunt about my struggles. I'd like to say it's because I know their pain, and while that is true, that's not the entire truth. If I am being honest, it has more to do with my brother, who died from an overdose. My brother, who never made it to the rooms of recovery. My brother, who suffered in silent desperation for a long time.
My rock bottom landed me in a plush, 28-day treatment facility with a chance of recovery. My brother's landed him six feet under. That's something that has been really hard for me to come to terms with.
As part of an amends to my brother, Will, I wrote him a letter. I sat up pretty late one night to write the letter. It is something I had put off for a while. I don't know why I put so much pressure on myself about this letter and what to say, but I did. I mean, he was never going to actually read the letter -- or was he?
After I wrote the letter, I prayed to God asking Him to use and guide me, and for me to have the willingness to go where I could be of maximum service to those still suffering from alcoholism/addiction. I had no intention of ever publishing this letter, but it speaks volume about the power of prayer and trusting God's will for my life, something I had no concept of a couple of years ago.
Dear Dirty,

Man. I don't even know where to start. I hope you can see down on everything going on, because some pretty amazing things have happened as a direct result of your death. I hope you see how much I miss you, and not to make you sad (I'm pretty sure you don't get sad in heaven) but for you to see just how much I love you, because that's what I cry about the most: hoping you knew how much I loved you. I didn't show you, tell you, or even realize it until it was too late, and that really sucks. I wasn't a very good sister to you the last couple of years before you died, and I can't begin to tell you how sorry I am for that. It haunts me daily, but I am trying to live in a way that you would be proud of. I feel guilty that it was you and not me. You know I would take your place in a heartbeat, right?

On a brighter note, I'm sober. I know, right?! I got sober on June 11, 2012, just six weeks shy of your sobriety date. (I mean, I am assuming heaven keeps you sober.) On your 30th birthday I had a bit of a meltdown -- or, as they call it in recovery, rock bottom. I hope you didn't see it. It was a mess. I was a mess.

I buried my white chip at your grave as soon as I got back from rehab, but I am assuming that you know that. I owe you my life, you know. It really sucks that it took your death to wake me up to my own addiction, but I am trying my best to honor your memory by being open and honest about my struggles. It's working out pretty well. By the way, your funeral was out of control. Everyone was there. Jay Z's "Forever Young" was played. All the pallbearers wore black Yankees hats, and so did all the nephews. They were adorable. I even stole money from Dad's wallet while he was sleeping to buy a pair of Louboutins to wear to your funeral. You would have been impressed. We represented with all-black everything.

But on a more serious note, I just want you to know that I wish I could have done things differently. I wish I had been able to recognize and deal with my alcoholism before you died. I wish we could have gotten sober together. I wish I could have been the sister I should have been. I wish we could share recovery together. I wish you didn't have to die for me to acknowledge my own addiction.

I'd give anything to have you back. Since we both know that that isn't possible (and even if it were, I am pretty sure you would politely decline the offer), I will honor your memory by being the sister to others that I should have been to you.

And so I promise you this: I will be as open and honest as I can be, carrying the message of recovery to alcoholics and addicts still suffering in any way I can. I'm hoping you and God can maybe get together on this to direct and provide me with the opportunities for me to be of maximum service to those still suffering from this shitty disease.

I look forward to seeing what y'all come up with, and I hope I make you proud. Just know that I do what I do because of you. And every time I succeed in helping someone, it's because of you.

Loving you to heaven and back,

Al
I went to bed, prayed and woke up to opportunity after opportunity to be of service to those still suffering from alcoholism/addiction. It's been so overwhelming in the most amazing way.
God showed himself most beautifully and boldly by sending me a person who was directly involved with my brother's death and who was at the top of my list of people I resent for a long time. I was not only willing but grateful to have the opportunity to help this person get into a rehab treatment facility for his own addiction -- the same treatment facility I went to.
These opportunities are gifts of sobriety, and God puts them in front of me every day. Sometimes it's talking on the phone to someone who needs help and doesn't know what to do. Sometimes it's answering an email from someone across the world who read my blog and related to my post. Sometimes it's speaking in front of a group of high-school students to bring awareness about alcoholism/addiction. Other times it may be offering a simple smile to a stranger or sharing my experience, strength and hope to another alcoholic.
Having a voice in recovery opens the doors for people to reach out to me. And in some way helping them reminds me that my brother did not die in vain. Every time I can provide a shred of hope or an ounce of inspiration to someone, that makes my brother's death a little less harsh. I see Will's signature smirk of a smile every time I offer a hand to someone who is hurting. And that, my friends, is why I do what I do.