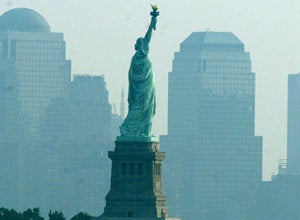 New York has been the greatest city in the world in the 20th century. Our challenge is to make sure that it's the greatest for the 21st.
When tested by hard times, New York City has shown a capacity for coming together to emerge stronger, like steel hardened by fire. Because we're now in a deepening economic crisis, it's even more important to have a government that works for you.
Whether you are a single parent from here in the Bronx struggling to send your children to a quality school.
Or a breadwinner from Queens needing job assistance.
Or a retiree living on a fixed income in Brooklyn wondering if your senior center will be there.
Or a young professional who can't find affordable housing in Manhattan -- our government has to do better.
I'm Mark Green. I was the City's First Public Advocate, the #2 citywide official -- the "ombudsman" and watchdog over City Hall. This year I'll be seeking to be your Public Advocate again... because I'm devoted to public service, because I love the City that welcomed my immigrant grandparents a century ago and is now welcoming my two children as they begin their careers. And since their futures and ours are at risk during this economic meltdown, now is no time to sit on the sidelines.
I'd be so grateful if you'd again consider letting me serve you. For while anyone can tell you what they would do -- I can tell you what I have done as your first Public Advocate for eight years... to save your money and your health, to actually make progressive change happen.
Yes I've won elections and lost elections, but also won a lot of fights for all the families and seniors and workers who don't have big lobbyists and powerful friends:
We successfully sued Mayor Giuliani over police misconduct - and as a result now have a more effective police department.
We wrote and enacted the law that stopped big businesses from firing women merely because they were domestic violence victims.
We made it harder for tobacco companies to addict our kids -- and exposed how hospitals were jeopardizing our health by overworking doctors.
My Office of Public Advocate also came up with new ways to make our City work better, like the idea for 311, which Mayor Bloomberg later effectively put into place. We put up the City Government's first web site and then gave our address, NYC.Gov, to City Hall so that it became the official on-line portal.
There's lots more, and you can read about them at MarkGreen.com. In each case, special interests got the boot, taxpayers got better services. That's the way it should be.
And must be in the next New York. For if you entrust me with your vote and your future, I'll continue to fight for you. My new office of Public Advocate will focus on two goals: ideas and results. First, what are the best innovative solutions that can fix our government over the coming decade; second, how can we deliver real results for average New Yorkers, especially now? Since taxpayers and consumers are at greater risk of losing income in th e workplace, it's a good time for a Public Advocate with a proven track record to stretch their money in the marketplace and in city agencies.
For example: let's have a conservation corps of young and old weatherizing homes, reducing heating bills and building a greener New York; let's reduce home foreclosures by allowing bankruptcy courts to restructure predatory loans; let's enact real education reform that includes more clear parental involvement; let's create a searchable data base online so anyone can find an agency's expenditures, contracts, vendors, recipients of tax credits; let's allow municipalities to intervene in rate cases at the State Insurance Department to lower costs.
This focus on solutions was the crux of my last book last month called Change for America: A Progressive Blueprint for the 44th President. Just as the Obama Administration is now using our proposals as they begin to fix the national government, I want to develop innovative proposals to fix our local government. Just as he's bringing progressive change to Washington, we should to New York.
Only fresh approaches can assure our future as a City that grows jobs, keeps the middle class here and continues to attract talent from all over the world.
Bensonhurst, Brooklyn is where I spent my early childhood. It's communities like that which are the heart and soul of New York City. And the only way public officials can know all our communities is to go to them.
So as your first Public Advocate, I pledged to hold a town meeting in every one of the 59 community boards around the City -- and did. In Park Slope, Forest Hills, Mott Haven, Har lem, and Staten Island - every-single one.
At these meetings and in all my work, I've been persistent and consistent -- sometimes annoyingly so -- but always focused on ideas and results to help average families. Always. As a public interest lawyer, your Consumer Affairs Commissioner, your Public Advocate, a college teacher, an author -- and more recently as the president of Air America Radio here in the City.
I've been your advocate, but now I need your ideas. In this connected, web-based world, no one of us is smarter than all of us. So I need to hear what you think are the key issues and key solutions. Contact me at MarkGreen.com with ways to fix our City so I can learn as I campaign. If you come to our web site today, you'll see how important the "Voice Your Issues" box is to us.
And if you want to help, please also visit MarkGreen.com to donate and volunteer. You see, I can't do this without you.
Thanks for listening to me. Now I'll be listening to you.
Calling all HuffPost superfans!
Sign up for membership to become a founding member and help shape HuffPost's next chapter