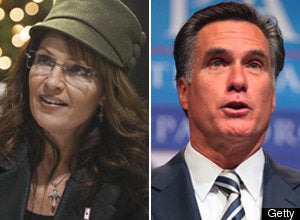 As Nikki Finke writes, there's now a late night GOP war.
Mitt Romney will be appearing on David Letterman's "Late Show" Tuesday night, directly against Sarah Palin on the "Tonight Show."
Palin and Romney are both speculated to be considering bids for the Republican presidential nomination in 2012.
Palin's visit to Jay Leno's first week back on the NBC late night program was reported earlier this week and is expect to deliver ratings for the beleaguered Leno.
Letterman's schedule for the rest of the week includes Bill Murray on Monday, NBC men Jerry Seinfeld and Tom Brokaw on Wednesday, Tom Hanks on Thursday and Matt Damon on Friday.
REAL LIFE. REAL NEWS. REAL VOICES.
Help us tell more of the stories that matter from voices that too often remain unheard.