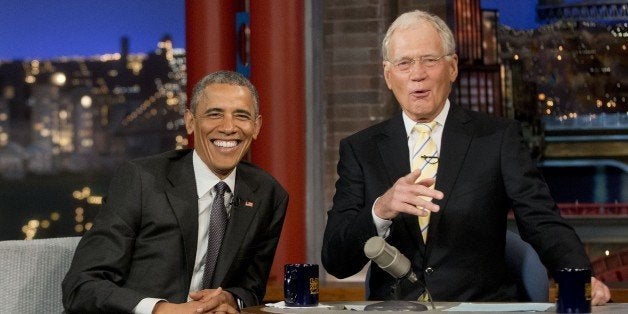 The following article is provided by Rolling Stone.
It's no secret to anyone who's a fan that David Letterman is a huge car-racing enthusiast. For the past 20 years he's been the part owner of an IndyCar team (now called Rahal Letterman Lanigan Racing), and he has often compared his "Late Show" to a finely tuned race car, with himself as the driver and his staff as the pit crew that makes it run. They install the engine, adjust the aerodynamics and the fuel flow, do everything the show needs to run perfectly. "Every day I'm given the elements of a great car," he told Charlie Rose in 2011. "And then I go out there and put it in the wall."
As the checkered flag drops and the "Late Show" enters its last lap, we spoke with several of these longtime staffers about the show, the genius of Letterman, and the end.
Worldwide Pants CEO Rob Burnett (with Letterman since 1985): "What I love about Dave, the things I'll really take away... Let me put it this way: Dave thinks things don't go well much more than he thinks things do go well, and often that is very entertaining. I remember one time when I was head writer and a piece hadn't gone well. I came to his desk during the commercial break, and he says to me, "Listen — I want you to go out and get some Hefty bags. The big boys — the 50-gallon kind. I need you to take two of those, fill them both with goat piss, and break them both over my head.' He was very specific: 'I need the big ones. The 50-gallon kind.' Another time I remember him saying, 'Listen, you got golf clubs upstairs? I want you to go get some golf clubs, get a nine-iron, a Titleist with the graphite shaft, and come down here and give me a full swing in the nuts. Just take my lights out.' The fact that the guy could specify a graphite shaft at that moment made me so happy."
Executive Producer Jude Brennan (with Letterman since 1980): "Dave has a very focused idea of what he wants, and we don't always know what it is. And that can be challenging at times. If he ever said, 'You did a great job,' I would know that he was dying."
Director Jerry Foley (with Letterman since 1993): "He's an excellent editor of comedy. An enormous number of options have to be put in front of him every day. He's ruthless. It's like fracking: You're pumping out an amazing amount of material."
Burnett: "If he says something is OK, that's like fireworks — that's the best you're ever going to get. I think that's part of what makes him great. As a writer on the show, you learn very quickly to throw out the first 30 takes. All the obvious takes are out. And that pushes things to a great place."
Foley: "He can be hard, but he's harder on himself than on anybody. If you ever think you're having a bad day, just look at what he's going through."
Executive Producer Barbara Gaines (with Letterman since 1980): "I think he's the last broadcaster. These guys who've come after him, men and women, there's not a comedian-broadcaster in there. I don't think they make them anymore."
Foley: "Doing this show is almost a magic trick. It would be so much easier to come out and just read what's on the cue cards. There are guys who do that now. But Dave's not going to read the cue card — he's going to take the beats off the cue card and tell a story. And that's hard. You don't know it until you see somebody else who's not as skilled try it, and then you realize how many moving parts are involved. For instance, I remember one time when Luke Wilson guest-hosted, and he underestimated the whole thing. He came offstage and he was sweaty and spent. [Stagehand] Pat Farmer came up to him and took his coffee cup and said, 'I bet you're glad that's over!'"
Head Writer Matt Roberts (with Letterman since 1992): "Every day we leave Dave's dressing room at 4:25 and know exactly what comedy he has. And then you watch him do that comedy, and it's always different and always better."
Writer Bill Scheft (with Letterman since 1991): "Invariably the funniest moment of every show is Dave reacting in the moment. Our goal is just to get him to that place where he can react."
Foley: "When he lands something, whether it's an ad-lib or just a well-crafted joke, and you feel that electricity come off the audience — that's the narcotic. I'm in the control room, literally separated by several inches of concrete, but even I can feel it when something goes right. Conversely, when a moment like that is lost, you see him just beat the crap out of himself. When he sees the opportunity for a guaranteed laugh and it slips through his fingers, he's just destroyed. He has a vault, and he can recall those moments for years."
Burnett: "We all wish we were number one [in the ratings], and I imagine Dave feels similarly. But he also has a sensibility that, by its very nature, is so smart and so funny that I don't think it's perceivable by a mass audience. Here's an example I haven't thought about in years. One day, back when I had just started on the show in 1985 we had Jerry Seinfeld, William 'Refrigerator' Perry and Emmanuel Lewis on. And at some point Dave goes, 'Oh, this will be interesting. Let's get a camera into the green room and look at William 'Refrigerator' Perry standing next to Jerry Seinfeld.' So we go back there and we get a shot of 'Refrigerator' Perry next to Jerry Seinfeld. Knowing that right off camera, there's Emmanuel Lewis. And I remember looking at this and my mind just exploding. I was just so happy that I worked at this place, in this moment.
And then the next day I was talking with one of my older uncles, and he goes, 'You know, what you should have done...' And that right there tells you why Dave doesn't work for everybody. America wants to see 'Refrigerator' Perry next to Emmanuel Lewis, but Dave's show wasn't meant to be number one — it was meant to be beautiful."
Scheft: "Somebody said to me recently, 'The end isn't just happening to Dave and all of you. It's happening to everybody.' Because everybody feels like they know this guy. I mean, this is a guy that comes with your television set."
Roberts: "The last show will be special, but it probably won't come together until the very last minute. And I have no doubt that Dave will surprise us with whatever he has to say."
Brennan: "Whenever something kind of serious happens, there's a wheel in Dave's head that immediately turns subversive. So the idea that we'll have this maudlin moment...I don't know."
Gaines: "The other day I tried to hug him on his birthday, and he was like, 'Get off me!'"
Burnett: "We've been putting a lot of effort in planning the last show, and it really is an impossible task. Because ultimately it's the body of work that speaks for itself, and there's no way to encapsulate or summarize that in an hour. You have to step back and say 'Ah! There it is.'"
Scheft: "I'm very happy that he gets to be the first guy to leave on his own terms. Because none of those other guys got to leave on their own terms."
Foley: "It's sad that it's coming to a close, but big picture to me, it's absolutely perfect. He's left nothing on the table. He's thrown everything he has at it. You couldn't have asked for a longer run or a better ending. It's a beautiful thing, and it's being wrapped up in a nice bow. You couldn't ask for anything else."
Scheft: "Here's what I'll say. Dave's dressing room is on the second floor of the theater. And right next to it are some stairs. Every day before the show, Dave runs up these stairs. I mean, this is a guy who's ready to go. He can't wait — he's running up those stairs. My thought was always: 'The day I see him walk up those stairs, then I'll know it's done.' But he never stopped running."
REAL LIFE. REAL NEWS. REAL VOICES.
Help us tell more of the stories that matter from voices that too often remain unheard.
BEFORE YOU GO
PHOTO GALLERY
David Letterman's 'Late Show'