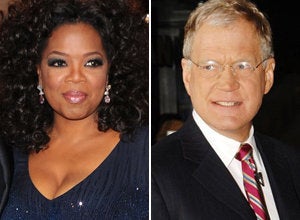 David Letterman told Jon Stewart Tuesday night that Oprah "hated" him "long before" his infamous Academy Awards monologue about her.
While it has been widely assumed that their mini-feud (since-settled) originated during his "Uma, Oprah" speech during the 1995 Oscars, Letterman said that it actually started while the two TV titans were vacationing in the same place and he made her pay for his lunch.
"This predates the Academy Awards. She hated me long before then," he said of Oprah. "She was with Steadman, I was with my then-girlfriend Regina. We were both at a restaurant having lunch on vacation. I said to Regina, 'Oh, this is hilarious, I'm gonna make Oprah buy us lunch.'"
When the waiter came over with the check, Letterman said he told him, "Oh, this woman right over there has been kind enough to take care of our check."
Letterman said he waved to Oprah as he and Regina left the restaurant.
"We got a free lunch and that's where it started," he said.
In 2005, Oprah appeared on "The Late Show" where she and Letterman buried the hatchet.
"Could you tell me please what has transpired?" Oprah asked Letterman. "I have never for a moment had a feud with you....I want you to know, it's really over, whatever you thought was happening."
Tuesday night, Dave said he is "still trepidatious around Oprah."
Related
Popular in the Community