 Alex Woodard's release, For The Sender, a combined novelette/CD composition, inspired by the letters he received relating to the loss of his beloved dog, Kona (from the widow of a slain police officer, a first-responder in Haiti, the director of a shelter for homeless kids, and a woman who lost her soul mate) suggests that we are all united in part, by the loss of whom we love. Woodard has traveled thousands of miles physically and mentally and you can hear the journey, weary and bittersweet. Joined by Sean Watkins, Sara Watkins, Jon Foreman, Jordan Pundik, Nena Anderson, Molly Jenseon, Jack Tempchin, humor and pathos shine through in Woodard's latest work.
Ruth Gerson: Is this your first effort as a prose writer?
Alex Woodard: It's my first time weaving my thoughts into a story any longer than a few pages. As a songwriter, I'm always jotting words and phrases down as they hit me, but I've never written something like this. At least nothing the world can see.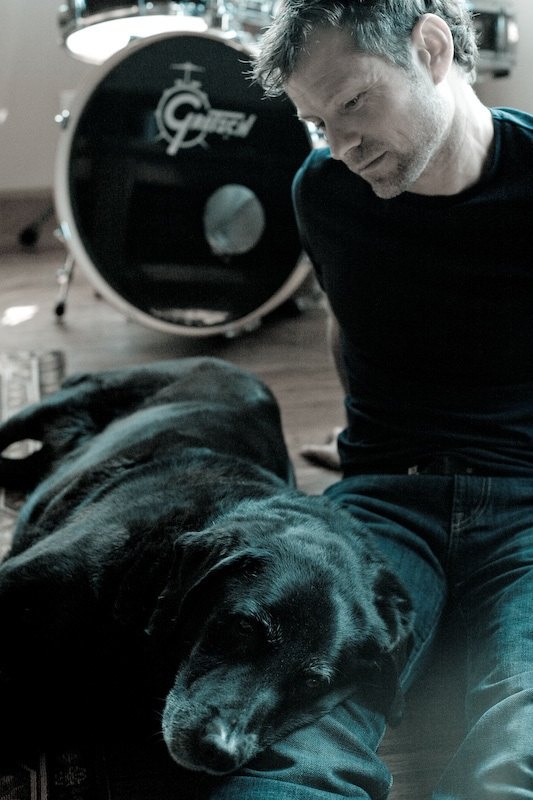 Photo by Keegan Gibbs. Courtesy of Alex Woodard.
RG: Can you talk a little bit about how For The Sender came together for you, as both a solo project in your prose writing and a collaborative project in the songwriting/performing; what are some of the stories behind these songs?
AW: Well, it was this time of year... autumn... when I got the first letter from Emily, who I didn't yet know but had somehow come across my songs. I was watching my dreams fall like the leaves on the limbs outside my window, barely hanging on before quietly drifting to the ground. I'd been on this path as a singer-songwriter for years, and was kind of ground-down by the road and taking a hard look at my life when my best friend, a labrador named Kona, succumbed to bone cancer with her head on my lap in my living room. Her death closed a chapter of my life, one of chasing dreams and retreating into solitude when things didn't work out. I didn't know what the next chapter looked like, but I did know that those leaves were doing a better job of letting go than I was.
Anyway, Emily had lost her soul mate one autumn, and every year since then she writes him a letter telling him about her year. She sent me that letter, and her words about her own loss, love, and gratitude resonated deeply with me, almost as if she knew what I was going through and had sent the letter on purpose. I showed it to my friend Sean Watkins and we wrote a song about it called "For the Sender," which launched this project. The song is about how sometimes a letter is like a prayer, in that it's more for the sender than the receiver.
That song led to another, then another, and then more letters and more songs about them, until eventually I had four letters and twelve songs, written and recorded with some friends who lived around my neighborhood. I traveled from Connecticut to Haiti, surprising the women that wrote me the letters with performances of the songs they inspired. And as the project evolved, I noticed that the letters seemed to bring out beautiful truths buried in the wreckage of tragedy. I could see how the struggles and triumphs we talk about over dinner, or on the playground, or to the mirror, are unique because they come from different voices, but are all part of the same conversation. The stories belong to all of us, and I started weaving my own through the lyrics and letters, which is how the book started.
And then, one morning after surfing, while I was dripping saltwater from my wetsuit onto the kitchen floor, I realized I had my own letter. And my own song about it. I made my way to where a box still sits, high on a shelf in my living room, and opened the wooden lid. I took out the 3 crumpled pages of a letter I had written a few years before, and began to read. Then cry. Then read, then cry. Like a prayer, those words were more for the sender.
RG: Can you talk a little about the charity/fundraising work you are doing with For The Sender?
AW: One of the ways this project is 'for the sender' is that a portion of the proceeds from the songs and book go back to causes chosen by the letter senders. So, Alison's clinic in Haiti, Kim's shelter in Oceanside, and an education fund for Wyatt all benefit from the project. We also do benefit shows where we present the letters, with audio of the women themselves reading their letters, and a live performance of the songs about their letters.
Popular in the Community