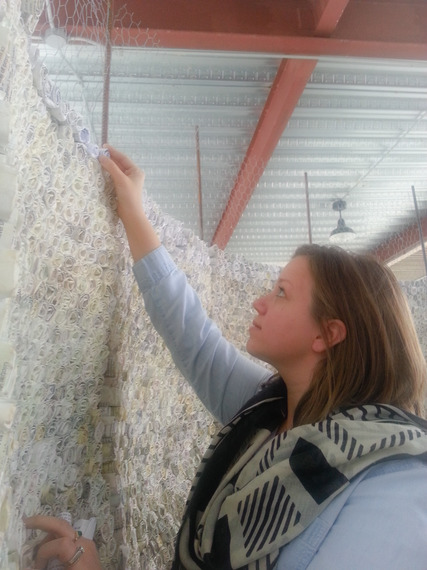 As I watched Jenn stretch her arm to insert yet one more letter at the top of her eight-foot tall work of honor, respect and compassion, I could not help but to ask myself: How many more "I regret to inform you" letters will have to be opened by the trembling hands of a father, mother, husband, wife, son or daughter...
For each tightly rolled letter Jennifer Hassin, a beautiful, talented young artist from Austin, Texas, inserts through a simple wire panel is another one of more than 6,800 representational condolence letters that make up her "Letters of Sacrifice" memorial. "One for each and every man or woman in uniform who has been killed in action since 9/11," Hassin says.
I was visiting the 28-year old artist at her small studio in East Austin, where she has been laboring on her "Letters of Sacrifice" and on several other unique works of art, since she graduated from Austin's St. Edwards University in 2012 with a degree in Studio Art.
Hassin's many works of art are unique and emotive. "Letters of Sacrifice," in my opinion, is her most ambitious and poignant work.
"Letters of Sacrifice" is Hassin's tribute to those who have fought and died for our country in all wars, but represents those who have fallen since that infamous September day almost 14 years ago.
Hassin's passion for paying homage to the fallen goes back to her days of serving in the military. "As a veteran myself, I feel that it is easy to forget about our service members and the sacrifices that they have made; sacrifices that go beyond weapons and fighting. These men and women were husbands or wives, sons or daughters, and even mothers or fathers, "Hassin says. She remembers asking her commander one time how he would write a condolence letter -- the seed was planted.
Prior to meeting Hassin, I had read her descriptions of her art, her techniques, and her purpose.
I was particularly struck by haunting words such as "My art is an ever-developing autobiography...We all work through tragedies and my art is an exploration through the voice of the distressed groups or a tragedy I seek to represent..."
I distinctly recall those words as I look around her studio and admire her unique conceptual drawings and sculptural pieces, some using hundreds of rolled newspapers in intricate, three-dimensional designs.
One piece in particular attracts my attention.
It consists of five large, black shadow boxes filled with what must be tens of thousands of pieces of shattered, jagged broken glass, of all colors. I soon realize that they are all from broken beer, wine, liquor bottles. Hassin notices my questioning looks and explains that this piece of art represents the 1,213 people who lost their lives due to drunken drivers on Texas roads in 2011. The five shadow boxes represent the five stages of grief. The name of the exhibit: "Bottles of Destruction."
I now begin to understand what Hassin means when she says, "I make art installations using statistical information that raises awareness about social issues, including military sacrifice."
Also, what Hassin means when she says her work seeks to explore and represent the voice of distressed groups or a tragedy.
As if sensing what I am thinking of, Hassin shows me another of her pieces of art. This one is titled "Wings of Courage."
It is a carved, wooden dove covered with a map of Austin, painted red -- "red is for courage, and the dove represents hope," Hassin explains -- and with hundreds of large and small gold nails hammered into it, all connected with red string. The large nails represent the 209 adult rapes and the small nails the 645 cases of children sexual molestation reported in Austin in 2011, Hassin tells me, emphasizing, "reported."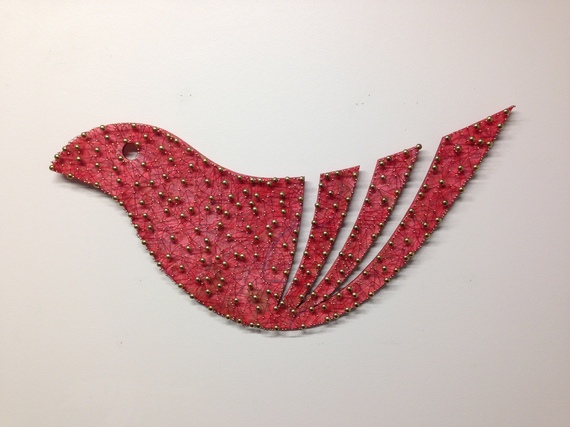 "Wings of Courage" Photo courtesy Jenn Hassin Studio.
Touching the red string, Hassin adds, "I chose to thread all the nails together with red string to represent the victims' common past...to connect one another...to light the way to healing"
Watch the young artist work on her "Wings of Courage" in the video above (Courtesy Jenn Hassin Studio)
I look back at the numbers: More than 6,800 troops killed in our wars and conflicts since 9/11, 1,213 people killed by drunk drivers, 645 children sexually molested, 290 adults raped. To many of us, these are just that: numbers and statistics. To Jenn Hassin, veteran, artist, wife and mother of a beautiful 5-year old, these, along with her own life experiences, are her "script" to be "molded, sculpted, painted, drawn and hammered" into a journey that "layers itself within [her] detailed works..."
Hassin's "Letters of Sacrifice" has already been showcased, admired and honored at several locations and ceremonies throughout Texas. Shortly it will leave Austin on a "National Tour of Honor." First stop will be our nation's capital where it will be on display for an entire year at the Pentagon -- "where decisions on war and peace are made," Hassin notes. Plans are being made to take the exhibit to Arlington National Cemetery, to New York and to other locations befitting the symbolism and the cause of the exhibit.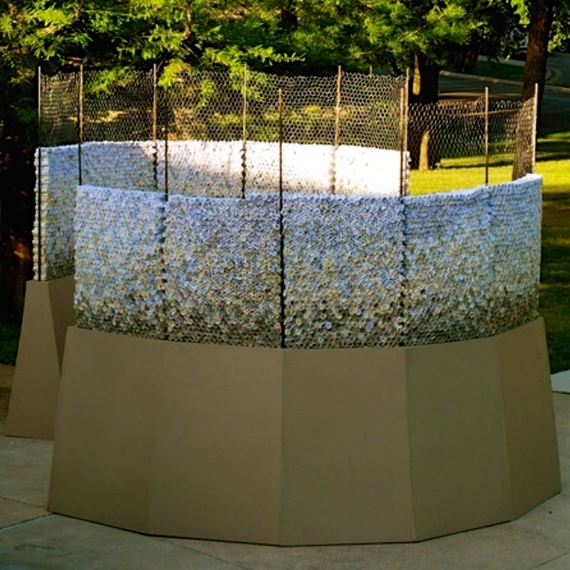 "Letters of Sacrifice" Photo courtesy Jenn Hassin Studios
As I write this, the Department of Defense has announced the deaths of yet two more soldiers who were supporting Operation Enduring Freedom.
Two more letters of condolence will be written by commanders and sent to the loved ones of a 37-year old soldier from New York, N.Y. and of a 22-year old soldier from Mesa, Arizona.
Hassin will carefully and lovingly prepare two more letters for her noble project. She knows that her "Letters of Sacrifice" is an endless work. "I am not going to stop working on this exhibit until the war [on terrorism] is over," the young artist says.
It goes without saying that Hassin needs a lot of support to build, maintain, transport and exhibit her large -- 10 feet in diameter and 8 feet tall -- exhibit.
She gets support from various sponsors, veterans organizations and private donors.
A person who has been instrumental in arranging for the display of "Letters of Sacrifice" at the Pentagon is retired U.S. Army Major General Will Grimsley. General Grimsley perhaps best describes Hassin's unique and commendable work of honor and compassion:
Letters of Sacrifice is an evocative and tangible reminder of the tremendous price our Nation places on its volunteer Citizen-Warriors to sustain our freedom. Each letter represents a life...actually several interconnected lives of this special breed of an American; those who choose to serve and pay the ultimate price for that service, and those of who have the honor and privilege to have led these women and men in combat only to lose them. I have seen many monuments and tributes to our Fallen, but none is more poignant than Letters of Sacrifice in capturing the human element of the very dynamic and sustained conflict in which our Nation continues to fight.
To learn more about Jen Hassin's project, her art work and to support her causes, please click here, or go to www.jennhassin.com
Lead photo: Jenn Hassin placing a condolence letter in her "Letters of Sacrifice" sculpture. (Courtesy Tanya Kinney)
Related
Popular in the Community