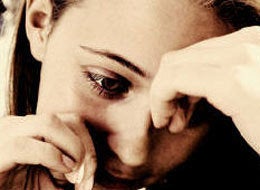 As teens across the country head back to school this year, far too many of them are facing the entrance doors to their schools with feelings of fear, trepidation and dread. For an increasing number of students across the nation, schooldays are filled with the never-ending cycle of taunting and abuse from their bullies. But this year, in an unprecedented display of solidarity, thousands of strangers who have been through the same harrowing experiences, are sharing their private tales of torment with these teens for the first time ever because of the story of Olivia Gardner.
Olivia Gardner, a teenager from Northern California, had been severely bullied in school. After reading of her ordeal in a local newspaper, we were shocked. Olivia had endured so much pain. Her book bag had been dragged through the mud, her schoolmates had created an "Olivia's Haters" page on the internet, and they would whisper "Die Olivia" to her in the halls. Olivia's story broke our hearts, especially when we learned that she was suicidal. We couldn't imagine such cruelty.
Olivia's story moved us, and a spark ignited between us - we both recognized that there was something that had to be done about this situation. We knew we couldn't be bystanders. We organized a letter-writing campaign and asked our friends to write letters of encouragement to Olivia. These messages of healing and hope were the least we could send to Olivia to let her know that she was not alone and that we were thinking about her and hoping she would get better.
Heartfelt, honest and powerful letters started pouring in. And then came the media requests. The more attention the "Olivia's Letters" project got, the more letters we received. Suddenly, we were thrust into the world of bullying, as we read the letters sent to Olivia by former bullies and targets of these bullies. We learned of the remorse adults felt having been bullies themselves in their teen years, and of the depression the targets of bullies still experience years after they have been bullied. Thousands of letters from all over the country and even the world flooded into Olivia's mailbox, each offering a unique perspective on courage and compassion.
We could never have predicted what a great and widespread response our little project to help one girl would receive. In a matter of a few weeks we became activists. Today, as the authors of the book Letters to a Bullied Girl: Messages of Healing and Hope, a compilation of some of the most revealing letters sent to Olivia, we are hopeful that the letter-writers' message to end the vicious cycle of bullying will continue to spread. Already, we have received overwhelmingly positive responses: "Instead of analyzing or proselytizing, [this book] takes us right into the heart of the matter," writes Madeline Levine, Ph.D., author of The Price of Privilege: How Parental Pressure and Material Advantage are Creating a Generation of Disconnected and Unhappy Kids; "This powerful book can help bolster a wounded sense of self, offer a community of support, and deflect the barbs of cruel sad cowards. It is not just helpful and heartwarming - it's potentially life-saving," writes Carol Weston, author of Girltalk: All the Stuff Your Sister Never Told You and The Diary of Melanie Martin and advice columnist at Girls' Life Magazine. Olivia herself was encouraged by these letters, which made her feel less alone, though she is still dealing with the memories of her bullies.
As the letters in this book prove, bullying has serious consequences. We can no longer turn away or sit idly by as our peers are bullied so severely and relentlessly that they are forced to withdraw, isolate themselves and even turn to suicide. Our book is dedicated to Corinne Sides, who committed suicide as a result of bullying, and there are pages of letters from others who attempted suicide to escape their bullies.
We decided to take matters into our own hands, and you too can be a part of this grass roots movement to erase bullying. We each must do our part to increase public awareness and understanding about the issue of bullying and bring comfort and healing to those enduring the lonely pains of being bullied.
As you listen to us read some of the letters sent to Olivia, if you would like more information on Letters to a Bullied Girl please click here.