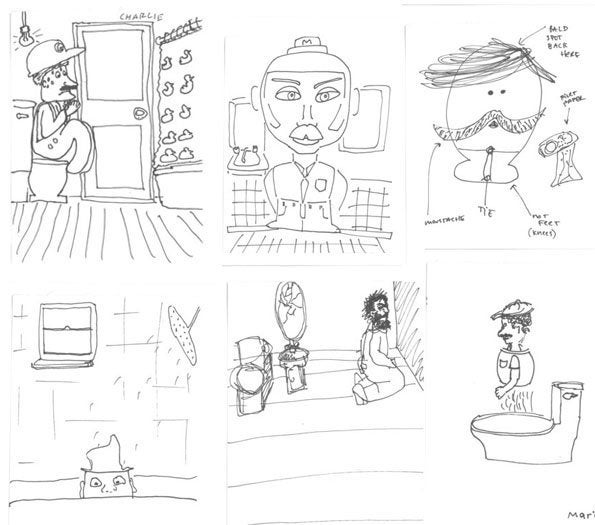 Brooklyn-based Gideon Jacobs has been writing letters to his imaginary friends for a while now -- friends he's had since he was a kid. The relationship, as you might expect, is complicated. "I'm not a nut who believes imaginary friends are real," he explained to The Huffington Post, "but I might be a nut who thinks that there is usually great value to be found in the unpopular and the invisible."
"I'm pretty certain I had many imaginary friends, but the only one I remember vividly was named Gogo, and he sort of inspired this whole project," Jacobs continued. "Gogo lived in my parents' bathroom and kept me company when I was first learning to go No. 2 without a chaperone. My mom would overhear me through the closed door having these long conversations with him. I have this memory what he looked like, but what's strange is that my image of him has kind of calcified over time instead of fading. Gogo looks a bit like Super Mario, but more haggard. And he's got no feet -- his bottom half is sort of just a stump."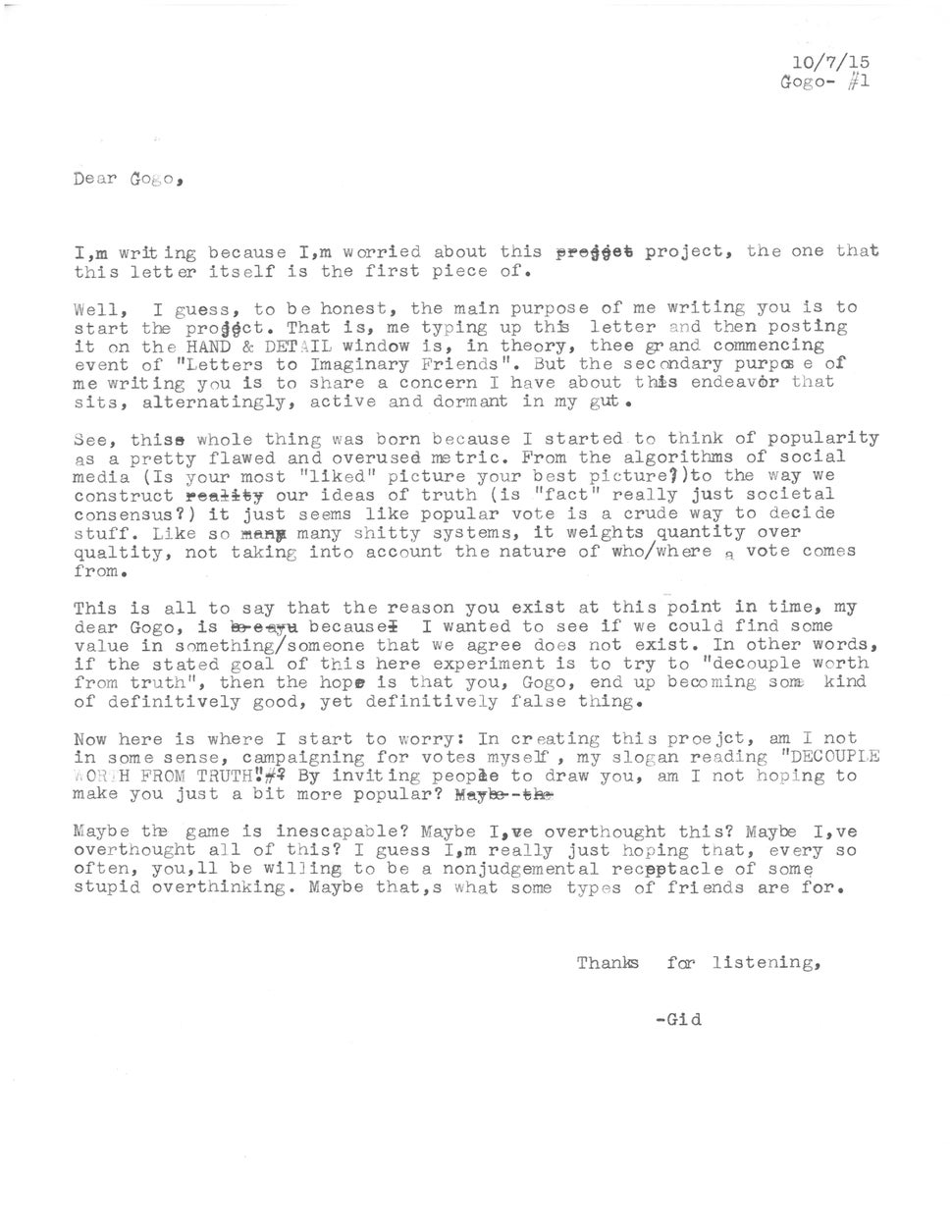 Throughout the month of October, Jacobs is inviting others to enter his imagination and record their findings in what he dubs a literary performance project, "Letters to Imaginary Friends." Specifically, Jacobs will pen letters to his favorite childhood characters, and visitors will draw what figures populate their minds' eyes. 
"I didn't want to be the only one getting real value out of these imaginary friends," Jacobs said. "I hoped others could too, even in some very small way. Drawing portraits seemed like the lowest-barrier-to-entry way of getting folks to engage with the characters."
Eventually Jacobs hopes to compile all letters and drawings into a zine, which will be free for participants and very affordable for everyone else. The community-wide project aims to loosen up the lines separating categories such as the real and the pretend, innocence and insanity, nonsense and value. 
"We are all faced with a barrage of competing narratives everyday," Jacobs said. "We look in the mirror and wonder, 'Do I look good today, or do I look OK today or do I look bad today?' I guess I believe all those scenarios to be equally 'real,' but the one that is 'true' is the one you end up investing in. That is, I think, in a super fundamental way, we have a bit more choice when it comes to truth than we tend to think. I wonder if this project will remind those who encounter it that, as humans, we are empowered with agency when it comes to constructing our realities."
"Letters to Imaginary Friends" runs through the month of October at Hand & Detail Projects, located at 644 Lorimer Street in Brooklyn. Stop by to bring Gogo and his friends to life on your own terms, and see some of the drawings already created below. 
PHOTO GALLERY
Artists and their Cats
Calling all HuffPost superfans!
Sign up for membership to become a founding member and help shape HuffPost's next chapter