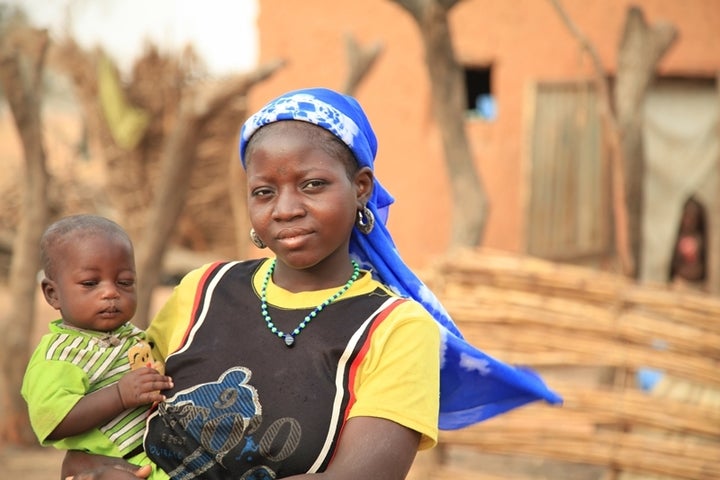 International Day of the Girl is celebrated on 11 October each year. Around the world NGOs, civil society groups, UN agencies, government bodies and individuals come together to raise awareness about issues important to the rights and well-being of girls around the world. This year, Plan International Finland decided to use this Day to bring attention to an issue that has been the focus of a joint campaign by Plan International and UNFPA: child mothers, particularly those who become mothers before the age of 15. The joint #childmothers initiative and photo exhibition aims to highlight the issue of early motherhood, and give a voice and visibility to girls around the world to share their stories about becoming mothers at a very young age - often against their will, or in circumstances beyond their own control.
Becoming a mother at a very young age has huge implications for girls' health, well-being, education and future prospect and possibilities. Every year, approximately 2 million girls become mothers before reaching the age of 15. This means 5,500 girls who are still children themselves become mothers every day. For a majority of them, this means the end of their own childhood and youth – and, in worst case, end of their life, given the increased risks of complications presented by pregnancy and labor to such young girls. 70,000 girls between the ages of 10 and 19 lose their lives every year due to complications in pregnancy or childbirth and complications during pregnancy and birth are the second most common cause of death for girls ages 15-19 globally. If the mother and baby do survive, becoming a mother at such a young age has huge implications for both mother and baby for the rest of their lives. For girls who had been lucky enough to attend school up to this point, having a baby often means the end of education. Many girls who become child mothers are also child brides. Child marriage, like child motherhood, violates basic rights of girls to safety, health, education, protection – and ends their childhood. Girls who become wives and mothers are not seen as children anymore, nor treated as such.
Because of the severity of this issue, Plan International has tackled the topic of child mothers through a variety of activities and actions around the world. Plan International, together with the United Nations Population Fund (UNFPA) have created a #childmothers exhibition and movement to share stories of young mothers from around the world in effort to raise awareness about the impacts of unplanned early motherhood on the rights, lives and futures of girls around the world, and Plan International's National Office in Finland selected this as the topic of this year's Day of the Girl campaign. In Finland, the goal is to increase people's understanding of this issue and raise funds that go towards protecting the basic rights of girls in the 50 countries around the world where Plan International works.
Plan International Finland also believes in the power of role models and champions who choose to stand on the side of girls and against child motherhood – one of them being a young Finnish singer Isac Elliot, who recently visited the Today Show after being chosen as the Artist of the Month by radio host Elvis Duran. Isac, who has a huge fan base and following in Scandinavia and is rapidly breaking into international markets as well, has taken a strong stand for girls' rights and is showing other young people in countries like Finland how they can also take concrete action towards improving the lives and well-being of girls around the world. Isac is not only raising awareness about the issue of child mothers, but also showing how important it is for young men to become gender champions and stand up for girls' rights around the world – and many are already inspired by his lead!
So what can you do? Many things: join the global movement for girls' rights, raise awareness, donate, and take action. You can join the discussion on social media with the hashtag #childmothers and share why you think girls should be allowed to remain children and not become mothers at such a young age. Despite where they are born, every girl should be able to take charge of her sexual and reproductive decisions and enjoy her childhood and youth without the fear of having to become a mother against her own will and at a very young age. Supporting young girls who have become mothers and preventing very early motherhood is something that should be at the center of all of our attention, and it's time to ensure that these girls are properly represented in statistics, data, the Global Agenda and in the core work we do in communities around the world. It's our joint responsibility to make sure that girls or women are not forced into motherhood against their own will - especially when they are still children themselves.
Calling all HuffPost superfans!
Sign up for membership to become a founding member and help shape HuffPost's next chapter