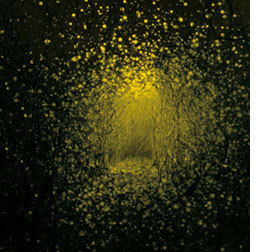 The Antlers' breakout, Hospice (2008), is the kind of record that will forcibly gouge a hole in your heart, and then fill it. Its follow-up, Burst Apart (out Tuesday), is less intrusive, less pummeling-ly devastating, and consequently, less epic. Initially, this writer was among those so eager for a Hospice: The Sequel, it took an unrelated personal crisis of letting go to realize the caliber of this new album. Imagine an explosion in space that sends particles hurling through an infinite, anti-gravity environment, like what the album's spooky, sylvan cover art calls to mind. Turns out, Burst Apart is a soulful soundtrack to the aftermath: floating calmly and inevitably away from something, and, maybe, toward something else.
Point by point, the origin story of Burst Apart revolves around relinquishing control, just letting things play out. "We went through a lot of lofty, conceptual ideas for this record," said primary Antler Peter Silberman. Among them, a military-themed record entitled Purple Heart, which was gradually abandoned. "We talked about an idea for the album for a really long time without actually recording anything. Just planning it, and strategizing it, and none of it really happened. When it came time to record, we were just waiting to see what it turned into."
Silberman described his obsessive, pre-Burst recording process as "me sitting in front of my laptop, alone, layering tracks with, like, one little microphone." But this time, he let people in.
"These songs are the first songs we wrote together as a band. ... The way it ended up having to work was for everyone to let go of any preconceived ideas they had going into it, any big picture ideas, and really just listen to what each other were playing, play parts over it, and hear what worked and didn't. For me, it was a process of learning to relax, and learning to not control the music, not to try to shape it in the form of a big, prepared piece. Just letting it shape itself. That was actually really difficult. And it was a good thing for me to learn."
As open as the band was, they weren't about to shirk the creative opportunities that accompany production. They self-produced the album in their own Bushwick (Brooklyn) studio.
"We didn't want someone coming in and deciding what the record was going to sound like for us. You know, that's not necessarily what producers do; sometimes they're just there to aid the process, and to help you focus... But I think what we needed to do was actually not focus, and just see where it went."

With each song, the band waded through trial and error until it gelled. "It seemed like a lot of songs were really shaky for a while and we didn't know if they were going to work. We were grasping at straws sometimes. But suddenly, we would just figure it out and it would all come together." After the trio's five months of nearly full-time work in the studio, their ten tracks did come together, into a complete work of recurring themes -- some with deep roots.
An excerpt from the interview with Peter:
AM: You alluded at least twice on the record to your teeth coming out, and you recently made a derisive comment about a dentist on Twitter. So, how's your oral health? Or, if you were being less literal—losing one's teeth is a pretty common anxiety dream credited to insecurity, self-consciousness, a lack of control or a lack of preparation for the task at hand. Can you relate?

PS: Well, my dental health is fine...

AM: That's good to hear.

PS: I might have to get my wisdom teeth out—which is what the dentist tweet was referring to—and damnit, I don't want to do that. But, actually, it's not about that. I was having those weird recurring dreams about my teeth, and I looked into it. It really informed some stuff, and it's definitely anxiety-related stuff. And this record is kind of about anxiety—to some extent, just getting over it. Calming down, letting things go, letting anxieties go. So, yeah. You hit the nail on the head.
After all that letting go and waiting to see, Burst Apart became a ten-track tour of one band's anxieties, and a soaring rock meditation on moving forward. So, for the Antlers, forward, onward and upward.
The Antlers are Peter Silberman, Darby Cicci, and Michael Lerner, joined live by Timmy Mislock. Burst Apart is out May 10 on French Kiss Records.

Popular in the Community