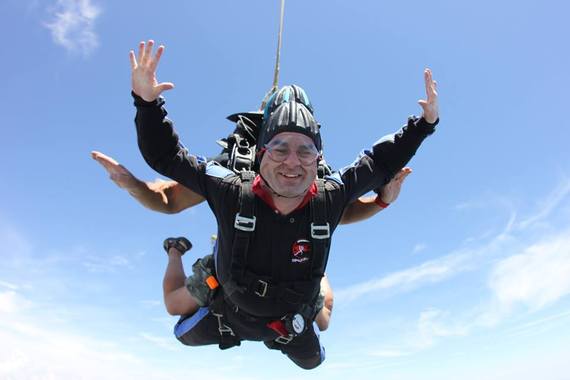 I have resisted writing this in recent weeks but feel comfortable now to provide an update on my professional and personal journey.
But first, a quick recap: I resigned from The Greenville News in February 2015 after a brief stint, after I decided move to Upstate South Carolina after visiting the area with a group of public officials and economic developers from Tupelo, Mississippi, where I worked as a watchdog and investigative local government reporter at the Northeast Mississippi Daily Journal. A few months after resigning from the position at the Gannett-owned publication in Greenville, my wife and I mutually resigned from our marriage, which overlapped with the timing of me accepting a position at the Upstate Business Journal.
After contemplating my immediate and long-term future, I resigned from the UBJ, choosing to devote time to find personal and professional direction, something I'd lost. I also decided during this period to fulfill a promise to my mother before she died in 2010 after a lengthy, debilitating struggle with a rare form of muscular dystrophy. As I mentioned during the eulogy at her funeral, I promised to take her to Ireland and run the Dublin Marathon. I fulfilled this promise on October 26, 2015.
Prior to the run, however, I met one of the best Robbie Wards I've ever known, who with his wife Joan, helped make the experience one of the most memorable of my life. Two days before the run, Robbie, his son Robbie and I walked to the Glendalough Upper Lake, where I had a spiritual experience.
It felt as if I'd reached the location where I promised to take my mother. Moved by the moment, I reached into the clear water and took a few pebbles, souvenirs of my travels. I ran the marathon wearing a medical necklace that belonged to my mom and a few Irish lucky charms (pebbles) in my pocket.
I learned so much and gained much insight during my travels - emotional, spiritual and geographic. I lost 25 pounds, symbolic of the emotional baggage weighing me down. I tried to find peace within myself, reconnect with neglected friendships and welcome new friends along for the journey.
Monitoring my depleted bank account, I felt blessed when a restaurant manager took a chance to hire me to wait tables at CityRange Steakhouse Grill in Greenville, where I'm currrently employed. Serving people at the restaurant provided me with many great opportunities, including regaining humility, confidence and belief in myself. I also made many great friends.
Life has ebbs and flows, highs and lows, seasons of change. The last 18 months of my life has been among the most turbulent, life-changing and remarkable to date. I feel strong again, ready to take on my next chapter and challenges.
During much of this time of uncertainty and turmoil in my life, I did not know what lie ahead for me. Much of my life remained uncertain. However, kind and gentle souls I've met along the way have reinforced my faith in this world. After much searching and travels, I have found meaning in my life again. I remain committed to contributing to improving the world, as my mind and body allow.
It appears my next chapter will begin in Beaufort, South Carolina, where I will accept a position teaching high school English at Right Choice School, soon to be named Island Academy, an alternative school within the Beaufort County School District. I will work with students already on track to get lost in society's cracks.
During a visit a month or so ago, I saw a student whose siblings were all incarcerated and another student who was homeless. Many of these students do not live in the world you and I know. I intend to teach these students more than grammar and literature. I hope to instill in them hope and belief in a better life for themselves and believe that we can help bridge their world of today with the promise of tomorrow. I grew up in the Mississippi Delta, one of the most impoverished places in the United States. I know poverty, lived it - spiritual, financial, and emotional. I know what it feels like to be abandoned, without hope.
But I found it through a process of many years. I feel love from so many great friends I've made through this journey called life. I remain uncertain about what future chapters will bring but also have commitment and focus to do the best I can with the tools at my disposal to make an impact with as many people as possible.
I look forward to this next chapter in my life, even amid the stress and uncertainty of knowing this life is not a rough draft yet knowing I've got plenty of mistake left in me to make. Plus, I don't know yet how I will afford to move. However, I can't afford not to make this step forward in my life.
One last point before I end this post, don't think for a second this writer and journalist will remain quiet just because I change careers. Whether starting a festival to celebrate Johnny Cash's 1965 arrest in Starkville, Mississippi or running a marathon in Ireland, I've never let artificial barriers limit me from doing important things in my life. I will remain a writer. To do otherwise would be as outrageous as to try to remove my beating heart from my very living body. I will remain a storyteller. I have plenty to tell and look forward to gathering more to share.
Moving forward, I look forward to continuing to reconnect with friends to reestablish neglected friendships and find new friends along the way. We've got lots of ground to cover and limited time to get there. School will start in August. Mr. Ward will have a classroom ready to everyone to learn, including himself.
I also look forward to sharing some of these stories I've accumulated along the way, along with others I've yet to find.
Peace, love and happiness to you and yours!
Calling all HuffPost superfans!
Sign up for membership to become a founding member and help shape HuffPost's next chapter