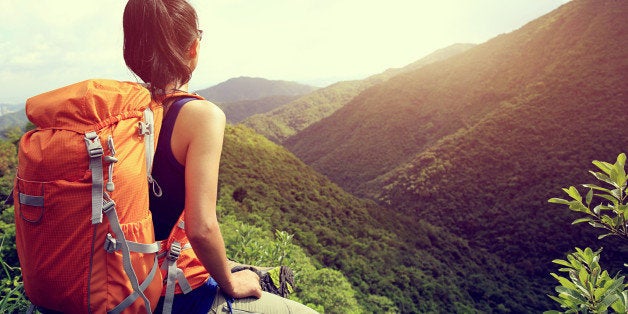 The aromas of cooking meat, fresh cut fruits, deep-fried sweets and the cacophony of music and voices surrounded me as my 18-year-old daughter, Alexandra, pulled me along by the hand as we made our way through the Sunday Market in Chiang Mai, Thailand, recently. Our clothes stuck to us in the 100% humidity as we moved with the crowd craning our necks to catch a bargain on the endless vendor tables lining the streets.

I was in Thailand meeting Alexandra for a week because for the first time since she was born she would not be home for the holidays. When the Acceptance package arrived last spring from the college Alexandra wanted to attend, tucked within the folder was a packet outlining the benefits of freshman deferring for a year after high school and before taking on the rigors of four years of college. Although not an option Alexandra -- and most definitely not myself -- had ever considered before, my daughter embraced the idea of a gap year wholeheartedly as soon as she read the information.
I was not as enamored with the thought of veering off The Plan, which from the time she was in middle school was for Alexandra to work hard during her high school years to get herself into a good college and move on straight from there, no stopping along the way. When the idea of deferring for a year first was raised, I attributed my hesitation initially to the fear that perhaps Alexandra may not want to return to an academic setting after a year of freedom. Even the security of knowing she had a spot reserved for her in the following year's college class was not quite enough to convince me it was a good life choice. When I finally was honest with myself, however, it was quickly evident my lack of enthusiasm was because my daughter during that year wanted to backpack around the world. Alone. Her, female, 18, and at a time when the word "terrorism" was prevalent in just about every news headline. I had images of bombs going off in some market she would be in just like the one we were walking hand-in-hand through in Chiang Mai.
As Alexandra was growing up one of my goals as her parent was that she would have a respect for people of the world and all belief systems that extended beyond the small insulated East Coast town we lived in. Spending school vacations volunteering or housesitting in some remote corner of the world far away from home was a way to try to achieve that, and so I should not have been too surprised that when given the opportunity, taking a gap year to travel would be a natural choice for my daughter.
To go straight to college where she presumably would be cocooned within its ivy-covered walls was a direction I felt very strongly Alexandra had to head in, but ultimately it was her choice to make, her life. She is now five months and 12 countries into her year of traveling abroad and she could not possibly be happier.
For me, watching the ever-increasing fear and violence on the news, though, I readily admit I have sleepless nights worrying about her safety. Alexandra is neither naive or unaware of the events that are going on in the world. She had passed through Paris before the horrific bombings in November, and she was exiting Turkey when there was an incident occurring there, and she is now in Indonesia with this weeks' terrorist bombings in Jakarta, all terrifying and hard to ignore.
I was only in Thailand with my daughter for one short nugget of time, but walking through that Sunday Market in Chiang Mai with her, in a country absolutely teeming with life and energy, I saw Alexandra is exactly where she is supposed to be. She is out meeting the good and kind and generous people of all ages that fill this world we live in from all faiths and backgrounds.

As an 18-year-old young American woman traveling solo, Alexandra is empowered by the decisions she is making every day for herself, and I listen in awe as she writes of the places she goes and the things she does. She finds herself by far the youngest of backpackers she encounters and befriends, and most definitely one of the few American female teenage travelers, but yet that, too, has become a source of strength for her. She has learned to embrace it all and is thriving on breaking outside her own comfort zone, learning who she is and who she wants to become.
Alexandra strongly feels and reminds me often that living in fear of what could happen is unacceptable to her, and not a way she chooses to live. She will head to college this fall, but the experiences she is having, the life she is living, is an education I am grateful she has been able to have at such a young age and most especially at this time in history. An education not learned on the campus of her college, but out in the world living life.
REAL LIFE. REAL NEWS. REAL VOICES.
Help us tell more of the stories that matter from voices that too often remain unheard.