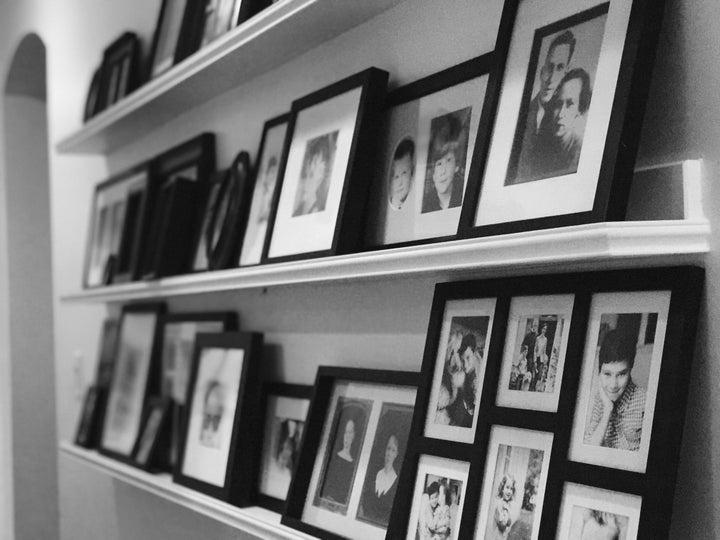 Today I finally did it. The day I had been putting off but knew I needed to do. I took down all of the photos of my son, Haze, that hinted he could have been anything other than your typical boy. I took down the one of him in a tutu, layer upon layer of tulle, swallowing his little one-year-old frame. I remember giddily purchasing the tutu before he was even born, once the doctor so confidently declared we were having a girl. I took down the one of the two of us snuggled in an embrace on a crisp fall day, our dark brown hair mingling into one mass of curls. And I took down the one of him in his beloved wolf shirt, paired with his one pair of "girls" skinny jeans I implored him to wear over his favored baggy, cargo pants. "For the picture", I said.
Our annual family photo shoot is a favorite tradition of mine. It chronicles our lives, cements memories, and freezes in time the precious, fleeting moments of raising children. The picture wall in our home is a collage of black and white photos knitting together the story of our family across generations, inviting passersby to reflect on the years that have passed. It was, is, a refuge for us all when the days feel like they are slipping away too fast.
When my daughter turned out to be, in fact, my son, I mourned. I mourned the name my husband and I so carefully selected. Traditional, old fashioned, yet modern. "You mean like the maid from that TV show?", our parents asked when we revealed our new baby's name. "No, like our daughter", we said. I mourned the loss of our feminine connection. I lovingly called Haze and his younger sister "my girls". My husband called all three of us "his girls". We felt like a little team. A bond based on our chromosomal makeup seems silly in retrospect. But letting go of my daughter to make way for my son has been a messy, confusing, gender biased-infused roller coaster of emotions.
When a person transitions, the whole family transitions, they say. Adjusting to a new name, different pronouns, and changing family identity is something we are still getting used to. (Well, except for our four year old. "I told you guys Haze is a boy," she said early on, exasperated, not even needing to add the "duh" to her rolling eyes. Ah, the wisdom of youth.)
A son and a daughter, one of each. "How lucky", people tell me now. It was a sentiment I took issue with when I thought I only had girls, as if you need a balance of genders to make a family complete. Still, my identity as the mother of two fearless, independent young women was a hard one to shake. And the photographs that decorated our hallway were the last vestige of this image of our family. Taking them down was the final goodbye to who I thought we were.
As I carefully wrapped up each photo in tissue paper, packing away the memories and any trace of my little girl, I cried. Actually, I bawled. Yes, I was doing this because Haze asked us to, but I still felt guilty. It felt like erasing ten years of my child's life. Of my life.
But, as I replaced each image with a new one of my beaming, radiant son, tears of sadness gave way to tears of joy. The same sweet eyes in the now packed away photos are there, but with a new sense of confidence, a new swagger, a new glint. If a photograph is meant to capture who we are, the tutus and curls and skinny jeans were not my child. He was always there, but the photographs were a betrayal, not a record of who he is.
Once all of the photos were replaced, I stood back to look at the new reflection of my family. It's different, yet the same. The memories still just as precious but now with a son and a daughter, one of each. "How lucky."
Support HuffPost
Every Voice Matters
Popular in the Community