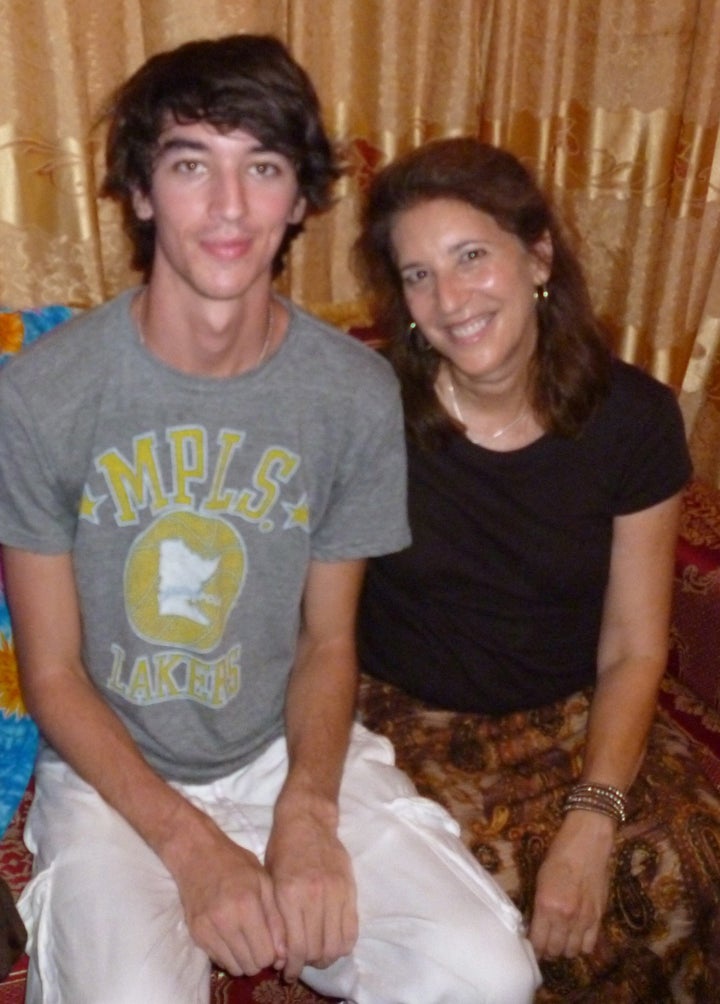 Today my son leaves on a road trip, driving back east to college with his girlfriend. Frankly, it's a big "ugh." I not only love my son; I like him. He's a great person, and I'm extremely happy when he's around. After four months in Africa and then ten days in India, I was thrilled to have him back home. The simple things -- making meals, sitting in the living room late at night each absorbed in our book, having unexpectedly cool conversations -- these are priceless gems from his visit, scattered all over my heart.
But the strange thing is, I'm excited for him to leave. I don't mean that literally; a part of me would like nothing more than for him to live at home and go to college down the road. But bigger than that is the undeniable feeling of joy that I get from watching him step further into his own life.
From time to time, when I share something about this journey of letting go, those of you with older kids email me to share your pain. "My daughter is about to graduate from high school and I can't imagine how it will be without her around!" Those of you with little ones tell me that they simply cannot imagine a world without children underfoot.
I can't explain how it gets better, but it does. I think this is at least partly why: When our children are born, we're flooded with hormones and instincts that transform us so radically into a protective caregiver that in some ways we hardly recognize our former selves. Our children become the center of gravity in our lives; every decision, from whether to take a job or a shower, is influenced by their needs. This is as it should be. Little ones are defenseless; our mutually intense attachment ensures their well being.
The tricky part (as those of you with teens know) comes when we have to start transitioning into another role in their lives. When do we step back? When do we interfere? When do we say, "That's not an option" and when do we leap along with our kids as they take on a new experience?
There are no rules, no guidelines and no shortcuts. It is trial by fire. The road can be rocky: "You don't understand me!" "You're always trying to control me!" Doors slam. Eyes roll. "Whatever" becomes code for a thousand unexpressed emotions.
But if we stay the course -- more or less -- the payoff is indescribable. Our kids arrive, gradually and imperceptibly, into their own adult lives, and we get to bear witness. Somehow, we stop worrying. (As much.) We trust them more as we watch them make good decisions. And most of all, there's this: We get to see them embark on their own life adventures with excitement and eagerness, discovering more about the world around them, and more about who they are meant to be.
It's so fantastic that somehow, it makes their leaving... well, it makes it tolerable. There is a quiet hum of sadness playing in my heart right now; there just is. But with each departure, it has become less awful, and more sweet. Mostly, I'm happy for him as I watch him with his girlfriend, setting out further into his own life story.
I will always be a touchstone for my son, the place where he comes to get something he needs in his heart that no one else can provide. This, I know, is the forever part of our connection. And hopefully there are decades to come of conversations and meals, games of Boggle and walks with the dog.
For now, though, it is this: Watching him take another step on his path, as I cheer him on.