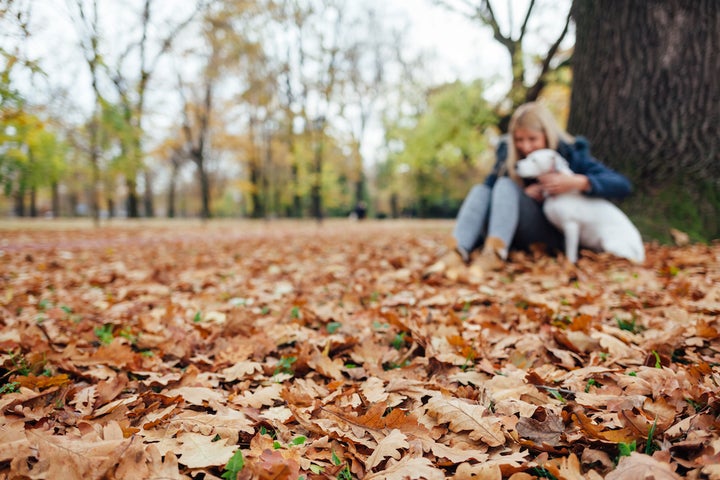 Last month my husband and went to France for vacation, a trip we originally scheduled last year but had to cancel because one of our dogs was diagnosed with cancer. She died shortly thereafter. We knew we had to cancel the trip because time with her was short.
This year we've had healthy pets (and humans) in our lives and were excited for our trip, until a few weeks before our scheduled departure date when our dog Bella began getting sick. I'll spare you the details, but suffice it to say, after numerous vet visits and tests, we were unable to figure out what was wrong with her.
She was still exhibiting symptoms a few days before we were scheduled to leave. More than one person told me that I needed to "let it go" and trust our (very trustworthy) pet sitter to take care of her while we were gone. I was uneasy at best. I didn't feel right leaving her. Yet, I did. I wanted and needed to trust all would be okay while we were gone. I wanted to let it go. This is a constant struggle for me and a lesson I'm frequently presented the opportunity to learn through various scenarios in my life. It is often said that that once you learn the lesson, life stops presenting you with opportunities to master it. Well, I was ready to master this lesson. I knew I couldn't control what was going to happen with Bella, whether I was with her or in France. So, I chose to let go and leave for vacation.
But did I really "let go"?
I hung on and kept one foot back in VA while the rest of my body was in France. I straddled the Atlantic Ocean trying to keep my pulse on everything happening at home because I was worried about my dog. This resulted in a somewhat frenetic trip for me. I didn't sleep well. There was the 6-hour time difference to deal with while I waited for calls from my vet and my pet sitter about Bella. Although I tried to be present on the trip, my heart was divided. I was resisting everything about what was happening at home and the fact that I was 4000 miles away.
About half way into our 10-day trip I decided to stop resisting the fact that my heart was split and I was worried about Bella. I adore my animals – they are my fur-children and when one of them is hurt or uncomfortable that hurts me. This was not something I was going to be able to "let go." The ironic thing is, once I accepted that fact that I wasn't going to be able to stop being concerned about being 4000 miles away from my sick dog, my anxiety eased. In some ways, accepting my feelings allowed me to loosen my grip.
The next day our pet sitter texted to tell me Bella was doing better and eating like her normal self again. Was she "back to normal"? No, but she was better and remained that way until we got home.
The idea of letting go of things that are important to us and trusting all will work out okay in the end is a lesson I am still learning. In my experience, it's true - things work out for the best, regardless of whether I hold on tight and try to control them or not. And yet, I think the bigger learning for me is in accepting who I am and what I'm feeling in any given moment – even if it's not the most productive feeling for that situation. It is what it is. I feel what I feel. I am who I am. Those aren't excuses to be miserable and act all "woe is me." It is simply permission to let myself feel what wants to be felt. Once I do that, the letting go seems to happen naturally.
For more information on Andria Corso, please visit her website.
Related
Popular in the Community