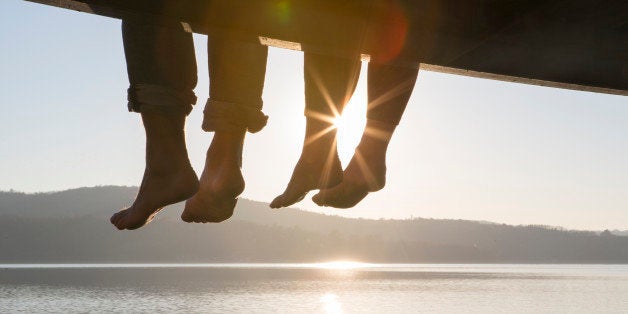 The daily grind. Slogging through. Just getting by. There's a reason why so many of the words and phrases we reach for to describe our lives convey a sense of resignation, if not outright dissatisfaction. Study after study tells us that across the globe, people are over-scheduled and worn out (one UK investigation found that 1 in 5 employees have been forced to take time off work due to stress at some point). Surveys confirm that we feel "over-worked and under-appreciated," and that most of us value happiness over money -- which speaks to a pervasive longing for more simplicity and more meaning in our lives. It's time, as Arianna Huffington writes in her new book Thrive: The Third Metric To Redefining Success And Creating A Life Of Well-Being, Wisdom, And Wonder, that we look at the trappings of conventional success and ask, "Is this all there is?"

It's a titanic question, of course, made more complicated by the very real financial, personal and professional pressures we all face, to say nothing of societal expectations. But some of us ask nonetheless and, when we don't like the answer, find ways to make profound changes in our lives.
Our new Third Metric series, "Letting Go," will be telling the stories of people around the world making those changes. We'll regularly profile people who, in their own way, are taking stock of their lives and taking steps to make them simpler, saner and more fulfilling.

Take Joshua Fields Millburn, for example. When he was in his late 20s, three events changed his life forever. His mother died of cancer. His marriage ended. And then, while browsing Twitter, he saw a video mentioning minimalism, a lifestyle that, at its core, asks people how their lives might be better if they simply owned less stuff. Instantly Millburn thought: "I'm in."

For the next eight months, he combed through his things, getting rid of one possession, then another, asking himself the same question over and over: Does this add value to my life? Millburn was no hoarder, but he had spent more than a decade climbing toward his role as director of operations at the telecom company where he regularly put in 60, 70 even 80 hour weeks. Much of the six-figure salary he earned went toward shopping, and his home was brimming with clothes, housewares and gadgets. "I was spending so much time working to buy shit I didn't need," he told The Huffington Post.

Over the course of several years, Millburn paid down more than $100,000 in debt he'd amassed between student loans, credit cards and a house he was under water on, and got rid of all but 280 possessions. He quit his six-figure day job, launched the website The Minimalists with his friend (and fellow minimalist) Ryan Nicodemus, and threw himself into writing, teaching and getting healthy -- things he'd always said mattered to him, but that he'd never spent any real time on. "As I pared down my stuff, I started changing how I viewed things," said Millburn, who was on a 100-city book tour when he spoke to HuffPost. "Then everything in my life actually had a purpose, or brought me joy."
If you or someone you know is taking steps to live a life that's simpler, saner and more fulfilling, we want to hear you about it. To submit a Letting Go nomination, email thirdmetric@huffingtonpost.com.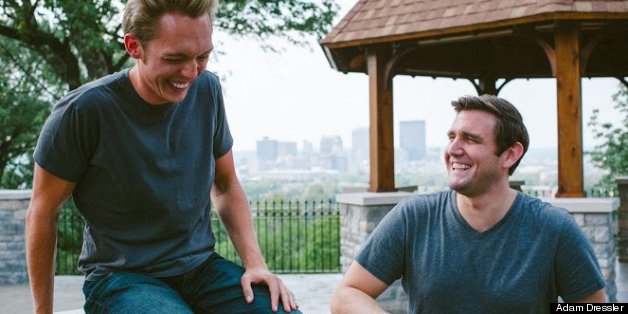 The Minimalists' Millburn (left) and Nicodemus (right) have found more meaning in their lives by letting go of material items.
Related