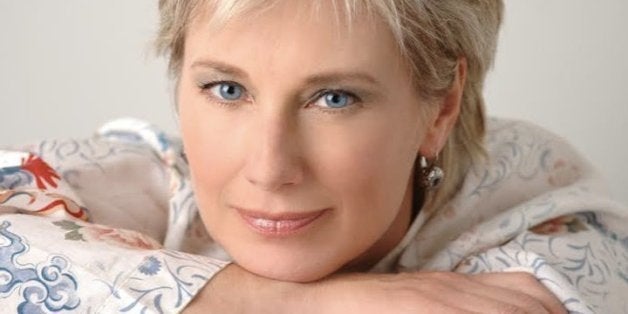 For 23 years, Barbara Bentree made Los Angeles her home, thriving on the bustle of city life.
A singer who studied music education in college, Bentree moved to California in her early 20s with, as she put it, "stars in her eyes." She found work teaching in private schools, and in her spare time performed in one-woman shows, sang on various studio recordings and even appeared as a singer in several episodes of TV shows, including "Ally McBeal," "Days of Our Lives" and "Wings." Through teaching, she began to forge connections with people in the production world, and was soon being referred to work with children in the entertainment industry.
"I was young and single and really excited about being in a big metropolitan area," Bentree said of those early years in Los Angeles. "To participate in movies and television was very, very exciting."
Eventually, Bentree was recruited to work on "The Mickey Mouse Club" TV show as a music producer, auditioning and helping to train Mouseketeers, including famous alums Christina Aguilera and Britney Spears. She worked in various production and music director roles for big networks, like Disney, and eventually met and fell in love with her husband, John Rangel, a pianist and composer, who relocated to Los Angeles from Florida in the early 90s to be closer to her. They married two years ago, after decades together.
The couple lived along the city's striking coastline, in beachfront areas such as Pacific Palisades and Malibu -- which were "wonderful" and "beautiful," Bentree said, but very expensive. To keep up with the cost of their rented apartment, Bentree worked on several projects that were lucrative, but not artistically satisfying.
"When I was young and inexperienced, all of the TV and movie work was lucrative and exciting," she said, but gigs as a studio singer crooning commercial jingles for cat food companies became less and less appealing. At one point, she looked at her life and realized she was spending 10 hours a week in the car, commuting back and forth to work on a particular project.
"It was a little nutty, and there was a lot of running around," Bentree said. "When I turned 50, I started to have this feeling of, 'Los Angeles is not the town for me to grow old in.'"
"The things that were important to me when I was young -- all that excitement, the sense of accomplishment and ambition -- have changed," she continued. "Now, what I find interesting is time, and being close to nature and my community. I am less interested in feeling like I'm living in the center of the universe."
Around 2004, the couple decided not to renew the lease on their apartment. Instead, they began their gradual shift away from their on-the-go-city existence by embarking on what Bentree fondly recalled as "an interesting period," during which they became house-sitters and couch-surfers, staying with their "wonderful, generous friends."
"We were really nomadic for that last year in LA -- we had all of our stuff in storage," said Bentree, who is 58. Aside from their suitcases and Rangel's recording equipment, they packed everything away -- all of their furniture, their artwork, their dishes and clothes.
"It felt like a really fun time, because we felt very unattached to all that stuff," Bentree said. "We realized, we really don't need it."
Toward the end of the year, Bentree visited a friend who had a guest house in Santa Fe, New Mexico, and after two weeks, she told her husband she knew she was not going back to Los Angeles.
In 2005, she made the move to Santa Fe permanently. Rangel took a bit longer to come around to the idea, commuting back and forth to Los Angeles weekly via two-hour-long plane rides for the first year, but eventually, he settled in as well.
As it happened, leaving the center of the entertainment world was the spark the couple needed to really get in touch with their own creativity.
"We started doing more of our own projects," Bentree said. "When we were in LA, we were involved in everyone else's projects, kind of like hired guns. When we came here and felt that release of pressure financially, we started to have so much more time."
The couple bought a home together, which Bentree said would likely have cost her twice as much in Los Angeles, and began saving on major expenses, including car insurance and taxes. The lower cost of living also allowed Bentree to fundamentally restructure her days; now she generally teaches two days a week and spends the remaining five working on creative pursuits, including a screenplay, a book of poetry and children's books. There is, she admits, something comforting about being a medium or small fish in a relatively small pond as opposed to a "microscopic fish" in a huge pond.
Perhaps the biggest change for Bentree has been the connection to nature she feels day-in and day-out in her new home. Nature, she said, is her "healing place," her "inspiration place," and her "church." Though the landscape around Los Angeles is lovely, in her current home she can be up in the mountains, walking through a forest by a stream, within five minutes. She recently released a new nature-inspired CD, "Green," which explores various environmental issues, and is donating 100 percent of the profits to support related causes.
"I used to say I was a 'jazz artist' but now I say I'm a 'jazz activist,'" Bentree said. "I'm using music to promote my political causes and points of view."
At no point, however, has Bentree regretted waiting so long to leave Los Angeles and her past life behind. Her wants and needs have evolved over time.
"I loved every part of living in LA for the first 10 years. The next five years were great, too. It was really only the last few years where I started to go, 'What's it all about?'" she said. "Now, I'm in a new chapter. It was scary to make that big change, but life is an adventure."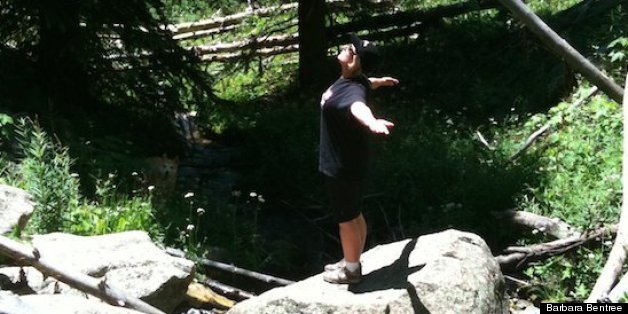 Bentree, in her "sacred spot in the woods" near her new home in Santa Fe.
If you or someone you know is taking steps to live a life that's simpler, saner and more fulfilling, we want to hear about it. To submit a Letting Go nomination, email thirdmetric@huffingtonpost.com.
Calling all HuffPost superfans!
Sign up for membership to become a founding member and help shape HuffPost's next chapter