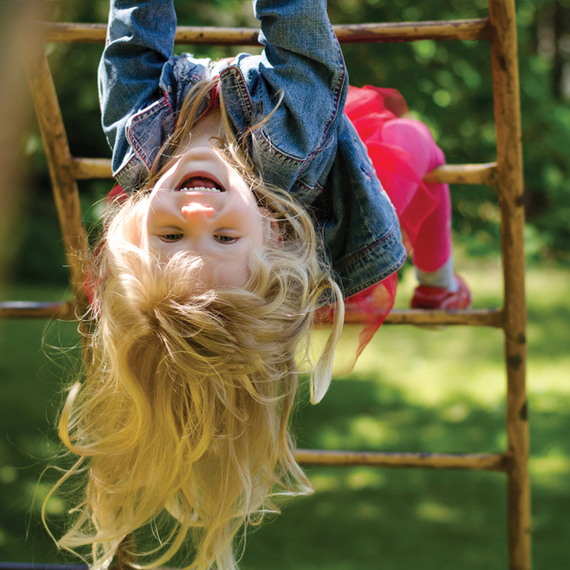 Parents want the best for their child. But what, exactly, is "the best"?
Recently I have had many conversations with clients and friends about how much stress their children are under. These parents are worried that their children are overloaded and being pulled in too many directions, but they're also fearful that if they cut out some activities, their child will be left behind -- perhaps begin struggling in school. They worry that decisions they make now could ultimately even affect what universities accept the child.
It's a mistake, though, to base parenting decisions around fear, rather than around love. That could cause us, for instance, to be blinded with unrealistic goals rather than guided by our child's individual needs. Of course we should give our children opportunities to better themselves and broaden their horizons, but I also believe we need to give them a childhood and not overload them with too much, too soon.
Parents can potentially miss the early signs that their child may be struggling with burnout from doing too much. These signs can be subtle in the beginning, such as the child may have trouble sleeping, they may see a change in grades, increase in sickness, or even a change in behavior.
When kids are signed up for too many events and activities, in addition to school, they may feel overwhelmed, and signs of stress may start to appear.
The parents I have worked with feel they have unwittingly contributed to this craziness and they want guidance on how to step out of this ever-turning wheel. Here are a few factors to consider to help you make changes.
1. Live within your means -- Each family is unique and has its own needs and wants and resources; whether those resources are money, time, or even energy. Problems start to arise when families overtax the resources they have.
Respect your child's resource of time, energy, and interest, too. When they are signed up for too many social events, sports and activities, in addition to school work, they may feel overwhelmed, and signs of stress start to appear.
2. Individualism -- Each family is different, as is each child within the family. Instead of signing your child up for everything you think is "expected" or everything their friends are signing up for, help your child identify particular interests, skills or dreams and pursue activities based on these.
I once had a client whose child was very shy and loved being in small groups. The parents signed this child up for rugby and the poor child hated it. The parents were getting anxious because rugby was the new thing. I suggested they try something he might like better, and they came up with a tennis club. He loved it, shined every week and his confidence grew and overflowed in other aspects of his life, too.
3. Let go of comparison -- When you're looking at your child's individual strengths and interests, there's no need to compare him with other children. Comparisons often have a negative impact and can affect kids' confidence and potentially ruin friendships. Instead, figure out your child's reasons for playing a particular sport, and keep the level of training appropriate for that. One child may want to play a sport as a way to keep fit and have fun, while another may be in it for the thrill of training and competition.
It's all about focusing on building the confidence and individual skills of the child. In an atmosphere of self esteem, the child won't feel the need to compare themselves to others, whether on the playing field, the classroom, or social media.
In an atmosphere of self esteem, the child won't feel the need to compare themselves to others, whether on the playing field, the classroom, or social media.
4. Sleep -- While the odd late night is ok, too busy schedules can lead to chronic sleep loss, which affects your child's mood, concentration and behavior. If your child often has to stay up late to finish homework after a packed afternoon of activities, or if there's not enough time to wind down and switch gears for bedtime, this could detrimentally affect sleeping patterns. Chronic sleep loss can affect the immune system, setting your child up for opportunistic colds, flu or other illnesses.
Kids 3-5 years old need around 12 hours of daily sleep, split between a nap and night time. By the time the child is around 10 years old, they need about 9-11 hours of sleep per night.
5. Quality Time -- When you spend time with your children, it is more effective to give solid full focused attention for short periods of time than being with them, but distracted, while doing other chores. This could be just 5 to 10 minutes, depending on your schedule.
When we give kids (or anyone else, for that matter) our full attention by listening, making eye contact and engaging in what they are saying, they are more likely to open up and feel heard and acknowledged by you. However when you are multitasking by cooking, checking your phone or doing chores, then the other person will sense your distraction and be unlikely to open up. Five minutes fully engaging with your child is more valuable than sporadic attention over 45 minutes.
When you spend quality time communicating with your child, it is easier to pick up on any struggles your child might be having. Connecting with your child and giving them the space and security to open up and communicate any worries is the best gift you can give your child and your family.
6. Meditation/Yoga -- Life can be stressful for children, and despite our best intentions, there will be time they are pulled in too many directions at once. I believe we owe it to our children to bring meditation and yoga into their lives from a young age. Mediation is a powerful tool that helps your child breathe and stay focused on the here and now, and help them keep from feeling overwhelmed by the demands placed on them. If we teach children mediation/yoga from a young age, I believe they'll approach adulthood stronger and more able to cope with stress.
It's all about balance and choosing the lifestyle best for you and your child. Be mindful to base your decisions around love rather than fear to create the best possible environment for your child -- and don't forget to have fun!
"Originally published in i-am magazine's May/June 2016 issue."
http://i-ammagazine.com

Nishma is a health coach residing in Texas. She starting her nutrition career in London, UK and moved to Texas with her family in2013. Nishma's line of expertise is children's health and mother's wellbeing.
As a health coach she is deeply passionate about helping clients make better choices to help them excel in their lives. She is dedicated to helping as many children out there as possible especially after her own personal story about keeping her son healthy and safe after a liver transplant. Her nutritional expertise and positive attitude will guide you along this amazing transformation.
[www.essentialharmony.net]
[http://facebook.com/essentialharmonynet].