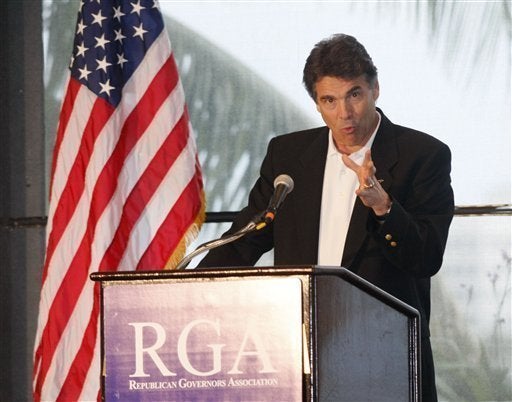 Governor Rick Perry of Texas brought up the specter of Secession recently and upon polling, a fair amount of Texans and other Americans seem to think Texas seceding from the US would be a good idea. TPM reports: Perry appeared with sponsors and supporters of a Texas House resolution affirming the state's claim of sovereignty under the 10th Amendment. "I believe that our federal government has become oppressive in its size, its intrusion into the lives of our citizens, and its interference with the affairs of our state," Gov. Perry said. "That is why I am here today to express my unwavering support for efforts all across our country to reaffirm the states' rights affirmed by the Tenth Amendment to the U.S. Constitution. I believe that returning to the letter and spirit of the U.S. Constitution and its essential 10th Amendment will free our state from undue regulations, and ultimately strengthen our Union." For the record, the 10th Amendment of our Constitution reads: The powers not delegated to the United States by the Constitution, nor prohibited by it to the States, are reserved to the States respectively, or to the people.
Texas has already seceded once back in 1861 but a quick Wikipedia search reveals that formally ended in 1869: After the Civil War, the Supreme Court ruled that Texas had remained a state ever since it first joined the Union, despite its joining the Confederate States of America and its being under military rule at the time of the decision in the case. In deciding the merits of the bond issue, the court further held that the Constitution did not permit states to secede from the United States, and that the ordinances of secession, and all the acts of the legislatures within seceding states intended to give effect to such ordinances, were "absolutely null". So by ending Texas' secession, the Supreme Court actually ended all possible secession by any state. But that didn't stop Gov. Perry from raising it as an issue last week.
A bit of history: Texas was part of the Confederate States of America, which lasted from 1861 until 1865. The United States refused to recognize the Confederacy, which collapsed upon the surrender of General Lee on April 09, 1865. Also keep in mind that the main formally-stated reason for secession in every state that did so was the threat to slaveholders rights. Wiki the 'Cornerstone Speech' where the VP of the Confederacy declared that the "cornerstone" of the new government "rest[ed] upon the great truth that the negro is not equal to the white man; that slavery--subordination to the superior race--is his natural and normal condition. This, our new government, is the first, in the history of the world, based upon this great physical, philosophical, and moral truth". Wow. To read that in the Obama Age is almost shocking. But it's good to understand the roots of secession buried deep in racism, slavery and fear.
So go for it, Gov. Perry! Free our Country from undue Texan influence and help strengthen the rest of our Union. Versus the disadvantages, the benefits to losing Texas from the Union are overwhelmingly positive. Sure, we'll miss Austin, which we'll hopefully get passports to visit in time for the next SXSW. And there's some U.S. history there- killing American Indians, oil tycoons, Presidential assassinations, etc. But really, Texas already belongs to itself more so than to the USA. Their pride is steeped in the mentality that Texas is better than all other states- Don't Mess with Texas!- so that to the non-Texan, it appears that the average Texan feels superior to all other Americans, like Texas is populated with Super-Citizens that known how to handle things and know the way things should be. And if Texas becomes it's own country, what a country it could be!
Texans can make their own laws as a country regarding the red meat issues that are making them so anxious to secede. Within one generation, none of the citizens need know of Darwin, the Bible will be taught in every "public" school, every one will be heavily armed at all times (big change!) and they can run it all on oil and T. Boone Pickens wind farms. That way, anyone in the US that finds our laws to be too lax when it comes to personal freedoms and racial/cultural tolerance can move to the Country of Texas (Kingdom? Golden Throne of the Gulf? Those Texans would surely choose a more grandiose name for their land) Sure, it'll be a little inconvenient for a few years as we route the 10 highway around them, but think of the boon it will bring to Oklahoma! It'll be like if California dropped off into the sea and Arizona got a whole new coast to develop. Ok, maybe not. But the amount of commerce that runs across the 10 can surely bring economic growth to Oklahoma and New Mexico as we reroute northward and move the 40 around the top of Texas. Maybe that northern part of Texas will break off for independence (Go Amarillo!) and it'll be like our Kashmir, an uncontested territory that each side claims and wants to bring back into the fold. Or think Taiwan or Tibet, whatever scenario floats your boat. However, you're still missing a bigger net gain to losing Texas: Losing half our border with Mexico! Let the vigilante mobs roam from Brownsville to El Paso while the US can just concentrate on border security in New Mexico, Arizona and California. Whew! Thanks for saving us so much money on border patrol. And just think of hurricanes; when Galveston and Houston are hit by a Katrina-sized Cat 5, not our problem! Sure, we'll send some foreign aid but not in the amount we will next time a hurricane hits New Orleans or Florida. Not even close.
The biggest drawback to Texas seceding is most likely the amount of oil Texas produces and receives through their ports. To offset this fact, let us remember that the US- not Texas- owns all its oil in the Gulf of Mexico, which it can gladly reroute through our remaining Gulf states. As the US weans itself off of fossil fuels altogether and uses more renewable energy, we'll stop missing the fuel we get from and through Texas. Sure they have a lot of oil and a few major ports but we have two coasts and a border with Canada and Mexico (two of our largest oil suppliers) so I'm sure we can manage. We also won't have to spend millions protecting those ports from terrorism, saving us tons of money to spend protecting the rest of our country's ports. We'll also lose a ton of prisons and prisoners, as Texas' rate of crime and incarceration are substantially higher than the rest of the country. The savings could climb into the billions as we rid ourselves of Texan-sized expenses and problems. And don't forget: no more Texan-bred US Presidents! No offense Ike and LBJ, but the brand has been ruined by a Connecticut fratboy.
And will you really miss Tom Delay? Phil Gramm? Oliver North? Ross Perot? Alberto Gonzales? Karl Rove? The entire Bush family? I didn't think so. Aside from Willie Nelson, it would seem that most of the cool Texans are dead: Bill Hicks, Elliot Smith, Stevie Ray Vaughan, Buddy Holly, Janis Joplin, Tex Ritter, Gene Roddenberry, Molly Ivins, Roy Orbison, Scott Joplin, Cyd Charisse, Tex Avery, Roger Miller, Barry White, Freddy Fender, Lightnin' Hopkins, Freddie King, Blind Lemon Jefferson, Ornette Coleman, David "Fathead" Newman, Billy Preston, Red Garland, Howard Hughes, Leadbelly, Dimebag Darrell, Waylon Jennings, Karen Silkwood, even Irene Ryan- Granny from the Beverly Hillbillies! And yes, some of the infamous ones such as Bonnie & Clyde, David Koresh, John Hinckley Jr., Mark David Chapman and Richard Ramirez. Well, Texan-born news anchors Dan Rather, Sam Donaldson and Walter Cronkite are technically alive, but not so much their careers. And Randall "Tex" Cobb is what I'd call an "obvious" Texan (see "Tex" Ritter, "Tex" Avery) without whom we'd have a lesser Raising Arizona. ZZ Top is still out there rocking around, which must count for something. But to really understand Texas' contributions to the USA, we need to look at a more complete list of those who were born there. Let's see who else hails from Texas....
Kris Kristofferson, Jamie Foxx, Beyonce & Solange Knowles, Usher, Kelly Rowland, Stephen Stills, Joe Sample, Boz Skaggs, Steve Miller, Tift Merritt, Johnny Mathis, George Forman, Carol Burnett, Demi Lovato, Selena Gomez, Farah Fawcett & Jaclyn Smith (two Angels!), Woody Harrelson, Don Henley, Tanya Tucker, Jennifer Love Hewitt, Vinnie Paul (Pantera), Tommy Lee Jones, Bill Engvall, George Jones, Jim Lehrer, Lyle Lovett, Steve Martin, Larry McMurtry, Barbara & Louise Mandrill, George Strait, Robin Wright Penn, Bill Paxton, Valerie Perrine, Robert Rodriguez, Renee Zellweger, Jerry Hall, Ethan Hawke, Tobe Hooper, F. Murray Abraham, Wes Anderson, Powers Boothe, Steve Austin, Dennis & Randy Quaid, Phylicia Rashad, Kate Capshaw, Thomas Haden Church, Haylie and Hilary Duff, Sandy Duncan, Shelley Duvall, Shannon Elizabeth, Eva Longoria, Jimmie Dale Gilmore, Nanci Griffith, Dan & Jim Seals, Michelle Shocked, Gibby Haynes, Jennifer Holiday, Lisa Hartman, Morgan Fairchild, Sean Patrick Flanery, Lisa Whelchel, Peter Weller, Alex Jones, Natalie Maines, Sissy Spacek, Aaron Spelling, Charley Pride, LeAnn Rimes, Brent Spiner, Nick Stahl, Patrick Swayze, Henry Thomas, Lisa Loeb, Rip Torn, Mike Judge, Jennifer Garner, Dabney Coleman, Kenny Rogers, Mark Seliger, Joan Severance, Debbie Reynolds, Angie Harmon, Yolanda Adams, Terrence Malick, Matthew McConaughey, JoBeth Williams, Michelle Rodriguez, BJ Thomas, Isaiah Washington, Forest Whitaker, Larry Hagman, Richard Linklater, Julian Schnabel, Kinky Friedman, George Foreman, Erykah Badu, Marcia Ball, Archie Bell, Omar Rodriguez-Lopez, Cedric Bixler-Zavala (Mars Volta), Meatloaf, David Garza, Larry Gatlin, T-Bone Burnett, Chamillionaire, Mike Jones, Norah Jones, Ciara, Nelly, Kelly Clarkson, Michael Nesmith, KT Oslin, Edgar & Johnny Winter, Lee Ann Womack, Van Cliburn, Albert Collins, Larry Coryell, Christopher Cross, Rodney Crowell, Mac Davis, Steve Earle, Joe Ely, Edie Brickell, Luke & Owen Wilson... and of course, Nick Jonas, Jessica & Ashley Simpson, Vanilla Ice and Boxcar Willie. I'm sure I'm missing a few but that's quite a list. So Texas has given America some truly great music, art and acting and enriched our country's heritage thusly. There is no discounting some of the amazing artists that were born on Texas soil. But just how many of them still actually live in Texas? Yea, I thought so....
Caveat: I have many great friends and even family in Texas, have spent ample time there and know that all Texans don't feel this way. (But their belt buckles sure do!) The old Texas mentality that Gov. Perry has displayed is already being erased by not just the large influx of Hispanics, but also a truly generational change that pits a historical Texas-first attitude against a new American ideal, where every citizen of this country is equal in rights, in liberty and in justice (no, not Socialism- Freedomism!). Actually, the aim of the new generation is beyond even American ideals; it imagines a world where all citizens of the planet live in a tolerant and just society, able to achieve their goals, dreams and aspirations as they'd like, free from tyranny and oppression. Something tells me even Boxcar Willie would like that!
One last note: The latest Rasmussen Poll in Texas found that thirty-one percent (31%) of Texas voters say that their state has the right to secede from the United States and form an independent country. (How are those history classes treating you, Texas!) However, the Texan poll also finds that if the matter was put to a vote, it wouldn't even be close. Three-fourths (75%) of Lone Star State voters would opt to remain in the United States. However, 18% would vote to secede, and seven percent (7%) are not sure what they'd choose. So a good quarter of all Texans think the US is bad enough that they would vote to leave it? Let's call them for what they really are: ANTI-AMERICAN. Good riddance.
REAL LIFE. REAL NEWS. REAL VOICES.
Help us tell more of the stories that matter from voices that too often remain unheard.