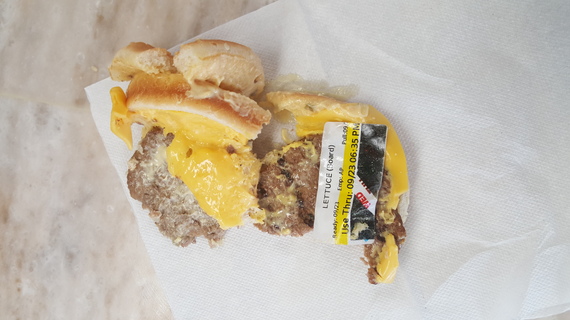 While dining at Burger King on Bird Road in Miami, Rey Rey bit into his Big King hamburger. Half way through his meal, he found a surprise. Not like the surprise in the bottom of the Cracker Jacks box or in a kids meal either; this surprise was something, well, stickier!
Lettuce discuss this further...
He opened the bun to see a sticker on the all beef patty! As you can see in the photo, it is the sticker from the lettuce package; showing specific dates to let the BK worker know when to use the lettuce.
He returned to the counter with his "sticker burger" and he was given two options:
A) Would you like a refund?
B) Would you like a refund and another burger? Without the sticker of course...
While Rey Rey pondered his decision, he went to the restroom to wash his hands.
After seeing the sink in the Burger King bathroom, he returned to the cashier and took option A. Safe to say that was not the Burger King bathroom that Humpty Hump (Digital Underground) once got busy in.
REAL LIFE. REAL NEWS. REAL VOICES.
Help us tell more of the stories that matter from voices that too often remain unheard.