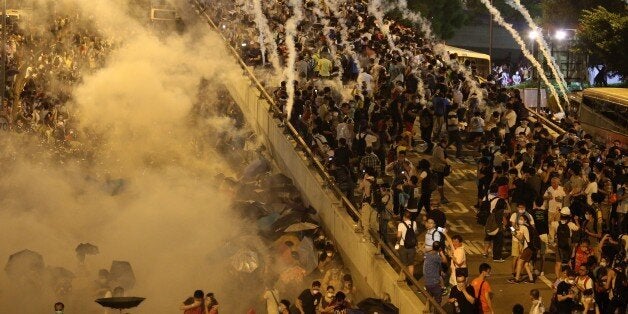 HONG KONG -- Leung Chun-ying, chief executive of the Hong Kong Special Administrative Region, found himself on the cover of the Asian edition of Time Magazine in July 2012, shortly after he was appointed the top job for the former British colony. The story title next to Leung's face on the cover is actually a question: Can Hong Kong Trust This Man?
More than two years on after Leung became the newsmaker for the Time cover story, or about halfway through his four-year term as the chief executive of Hong Kong, the answer to the question of whether Hong Kong can trust this man is getting clearer than ever. Unfortunately, the answer is no, and that no answer was manifested in tears and anger on Sunday when the Hong Kong police was authorized by the Leung government to fire tear gas continuously at peaceful pro-democracy protestors in the central part of the city.
Leung's support rating has continuously hit new lows in various public polls since he took the office. More recently, a poll conducted by the Chinese University of Hong Kong reported Leung's support rating hit a new low since November 2013 -- 41.4 points out of 100. Clearly, Leung has proven to be unqualified for his job as the chief executive of Hong Kong.
Public demand that Leung should consider resignation has grow rapidly in the past few months, in particular after Beijing's controversial decision in August to screen and limit candidates for chief executive in Hong Kong's 2017 election. The latest demand came from the students' union at the Chinese University of Hong Kong, which decided on Sunday to launch its class boycott indefinitely. One of its demands was to ask Leung to step down immediately.
Despite such clear and repeated requests from the general public, and even after tens of thousands of Hong Kong citizens chose to go to the streets to protest and to raise their voice in frustration over Beijing's broken promise to offer Hong Kong universal suffrage in 2017, Leung chose to stand by Beijing's decision and completely ignore the public's desire for freedom and democracy.
In fact, Leung apparently wants to go beyond just support for Beijing's decision to screen and limit 2017 chief executive candidates for Hong Kong -- he has recently also been more outspoken and provocative when criticizing local pro-democracy activists, including the signature Occupy Central movement led by Benny Tai, a well-respected law professor at the prestigious University of Hong Kong.
In a very high-profile event that was purposely aimed to draw media attention, Leung signed a petition last month to support the pro-Beijing, anti-Occupy Central movement, and he also encouraged his high-level government colleagues to sign the same petitions to support the pro-Beijing group. Leung also repeatedly blamed pro-democracy activists for making Hong Kong a more divided society. Some Hong Kong watchers believe there is no need for Leung to be aggressive when working on the government relations with the pan-democracy camp in Hong Kong.
To please the big boss, which is the central government in Beijing in the case of Leung, may be understandable to some extent, but to verbally attack the pan-democracy camp in Hong Kong is not common in Hong Kong's short history of chief executive, and it is widely considered not necessary or constructive for Leung to get engaged in a war of words with pro-democracy activists. But Leung may have his own selfish reasons to do so, which may fool Beijing, too.
Being provocative with his political rivals, Leung managed to hijack the political situation of Hong Kong by putting Beijing in an unnecessary dilemma. One reason to explain Leung's daring approach to his relations with the pan-democracy camp may be that he believes the more provocative his actions are, the more support Beijing has to offer him to keep him in office. If Beijing bows to the public pressure to let Leung step down, it may be considered a losing face matter for the "big boss," the central government. Face is more important than money in Chinese culture, especially in Chinese politics.
Last week, hundreds of students rallied outside Leung's office and his Upper Albert Road residence in the central part of Hong Kong. Student leaders demanded a face-to-face dialogue with Leung. Leung chose to hide, earning him a new nickname as a "coward." Students felt offended by Leung's ignorance of the people's voice, and their original desire for 2017 universal suffrage has been quickly turned into a new campaign with a simple and clear aim to "get rid of Leung" -- as some slogans and posters seen on the protest sites already proclaim.
It was only until Sunday afternoon that Leung decided to host a press conference. He said nothing new but reaffirmed his belief that all protests taken by the students and the Occupy Central organizers were unlawful. Shortly after the press conference, which seemed like Leung's final warning for Hong Kong people, more and larger-scale tear gas was fired by the police in the streets. Leung may not want to face the reality, but the undeniable truth is that he just began to lose control of Hong Kong. The government of Hong Kong is now in the worst political crisis since the historic 1997 handover from British colonial governance to Chinese ruling.
It's time for Beijing to rethink the value and capability of Leung. Is it worth it to keep one man who already lost the majority of support in Hong Kong in office and to allow the Communist regime to become more hated by the students, the younger generation of Hong Kong citizens -- the future of Hong Kong? By finding an excuse for Leung to step down politely, for example, for health reasons, Beijing can win at least one point in the year-long political struggle for universal suffrage in Hong Kong. It's clear enough that mutual trust for Beijing and pro-democracy leaders and activists, including the Occupy Central movement, can only be rebuilt on the precondition that Leung must step down.
The cost of Leung's resignation is relatively small for the central government if Beijing still wants to win hearts and minds of Hong Kong people and get engaged with some of Hong Kong's pro-democracy legislators and activists who might be more open to negotiations with Beijing than other hardliners. Such a move can also ease the fast-growing international pressure on Beijing, whose image has already been hit by social unrest and arrests of dissents in the two restive regions of Xinjiang and Tibet. Tear gas can help Beijing maintain social order for some time, perhaps, but it will also increase the anti-Communism hate of Hong Kong for generations after generations, which could be a growing challenge to the central government in the long run.
Some Hong Kong watchers may argue it would not make a big change or present a turning point if Leung steps down. But in my view, to get back to the negotiation table and have more face-to-face talks is more constructive and hopeful for future solutions than endless and direct confrontations and protests. The precondition for such a back-to-table strategy and to rebuild mutual trust between Beijing and the general public of Hong Kong is to let Leung step down. When Leung is let go, Hong Kong people can at least understand that Beijing is a listener, and it can hear people's singing. The theme song from Les Miserables "Do You Hear The People Sing?" has been popular in Hong Kong recently -- it can be heard easily in many of the public protests so far this year.
ONE COUNTRY, TWO SYSTEMS IN DANGER OF COLLAPSE
Ironically, the title of the top job for Hong Kong after the 1997 handover is called chief executive rather than mayor or governor. If you consider the chief executive of Hong Kong, a very long-time business and market-oriented society, as the top boss for a large corporation, then performance review should be the key to decide whether the chief executive should stay or go.
Last week, an opinion poll reported that Hong Kong people's distrust of the central government had reached its highest level since June 1995. The survey by the University of Hong Kong's public opinion program also found the proportion of respondents who lack confidence in the landmark "One country, two systems" scheme developed by late paramount Chinese leaders Deng Xiaoping is at its highest since the poll began in 1993, the South China Morning Post reported.
If the "One country, two systems" scheme is at the risk of collapse, how can Leung be a qualified chief executive able to survive his performance review and continue to do his job, pretending it's "business as usual" for Hong Kong?
When Leung made the cover of Time magazine in July 2012, I remember one reader made an interesting comment that the Time magazine editor should have thought of a smarter headline -- to add one word in front of the question for Leung and Hong Kong: "How Can Hong Kong Trust This Man?"
We already know the answer, and it's time for Leung to go.
George Chen is a 2014 Yale World Fellow and an author of two books: "This is Hong Kong I Know" (2014) and "Foreign Banks in China" (2011).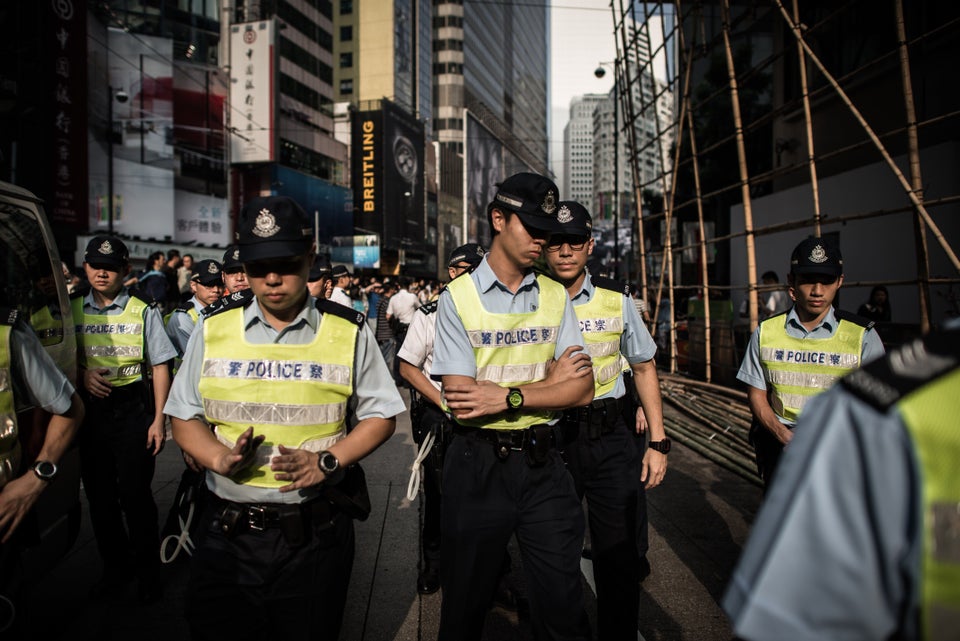 Hong Kong Protests
Support HuffPost
The Stakes Have Never Been Higher
Related
Popular in the Community