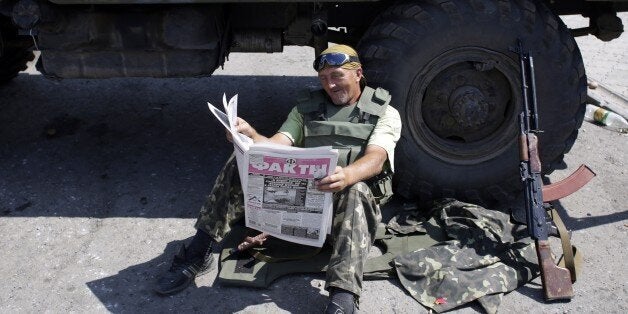 MOSCOW, Aug 30 (Reuters) - A Russian politician said on Saturday he had been badly beaten after publicizing the mysterious funerals of two soldiers who may have died while fighting in Ukraine.
Lev Shlosberg, a newspaper publisher who represents the liberal opposition Yabloko party in the regional assembly in the northwestern city of Pskov, said he was attacked on Friday evening near his home.
"They attacked me from behind, I did not see any of them," Shlosberg said in a phone interview from his hospital ward.
"Apparently, they knocked me unconscious with their first punch, threw me to the ground, beat me up and then ran away. Those people were very good professionals in their nasty business."
Shlosberg's paper published the investigation into the funerals of two Pskov-based paratroopers last week. The report added to a trail of evidence suggesting that Russian soldiers have been killed in eastern Ukraine, contradicting denials by Moscow that it is lending military support to separatist rebels there.
The report has raised awkward questions for the Kremlin. When a Reuters reporter went on Wednesday to the cemetery where the soldiers were alleged to have been buried, he was stopped from entering and threatened by two young men with shaven heads.
Shlosberg said he believed he had been attacked for presenting evidence that Russia's military was taking part in the Ukraine conflict and sustaining casualties.
"I hope police will at least find the culprits," he said. "This would be hard to do...but I don't see grounds for police to intentionally hamper the investigation."
Shlosberg said he did not want to discuss his injuries, but doctors had told him he would take 10 days to recover.
The local governor demanded a thorough investigation of the attack, a demand echoed by the Organization for Security and Cooperation in Europe.
A Kremlin spokesman has said that the relevant authorities will look into the reports about the soldiers' burials. (Additional reporting by Jason Bush, Denis Pinchuk; Editing by Mark Trevelyan and Stephen Powell)

Popular in the Community