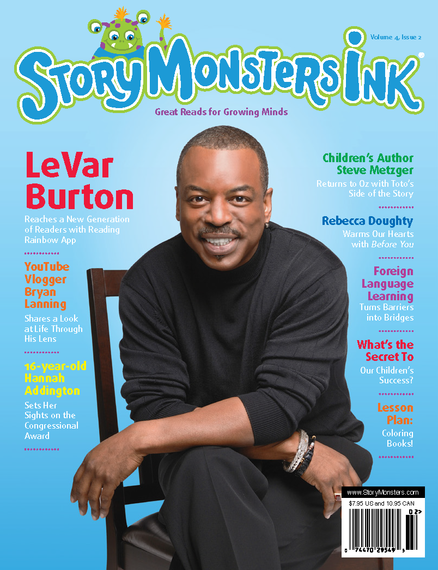 Take a look ... it's in a Reading Rainbow app! Reborn as a virtual library service, Reading Rainbow is now reaching a whole new generation of kids with the same quality educational programming and enthusiasm for books that the Emmy and Peabody Award-winning TV show offered children for 26 years. "We're still on a mission," says LeVar Burton, the amiable host and executive producer of the TV show and co-founder of the Reading Rainbow app. "We're not on television, but we're still connecting with emerging readers. Now we're doing it in the digital realm."
Books have always been an integral part of Burton's life. His mother, Erma Gene, was an English teacher who instilled the value of reading in Burton at an early age. "In my house, reading was not optional," he says. "It's important to know that my mother didn't just read to me, she read in front of me. I grew up with that example. All of this work in literacy is in honor of my mom."
Burton remains an avid reader. "I have pretty diverse taste in literature," he says. "When I'm reading for pure pleasure and enjoyment, I tend to gravitate towards science fiction. I always have. For me, science fiction invites us to complete the two most powerful words in the English language: what if? And it is by contemplating the 'what if' that we literally imagine the world in every respect conceivable."
Not surprisingly, considering his interest in science fiction, Burton regularly watched the TV show Star Trek as a boy. However, he credits Star Trek creator Gene Roddenberry with providing more than memorable characters and thrilling glimpses into alien worlds "It wasn't all that often that I would encounter heroes who looked like me on TV, but I did on Star Trek," Burton says. "It was very welcoming for a black kid from Sacramento, California. I was able to imagine myself being a member of a family like that. By seeing it, it reaffirmed my hope to live in a world like that. That's the power of storytelling." Years later, Burton would go on to play Lieutenant Commander Geordi La Forge, in Star Trek: The Next Generation, donning his character's signature VISOR on TV and in film.
Burton intended to become a Catholic priest and entered the seminary, but he had a change of heart. "I recognized that theatre was my first love," he says. He left the seminary and enrolled in the drama program at the University of Southern California, but not to pursue a career in TV or film. "I came for theatre training with the intention of relocating myself to New York and the Broadway stage," he says.
The turning point of Burton's career came in 1977 during his sophomore year of college, when he auditioned for a role in Roots, the TV mini-series based on Alex Haley's novel about slavery. He was chosen for the lead role of Kunta Kinte. Roots brought Haley's gripping tale of the African American story into the living rooms of all races of Americans in a new and intense way. Burton recalls being overwhelmed by the experience. "The direction and scope of my life changed," he says. "It's difficult to describe the full impact Roots had on me as an actor. I was 19 years old and found myself in the company of people I had admired my whole life. People like Cecily Tyson and Maya Angelou. They embraced me. They took me under their wings and schooled me." Burton says his participation in the mini-series affected him on a personal level, too. "What a privilege to be a part of a piece of storytelling that changed the consciousness of a nation." he says. "It showed me the sheer power of TV as a medium of communication."
In the early 1980s, Burton was appearing on a PBS series called Rebop when he was approached about hosting Reading Rainbow. According to Burton, the show was originally created to address what educators call the "summer slide" when schools are out and children aren't reading on a daily basis. "It was a pretty radical idea back then to use the media of television to promote literacy," says Burton. "It may seem a bit counterintuitive, but it worked." It certainly did. Reading Rainbow was the third longest-running American children's series in TV history, airing from 1983 until 2009.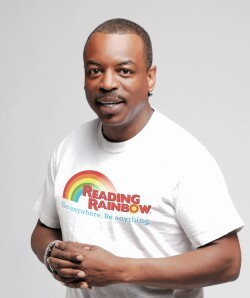 For Burton, more significant than the show's longevity are the number of adults who credit Reading Rainbow with imparting them with a lifelong love of reading. "Now, they're beginning to have kids and now they're able to share something treasured from their own childhood," he says. "The circle continues."
In 2011, Burton and his business partner Mark Wolfe launched RRKidz, the production company behind the Reading Rainbow app, to address the vast changes in the way children are learning today in the digital world. "We're all aware that there's a vast variety of products clamoring for the attention of our children," says Burton, a father of two. "Not all are healthy and not all are positive. When it comes to handheld technology, we're not going to be able to put that genie back in the bottle." Burton says in today's culture, TV, the internet, and social media constantly bombard children with messages. "All media is a form of education," he says. "The question is: What is it teaching?"
The Reading Rainbow app and its digital library, called the Skybrary, are available on the web, on iPad, iPhone, Kindle Fire, and Google Play. The Skybrary Family app currently features over 1,000 books children can read themselves or hear the book read by a celebrity narrator, and parents can track their child's progress. Just as in the Reading Rainbow TV show, books are accompanied by video field trips with Burton. To date, the app offers 250 new ones, introducing children to places such as the White House, NASA, and Panama, where Burton recorded videos about the rainforest and the Panama Canal, and visited a chocolate plantation. New content is constantly added.
When children use the app, they're able to zero in on subjects they'll enjoy, including books on animals, music, and other kid-friendly topics. "We ensure that children have the opportunity to identify literature they're going to have an interest in," says Burton. "After all, it is our passion that drives our reading." There's also a component called Skybrary School, which is designed for use in the classroom.
Burton wants people to know that Reading Rainbow is still alive and well. "If you want to reach kids today, you have to be on the devices they want to use," he says. "It's as simple as that. I'm enormously proud of what we continue to do in the area of children's literacy. I think it's some of the finest children's content in the world. Being able to present quality children's literature to kids and marry it with video, well that's our secret sauce. We've been doing it for over 30 years."
Calling all HuffPost superfans!
Sign up for membership to become a founding member and help shape HuffPost's next chapter