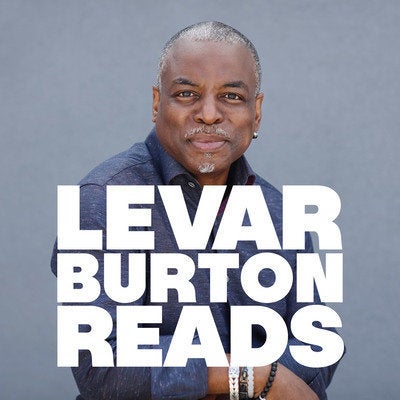 If you're a bookworm who grew up between 1983 and 2006, there's a good chance you were partially raised by LeVar Burton's soothing voice as he guided young readers through the thrilling world of a book. "Reading Rainbow," Burton's beloved PBS Kids show, helped inspire countless kids with a love for reading.
Now, the "Reading Rainbow" kids are all grown up ― and, fortunately for us, Burton is back with a new short fiction podcast on Stitcher. In each episode, he selects a short story and reads it aloud, dramatically, with the aid of sound effects and music to bring the story to life. It's "Reading Rainbow" for adults, if you will.
Of course, the podcast isn't exactly like the classic show ― it's audio-only, it features literary and genre short fiction rather than picture storybooks, and you can't get picked to go on the show and read a review of your own favorite short story.
(Those kids were so lucky.)
But of course it's different ― we're not kids anymore! The important thing is that we still need Burton to remind us about the magic held in a book, and he's still here to do that for us.
Not only does he read great fiction, like Daisy Johnson's "The Lighthouse Keeper" from her new collection, Fen, he puts his rich, fluidly expressive voice to the task of drawing listeners into a different world ― the world of the story.
And if you miss having Burton explain the themes of a book to you, you're in luck: At the end of his reading, he talks a little bit about what he took away from the story. After reading "The Lighthouse Keeper," he explains that the story "highlights one of the ills of our culture, which is the idea that women have a specific place and specific roles in society and that it is unacceptable for them to cross over." His family, he adds, has been full of strong women who inspired him, like his mother. 
Listening to the new podcast feels sort of like finally developing a friendship with your parent. Burton isn't just teaching us anymore; he's sharing his feelings and life story. While the "Reading Rainbow" Burton might have delved into the themes of a book by showing us how to bowl or explaining photosynthesis, his fans are grown-ups now. 
Not too grown-up to have Burton read us a bedtime story, of course. That will never get old.
Calling all HuffPost superfans!
Sign up for membership to become a founding member and help shape HuffPost's next chapter
BEFORE YOU GO